:Concert Review/Interview: Doyle – June 17, 2017 – San Diego, CA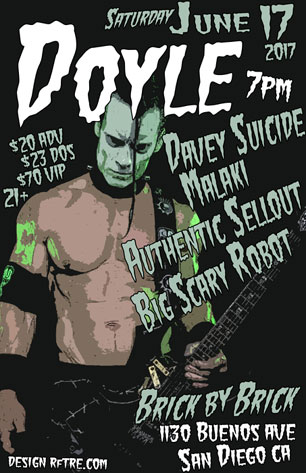 Doyle, Davey Suicide, Malaki, Authentic Sellout, Big Scary Robot
Concert Date: June 17, 2017
Venue: Brick By Brick
Location: San Diego, CA
Review by Yvette Arambula
Interview conducted by Justin Goyette
Having arrived at the venue close to 10 PM in order to interview the man himself, Doyle Wolfgang von Frankenstein, we missed all of the opening bands and most of Davey Suicide before we finally went inside the venue. This night we were trying out a new interviewer, Justin, and what better way to throw him into it than to have him interview one of his idols. Who says COMA can't make dreams come true? Albeit, in a nerve-wracking, slightly terrifying manner. That's what we do.
We met up with Doyle's tour manager and he led us into the band wagon. I had never been inside a tour bus, but it was basically what I expected. Doyle was dressed in his signature garb and make-up. After offering us water, we sat down and got the interview rolling. The bus was running the whole time which accounts for that humming background noise. No amount of filters could completely remove it without making the recording sound tinny and less audible.
The heavy musk of metal show punched us in the face when we went inside the venue. Davey Suicide was on stage but we were too busy trying to meet up with Justin's wife to pay as much attention as we needed to for a fair review. There was a good crowd inside but it wasn't unbearably full that I ended up with many dozens of DNA samples on my clothing. (I'm talking about shed skin cells that may be floating around people's sweat, not anything more unsavory.)
Doyle finally came onstage and the crowd moved towards them. A pretty good mosh pit started going eventually. Justin participated as much as he could without being an asshole. In fact, he actually tried to help one guy up when he fell, but another berserker ran into them and they both fell over in a rather comedic manner. All in good fun. At one point when the pit dispersed for a few minutes, a lonely chancla (word for sandal, flip-flop, slipper, etc. that is often thrown at misbehaving children) was left in the middle of the beer-soaked floor. Its owner shuffled back to it while the coast was still clear.
The show was energetic; everyone thrashed about which just added to the kinetic activity as Doyle and Alex moved around the stage. Before each song, Alex would say, "it's kind of like a love song; you can dance if you want," which if you look at it based on the song titles, they do sound like some kind of twisted odes to "love" as dark creatures know it. You can check out some live footage of the show on our Facebook page.
Doyle will be going out on the As We Die Abomination Tour 2018 spanning from February through March. Be sure to check them out when they hit your town.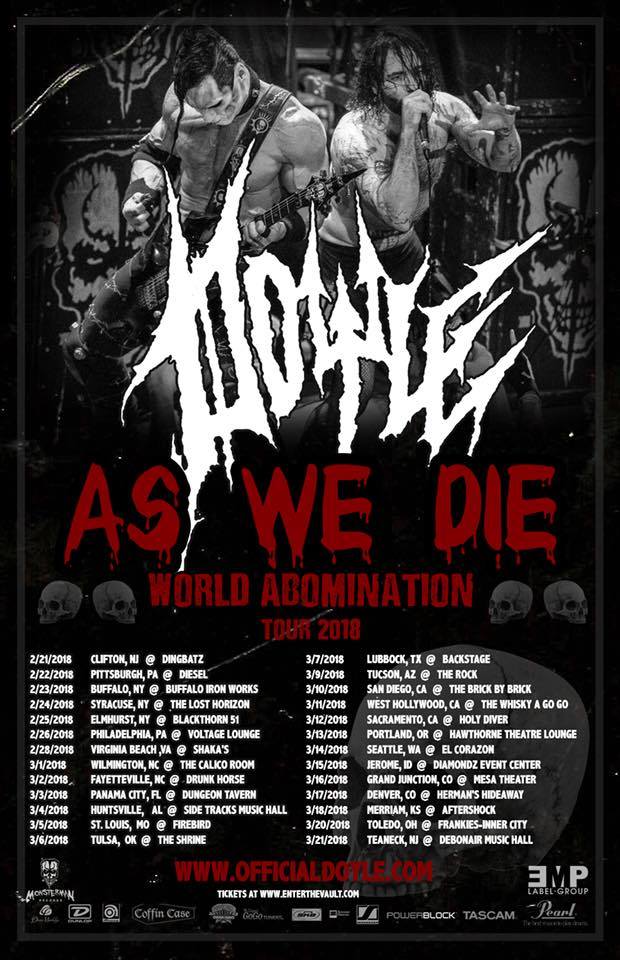 Tags Authentic SelloutBig Scary RobotDavey SuicideDOYLEDoyle Wolfgang Von FrankensteinJustin GoyetteMalakiYvette Arambula
You may also like...