:2017 Year in Review: Yvette Arambula – Copy Editor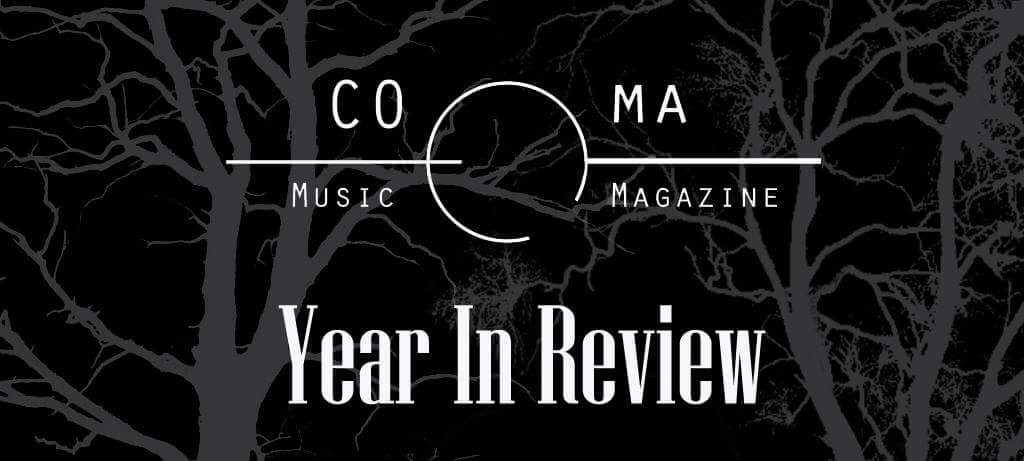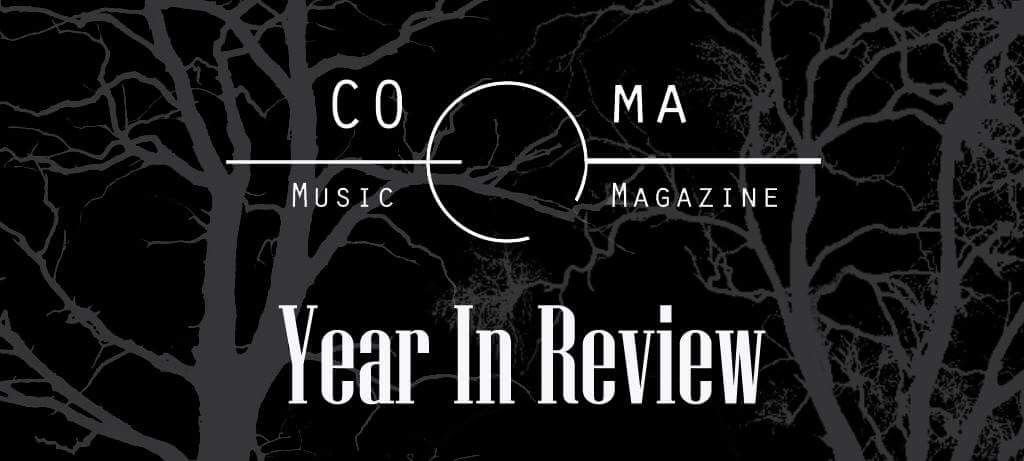 Best Concerts of 2017
Words and sights by Yvette Arambula
This year I decided to do something different and list what I consider the best concerts Jaymie and I attended.
Disclaimer: I am not a professional videographer nor do I have anything other than my phone to record all these performances. I tried my best, though, even while being pushed around by the crazy crowds.
Aside from the live footage in this article, there are other videos and photos on our Facebook and Instagram taken by both Jaymie and me that you can peruse at your leisure.
KANGA (with Matthew Setzer) – January 6-7, 2017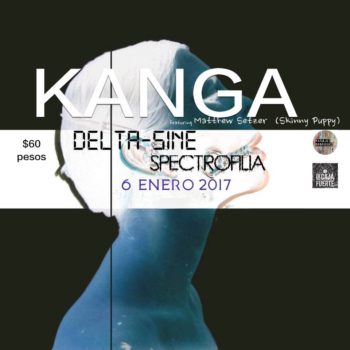 KANGA, Delta-Sine, Spectrofilia – January 6 @ La Caja Fuerte – Tijuana, Baja California, Mexico
The day started just like any other day that we make preparations to head down to Mexico. That is until Kanga and Matthew showed up, bringing a slew of hilarity with them. Of course, as soon as we cross the border and are moving at a snail's pace across the bridge that takes us to Tijuana's version of a freeway, one of the many individuals who try to wipe cars down with their dirty rags comes towards us with his hand down his pants. Figures.
We made a quick stop at our place in Rosarito with its bountiful dogs that swarmed around Kanga. She was loving it. We were all hungry so Jaymie and I took them to our favorite taco eatery. As we were approaching the main road on our way to the taco shop, I pointed out the beach to Kanga. At that moment it was like the world fell away from her and all she could see was the ocean calling for her. She made a bee line towards it, traffic be damned.
As we were leaving Rosarito to head back to TJ for the show, we saw people protesting in front of the Pemex gasoline refinery/distribution center. We didn't really know why at the time, but apparently we got to witness one of the many protests that would take place all over Mexico due to the sudden ridiculous increase in the cost of gas.
The venue for the show was at Pasaje Rodriguez, a corridor full of artist spaces, cafes, restaurants, bars, and miscellaneous shops, complete with a lovely toilet that we had to flush with buckets of water. Ah, Mexico. La Caja Fuerte was literally a box with only an antique 1920s safe in the space. Because of this, there were some sound issues due to lack of proper acoustics.
Spectrofilia started off the night. I liked the interesting sounds they were making with their gadgets. People started trickling in as they played. Many of the patrons were partaking at the bar across the corridor. Delta-Sine was next and he was awesome. He uses all analog equipment in real-time without the use of any computer software.
Kanga finally came on with many false starts as the sound issues were being worked out. The only light for the space was turned off which left only the projector to provide illumination. It was a great show regardless. There is where the tradition started of Kanga pointing at Jaymie when singing the line "you're a rapist" from "Honey." Jaymie totally caught that on video which can be found on our Facebook.
Somehow I often manage to drive the wrong way on one-way streets in Tijuana. Luckily this time a sounder of cops didn't roll up from out of nowhere to offer to "pay the ticket" for me for only $20. This time, however, we did also find ourselves in la Coahuila, an unsavory part of town where all manner of atrocities happen. We even got to see a real life prostitute exiting the car in front of us, panties askew. Yes, her skirt was THAT short.
Kanga and Matthew got to experience the real Mexico; all the poverty, desperation, and struggle of the people, all of which is often overshadowed by the cacophony of debauchery and whispers of donkey shows.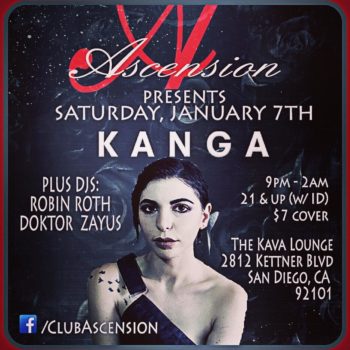 January 7 @ The Kava Lounge – San Diego, CA
And then there was San Diego the next day…. What can I say? About half the scene in San Diego has no love for us and they don't hesitate to show it. This was the first time Jaymie and I had been to the Kava Lounge. We didn't know what to expect. It was small, dark, and full of people that were all into their own thing, mostly themselves. The acoustics weren't the best for live shows, but it was Kanga and we promised her we'd attend.
The show was really good as always, despite the crowd who seemed to have no idea who Kanga was. Eventually, they did start to get into it and even danced along with Kanga when she went into the audience during "Viciousness." Kanga later informed us that she actually passed out a couple times but somehow she kept moving so people thought it was part of the show. She had a plague at the time, but she doesn't like to cancel shows.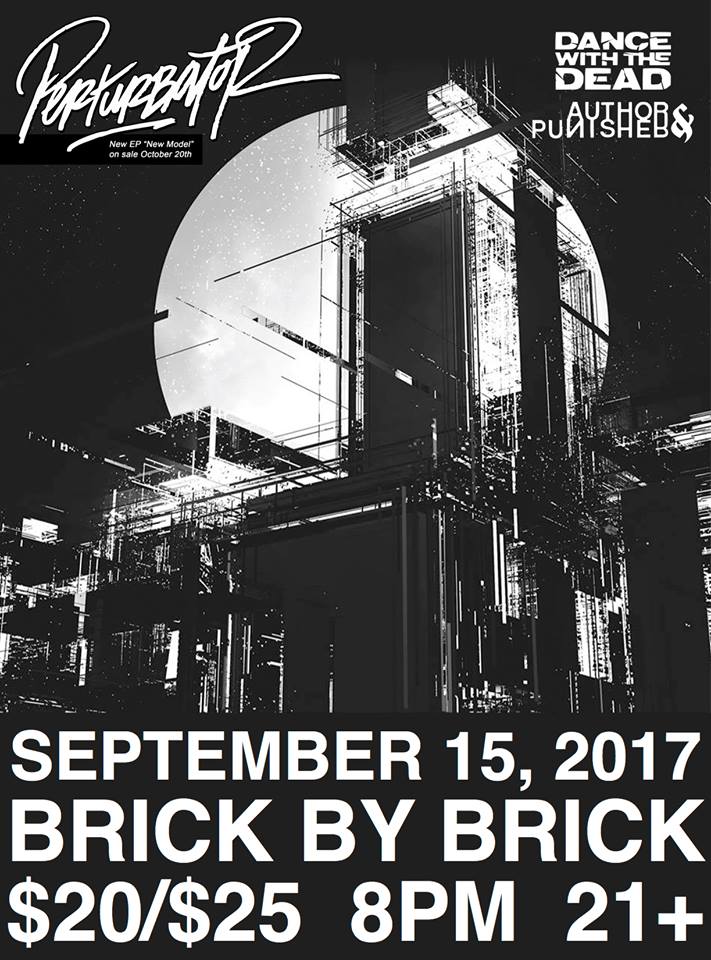 Perturbator, Dance With The Dead, Author & Punisher – September 15, 2017 @ Brick by Brick – San Diego, CA
Jaymie and I were really excited about this show. I had never seen Author & Punisher work his mechanical magic before. Live footage of his performance is in our Facebook videos.
Dance with the Dead is Jaymie's favorite band right now so that was a treat for her, for both of us really. Here's a snippet of their performance.
We had been told by one of our staff members that Perturbator's show is off the chain. He was not wrong. But don't take my word for it. Here are the first 27 minutes of the show. Why only 27 minutes? Because I accidentally pressed the volume button on my phone and apparently that kills video recording. I did however recover quickly and went on to hold my arms up as still as possible for the next 40 minutes of his performance. That video was a bit chaotic from being pushed about by the crowd, plus I couldn't help dancing so the video kept swaying in time with the music. I have spared you all the motion-sickness, though.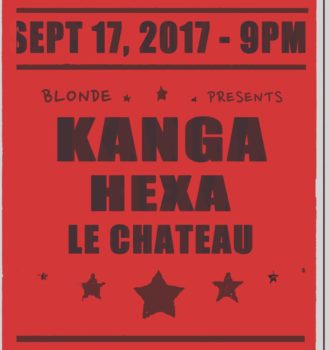 KANGA, Hexa, Le Chateau – September 17, 2017 @ Blonde Bar – San Diego, CA
I know what you might be thinking. Kanga again? Fuck yes. This time she was solo and it was an entirely different show. She had arranged her songs especially for the live show which enhanced the performance. Here's footage of the opening song, "Something Dangerous."
During this next video of "Viciousness," Kanga pulled Jaymie onto the stage; she can't keep her hands to herself after all.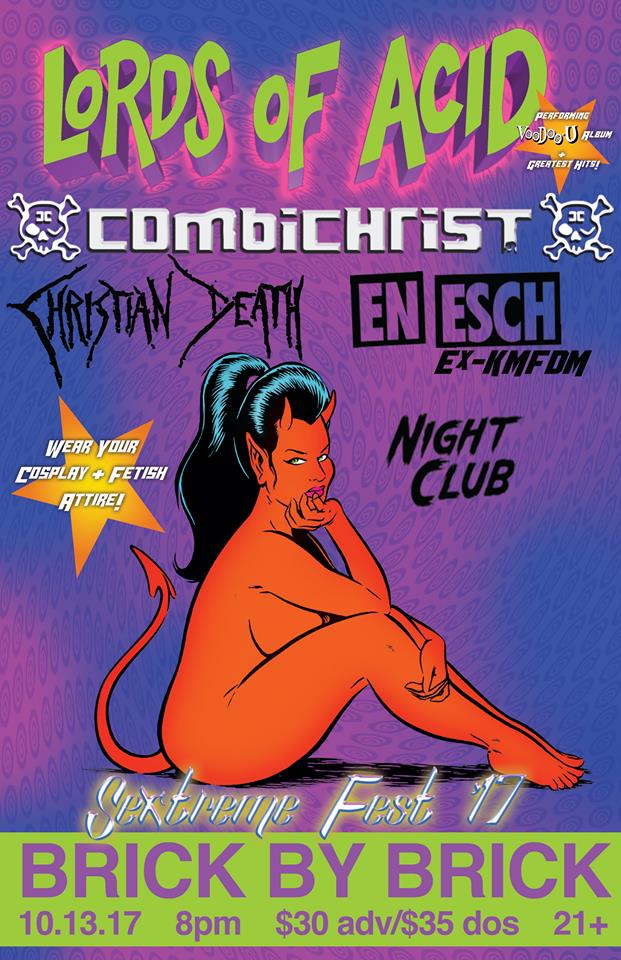 Sextreme Fest '17 – Lords of Acid, Combichrist, Christian Death, En Esch, Night Club – October 13, 2017 @ Brick by Brick – San Diego, CA
I have been waiting nearly 20 years to see Lords of Acid. When I first heard that they were coming to town from Brick by Brick's owner, I was ecstatic. That line-up was incredible and I also discovered a band (Night Club). There is some footage of them on our Facebook.
I was able to catch a lot of footage of the other bands, however. Watch and be amazed. Or not, your choice.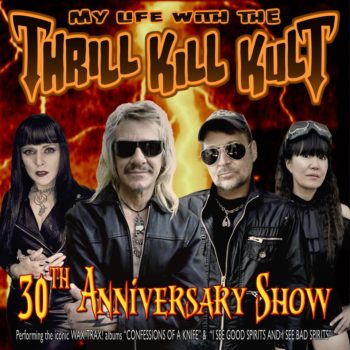 My Life With The Thrill Kill Kult, Ese' & Zain – November 5, 2017 @ The Casbah – San Diego, CA
I had never heard of Ese' & Zain before this night. I liked what I heard. For live footage, check out our Facebook page.
This was the second time I saw TKK. This time they were touring with Bradley Bills of CHANT as their live drummer. Live drums really added another dimension to the music. See for yourself.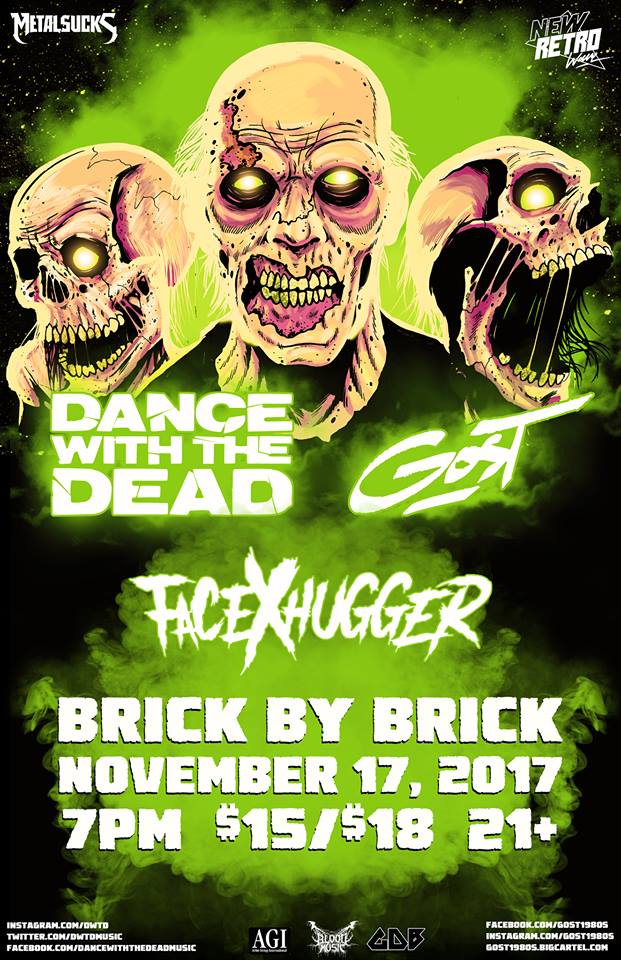 Dance With The Dead, GosT, FacexHugger – November 17, 2017 @ Brick by Brick – San Diego, CA
Jaymie has been on a rampage of spreading the gospel of retrowave lately. This show was not to be missed. It also happened to be the last show we covered as COMA, so naturally (for me anyway), I got a little verklempt.
Tags Author & PunisherChristian DeathCombichristDance With The DeadDelta-SineEn EschEse' & ZainFacexHuggerGosTHexaKangaLe ChateauLords Of AcidMatthew SetzerMy Life with the Thrill Kill KultNight ClubPerturbatorSpectrofiliaYvette Arambula
You may also like...