:Retrowerks: X Marks the Pedwalk – The Sun, The Cold And My Underwater Fear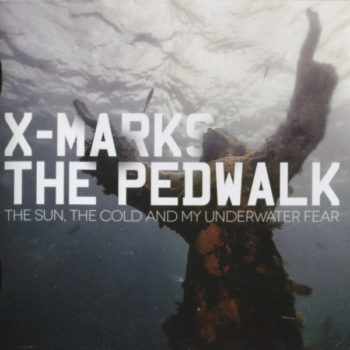 X Marks the Pedwalk – The Sun, The Cold And My Underwater Fear
Release Date: September 13, 2012
Label: Metropolis Records/Infacted Recordings
Websites: Official│ Facebook│ Twitter│ YouTube
Review by Jaymie Burzette
X Marks The Pedwalk (XMTP) is a German band with a musical style ranging from electro-industrial to techno to electronic body music (EBM). There have been three distinctive music periods in XMTP's existence; their sound began as more electro-industrial, then moved to more of a techno outfit. After a ten-year hiatus the band returned with a synthier, dark electronica/EBM sound with synthpop and ambient elements and a slight Asian influence in the background at times. Listening to their different musical periods discretely, they each sound like completely different bands. That being said, The Sun, The Cold And My Underwater Fear sounds like a very different album from what XMTP has put out so far. However, that doesn't mean that they aren't still a great band with much more to offer to the listener; the musical style is just very different.
The album opens with "You Are Gone," a soft, lonely ambient track, featuring Estefania singing softly. The isolation and overall quiescence makes you feel the loss this song is meant to convey. Up next is "Don't Lie To Me," a synthpop/dark electronica track that definitely has a significant message behind it per the lyrics. "The Day I Start To Die" and "The Side Of The Wrong" are both dark electronica tracks that channel reflection and loss. "Nightfall" is a slow ambient track that makes you truly feel as if you are staring up at the twilight sky, with night slowly descending and stars twinkling dimly.
"The Sun, The Cold, My Underwater Fear" features Sevren Ni-Arb's vocals processed to sound watery, soft drum beats, and effects that convey the sensation of being underwater or floating in the ocean. "Fallen Angel" is a dark electronica track with driving drums beating with a sense of urgency, as if you could hear the angel falling and the drums representing the rushing wind. "Electric Summer" is an almost ambient, floaty, and dreamy track that overwhelms me with sensations that are rather difficult to explain. I see a sunset, orange and pink, with the landscape faded into black and electric fireflies fluttering lazily in the air. You could almost feel the encroaching black sky overhead as stars shimmer softly in the distance.
"Tormented Skin" follows as an ambient/dark electronica track; somewhat similar to Massive Attack's style but with the unique elements of XMTP's current sound. "No!" is a bouncy synthpop/dark electronica track with a great dance beat. "Run! Run! Mary!" felt very similar to "No!" but with an overall darker tone and harder drum beats. "MKK.2" feels somewhat like trance, with on overall Ibiza club sound. "A.I.C.S.I.N." is a soft closing track that wraps up the album well; dreamy and mildly distorted in some parts, but mostly floaty, watery, and ambient.
The Sun, The Cold And My Underwater Fear is a great album; brooding and introspective, dark yet with moments of light flashing through. For me this album created a multitude of brilliantly vivid scenes in my head and overwhelmed me with numerous sensations. It bears an overall sense of twilight, darkness, floating underwater, and staring up at distant celestial bodies. Personally, I am fonder of XMTP's earlier works, but this is still an exceptional album that clearly took a lot of care and pain to create. This album is definitely worth a listen; I strongly recommend that you go buy this album if you feel like relaxing and reflecting on the many intricacies of life.
Track Listing
01. You Are Gone
02. Don't Lie To Me
03. The Day I Start To Die
04. The Side Of The Wrong
05. Nightfall
06. The Sun, The Cold, My Underwater Fear
07. Fallen Angel
08. Electric Summer
09. Tormented Skin
10. No!
11. Run! Run! Mary!
12. MKK.2
13. A.I.C.S.I.N
Tags Infacted RecordingsJaymie BurzetteMetropolis RecordsX Marks The Pedwalk
You may also like...