:Photo Gallery: Prophecy Tour – God Module, Die Sektor – October 9, 2015 – Spring Valley, CA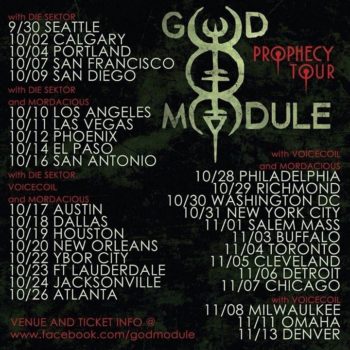 Prophecy Tour
God Module, Die Sektor
Concert Date: October 9, 2015
Venue: The Bancroft
Location: Spring Valley, CA
Words by Yvette Arambula
Photography by Vanessa Selik
This show was a couple days after God Module and Die Sektor's tour van got broken into outside the DNA Lounge in San Francisco. A lot of their equipment and almost all of Die Sektor's merch was lost as a result. They launched a highly successful GoFund Me where they reached their goal overnight. After running around all day trying to replace their equipment on the 8th while in L.A., they were able to acquire enough stuff for the show in Spring Valley on the 9th. They put on a great show despite being tired as hell.
Unfortunately, due to a corrupted memory card, only one photo of Die Sektor was salvaged.
Most of God Module's photos were spared the wrath of electronic gremlins.
You may also like...