:Interview: Assemblage 23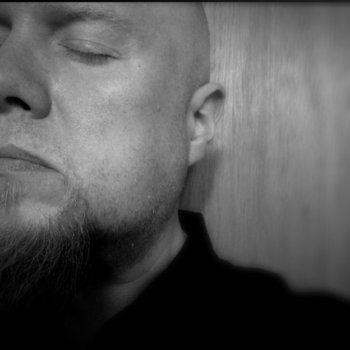 Interview conducted by William Nesbitt with Tom Shear during December 2017 via a series of e-mails
After a very successful tour for the Endure album along with performances at Convergence, Terminus, and Cold Waves—plus some DJ dates—Tom Shear found a few moments to reflect. In the following interview we talk about the Endure tour, 80s covers, tour shirts, Tom's writing process, and why he is brushing up his resume.
* * *
William: In the past you have experienced your van breaking down on tour. Any setbacks on the Endure tour? How did the Endure tour go? Does touring get harder or easier as time goes on?
Tom: We had some pretty interesting experiences at a couple of bad motels. In Santa Fe there was some guy whacked out of his mind on drugs waving a gun around. Luckily, no one got hurt, but we got a couple of good stories out of it. Overall, the tour went great. Probably the best U.S. tour we've done, honestly. We sold out a bunch of shows and the crowds responded to the new material really positively.
Touring gets easier in that you learn things you can do to tour smarter and more comfortably, but of course, the older you get, the harder it is on your body, so there's aches and pains that weren't there before.
William: When you played The Orpheum in Ybor City, Florida last year, you included a cover of INXS' "Don't Change." That's such a cool pick because it's upbeat and not their most obvious song. Why did you pick it?
Tom: It's always been a favorite of mine. Definitely my favorite of INXS. So basically, I had always thought about covering it; I was approached about doing an 80s cover for a compilation, so I used that as an excuse to finally do it. Also, it's funny to see a bunch of Goths dancing to such a happy song.
William: I've noticed some other bands including an 80s cover in their music. The Birthday Massacre, for example, do a fun cover of Tiffany's "I Think We're Alone Now." What do you like about the 80s?
Tom: There has always seemed to be quite a bit of nostalgia for the popular culture, at least. For me, it was the decade where I was first getting into music as a kid, so it's always been special to me. It's when electronic music really took off as well. Anyway, I just think it was a great period in pop music. So much amazing music was released during that decade.
William: We've seen you on every tour beginning with Storm and you've been great about playing Florida. What do you like about Florida?
Tom: We've had a long history with Florida going all the way back to 2001. In fact, Orlando was the first place we ever played "Disappoint." Anyway, there weren't a lot of bands coming to Florida around that time, but a couple of good promoters changed that. And bands always wanted to come back because the crowds were excellent and appreciative. It really seems to be thriving now.
William: What's your favorite song to play live and why? Most difficult song to play live?
Tom: It really depends on when you ask me. I like playing "Damaged." That one always seems to get a good reaction. "Noise Inside My Head" is a lot of fun, too. I can't say any of the songs are difficult to do live. Of course, "Disappoint" was tough to do the first couple of times, but it was also really cathartic.
William: My wife wanted me to ask you about this: On some of the tours, we haven't been able to get t-shirts. For example, on, I think it was the Meta tour, we were disappointed when the "we are human not machine" shirts weren't available (I scan eBay and the A23 website periodically hoping to find that particular shirt but to no avail). So is it just the luck of the draw and bad timing? What's the merchandise situation? Do shirts not sell anymore or are they difficult merchandise to deal with?
Tom: It's extremely difficulty to accurately predict how much of which items are going to sell. People's sizing preferences and design preferences are different from tour to tour. It wouldn't be possible for us to bring merchandise for the entire tour with us from the beginning, so we order half of what we think we might need for the first part of the tour then we restock the shirts in North Carolina where our printer is. Sometimes, happily, we sell way more shirts than we expect, so we run out before we're able to restock, so some of the shows miss out on some designs because we're sold out. However, we offer all our shirts for sale on the website, so if we run out, you can always order them there.
William: Care to offer an assessment of the current political, let's call it, "situation"? Do you think your political perspectives will make it onto the next record?
Tom: There's an old Chinese curse that says, "May you live in interesting times." We are living in interesting times. Not sure if it'll show up on the next A23, but it will show up in some Surveillance stuff I am sure.
William: Have you started the next album? Does it have a name? Any song titles you can share or descriptions of songs in progress?
Tom: The plan is to start writing the album in January. I have a possible title in mind, but I'm not ready to share that. For the past year I've been working on a new side project which will get announced at the beginning of 2018.
William: How do you develop lyrics? Do you revise? What do you like to read and does it influence your writing?
Tom: I keep a notebook where I can sketch down ideas as they come to me. It might just be a phrase I like the sound of or a couple of lines. Then, when I sit down to flesh everything out, I refer back to these for inspiration. There is a lot of revision. I usually write a lot more than I end up using, just in the interest of having the lyrics be the best I can make them. I do enjoy reading poetry, which I am sure has influenced me quite a bit.
William: How do you know when the lyrics to a particular song are finished?
Tom: I generally view song lyrics as having an arc, similar to a book or a movie. You're telling a story. I usually try to summarize the point of the song when I begin. Once I feel the lyrics have managed to communicate what that summary is, they're done.
William: How do you know when the whole song is finished?
Tom: Honestly, it's never really "finished." There's always something more that can be added or tweaked to perfection. But you can't be a productive artist that way. Sooner or later you have to be done. So it's about the discipline of knowing when to step back and let it be. I still have trouble with that even after all these years, but I've gotten better about it.
William: You mentioned that you enjoy reading poetry. Any particular era, movement, poets, poems, themes that you find yourself returning to?
Tom: I like to read as many different types and eras of poetry as I can. While I certainly might find modern poetry more directly relatable, poetry from bygone eras has a lot to teach in terms of language and creating something visual and descriptive in a beautiful way. I tend to go for anthologies of different poets versus sticking to one particular poet. It's the best way to get a wide variety of material to learn from.
William: In a 2012 interview you lamented the lack of diversity in the music scene. Has that gotten better, worse, or stayed the same?
Tom: I think there's a lot of exciting stuff coming out these days. There definitely seems to be a resurgence happening where people are doing more of their own thing rather than just trying to imitate whatever is the trendy band of the moment.
William: You have Assemblage 23, various side projects, 23db Records, and, I would assume, other music-related income from remixes and so forth. Do you have to work a job outside of music? If so, how do you manage it all?
Tom: I've made my living from music since about 2001, but I am looking at going back to work at a day job soon. I'm not going to stop making music; I just need a more dependable and predictable source of income.
William: Please finish this sentence. If I weren't playing music with A23, I'd be . . .
Tom: Dead.
Tags 23db RecordsAssemblage 23SurveillanceTom ShearWilliam Nesbitt
You may also like...