:Retrowerks: Say Just Words – Screams in the Darkness – A Collection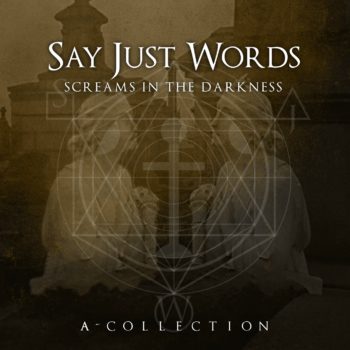 Say Just Words – Screams in the Darkness – A Collection
Release Date: December 21, 2012
Label: Engraved Ritual
Websites: Facebook│ SoundCloud
Review by Jaymie Burzette
From Santiago, Chile, Say Just Words is the harsh EBM/dark electro project of José Brantes and Eduardo Espinosa. Screams in the Darkness – A Collection is a selection of early and new tracks, along with some remixes by such artists as Fredrik Croona and Reaxion Guerrilla which showcases the band's talent over the years. Personally, I've loved these guys for a while and have always wanted to see more of their work released, so I was very excited when I came across this album collection. This collection holds everything that Say Just Words brings to the table; beautifully dark, melodic, harshly scraping at times, yet still highly danceable. They will sing a sweet song in your ears while simultaneously melting your face off.
The album opens up with "Screams in the Darkness (featuring Stahlnebel & Black Selket)," an excellent track that serves as a perfect opening for the album. The music blends very well together with the processed lyrics and has a nice, catchy melody. Up next is "Infeccion," another great track—fast, galloping, and pounding. Again, the music blends well together, and the distorted vocals lend nicely to this track. "This is Not Salvation" has a great beat, great synths, and personally I love the vocals. To me it even seemed to have a slight early VNV Nation influence as well.
The next track is "Bastard," another fast-paced galloping track with tight drum beats and exceptional rhythm. "Time of Pain" delivers more excellent beats and rhythms with great synth work; however, this is probably my least favorite track on this album. "Terror Horror (feat. Fredrik Croona)" brings the album back to the faster, stomping pace the rest of the album has. In this case, I actually don't care too much for the vocals on this track, but I love the musical aspect of it. "Noise of Broken Souls" has good dance beats and tempo, with an extra layer of distortion laid over some parts and an almost scraping sound in others.
"Agreement of Death (feat. Die Braut)" is a perfect example of how Say Just Words uses multiple, subtle layers of music to make a full and complex sound. "Femicide" brings more stomping beats and tight drums. This track also features a soft, feminine synth voice laid over the music which lends quite nicely to this instrumental track. "Controlling Me (Skullfucked Mix [feat. Reaxion Guerrilla])" is one of my favorites on this album, as I am quite partial to Reaxion Guerrilla. I thought this was an excellent mix; dark, watery, processed vocals with tight drum beats and great synth work. "Pray for the Last Time" is yet another fantastic dance track; dark, fast-paced, and with great processed vocals. "Darkness" closes out the album, a lengthy 10 minute track featuring processed guitars, synthesizers, drum machines, and audio tracks that sound like someone is being tortured. This one doesn't quite finish building until about the 4:30 mark. I'm not a huge fan of this track in the beginning, but I think once it finishes building it becomes quite good.
I thought this collection was absolutely fantastic—it brought together the best of what Say Just Words has put out over their six years of existence, culminating in an album that is simultaneously dark and brooding, yet upbeat and dance-floor friendly. One of the things I really like about these guys is all the subtle layers of music they weave together; there are always these small, almost unnoticeable melodies playing throughout their songs that I truly adore. Subtle and sweet yet darkly melodic; they fill out the overall sound tremendously. Regardless of whether or not you are a longtime fan of Say Just Words or a newcomer, you will love this collection. Go out and buy it now.
Track Listing
01. Screams in the Darkness (versus Stahlnebel & Black Selket)
02. Infeccion
03. This Is Not Salvation
04. Bastard
05. Terror Horror (featuring Fredrik Croona)
06. Time of Pain
07. Noise of Broken Souls
08. Agreement of Death (featuring Die Braut)
09. Femicide
10. Controlling Me (Skullfucked Mix) (featuring Reaxion Guerrilla)
11. Pray for the Last Time
12. Darkness
Tags Die BrautFredrik CroonaJaymie BurzetteReaxion GuerrillaSay Just WordsStahlnebel & Black Selket
You may also like...