:Retrowerks: Ritual Aesthetic – Decollect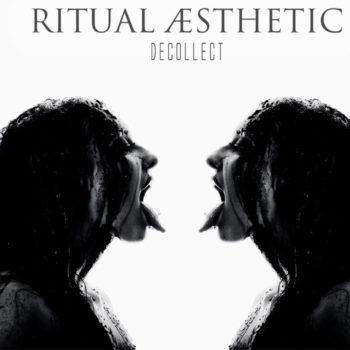 Ritual Aesthetic – Decollect
Release Date: April 18, 2014
Label: Juggernaut Music Group
Websites: Bandcamp│ Facebook│ SoundCloud
Reviewed by Jaymie Burzette
Ritual Aesthetic is the solo music project of Sean Ragan, live drummer for Dawn of Ashes and former drummer for black metal band, Belhor. The music of Ritual Aesthetic is a mixture of industrial and metal influences, with some bone-chilling melodic ambient tracks mixed in as well. Not long ago, this Denver, CO project was picked up by Juggernaut Music Group which gave Ragan an outlet to distribute his music. What we got was this nice, enticing album, Decollect.
The album intros with "Decollect (Transition Clinic Awakening)," a melodic, ambient piece that lures you in with the soft initial portion, giving you a false sense of safety, while progressively building into a more solid electronic body, giving you a glimpse of what is to come in Decollect. "Orphans in Coma" is a hard, grinding electronic track, providing a great opening track to this album. "Something to Know You By" is a harsh and growling, yet bouncy, track that is quite catchy and will be sure to get stuck in your head.
"Red Redeemer (Where The World Becomes Skin)" is harsh and grinding, with heavily distorted guitars and clicking and scraping noises that conjure to mind a dark, sterile mechanical room, while sitting in the dark and fearfully listening to the sounds of machinery all around you, not fully understanding what's lurking out in the dark. "Fleshing Wheel" follows, with portions of this song really reminding me of Scandinavian black metal; in particular, Isengard stands out in my mind.
The album closes out with three solid remixes of "Something to Know You By" by Iszoloscope, Ruinizer, and Tactical Module. The Iszoloscope remix is bouncy and punchy, adding a bit more of an electronic edge to this song. The Ruinizer remix is grittier than the Iszoloscope remix, with a little bit of dubstep influence thrown in. The remix by Tactical Module has more of a trance-y, electronic feel, but it works quite well for this track. Tactical Module really pushed this remix to the next level, pushing the track beyond its intended and original sound.
Overall, this album was quite enjoyable. I thought that Ragan blended in metal styling and industrial very well, blending the appropriate qualities of each genre into a smoothly flowing tapestry. I sincerely hope that we can look forward to new music from Ragan in the future, as this album should leave the listener anticipating more. This appears to be a promising beginning to a bright solo career. I expect to see more great things from Ragan in the future. But for now, you should enjoy the fuck out of Decollect.
Track Listing
01. Decollect (Transitional Clinic Awakening)
02. Orphans In Coma
03. Something to Know You By
04. Orchid Incestus
05. Red Redeemer (Where The World Becomes Skin)
06. Fleshing Wheel
07. Through The Lust Of Flies
08. Tender Petal
09. Something to Know You By (Iszoloscope Remix)
10. Something to Know You By (Ruinizer Remix)
11. Something to Know You By (Remember Me Remix by Tactical Module)
Tags BelhorDawn Of AshesJaymie BurzetteRitual AestheticSean Ragan
You may also like...