:Retrowerks: Respekt Fest 2 – Amduscia, Larva, Reaxion Guerilla & Guests – September 7, 2013 – Tijuana, BC, Mexico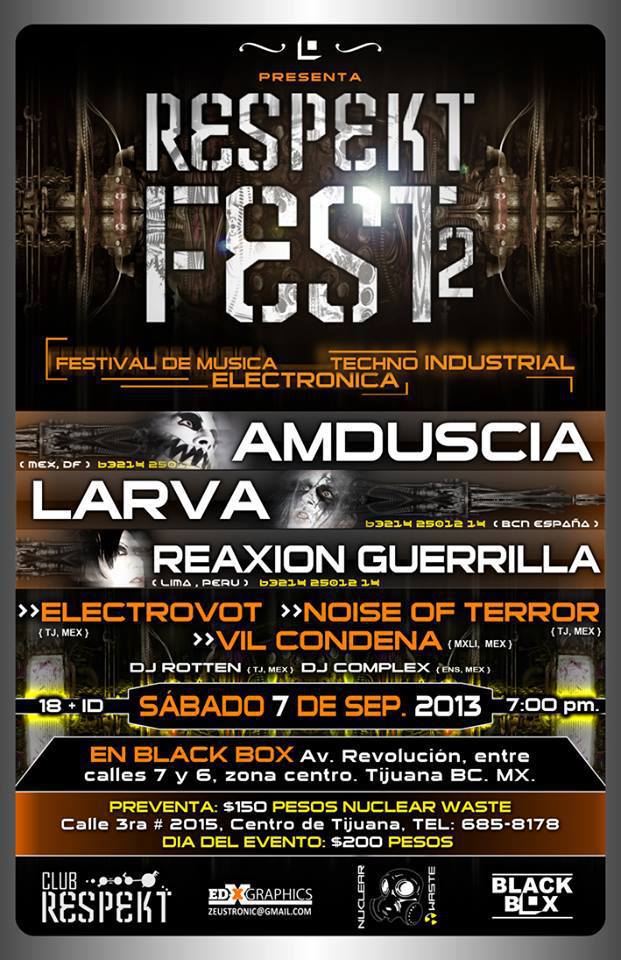 Respekt Fest 2
Amduscia, Larva, Reaxion Guerilla, Electrovot, Vil Condena, Noise of Terror
Concert Date: September 7, 2013
Venue: Clüb Respekt at Black Box
Location: Tijuana, Baja California, Mexico
Review by Jaymie Burzette
Since I heard about this show, I was ridiculously ecstatic. I have wanted to see Reaxion Guerilla and Amduscia for a long time and was incredibly excited that now I would finally be able to see them play live. When going down to Tijuana, one always wonders what kinds of oddities you might see. This being my first show in TJ, it was exhilarating because it felt like an adventure. When crossing on foot at the San Ysidro border, one of the first things you see once you pass through that magical transporter hallway are guards with automatic rifles. I had never seen these weapons in real life before, and it was a bit unnerving, especially since the guards seemed very casual and not the least bit concerned about the amount of potential death they held in their hands. From there, we hailed a taxi and in about five minutes and some seriously reckless (and seatbelt-less) driving we hit Avenida Revolución, the famous strip of clubs that attracts people from all over. All around us some serious partying was taking place—drunken revelry, dancing, and eating. Probably many other things we didn't happen to see, too. Our destination, the club Black Box, was three-leveled with Clüb Respekt on the top floor. The club itself was pretty cool and everyone was very nice. The overall vibe of the place was laid-back and mellow.
The first band to take the stage was Noise of Terror, a harsh EBM/dark electro band from Tijuana, BC. John, the keyboardist of Reaxion Guerilla, performed live vocals while Brenda played on what appeared to be an analog sequencer. They were in full cybergoth dress, complete with green neon tubes hanging from their shoulders. By the time I arrived at the venue, they were about halfway through their set. People were still slowly filtering into the club, so the crowd at this point was fairly sparse (this was around 10:30 PM). Unfortunately, this was the first I had heard of them, so I was unable to identify any songs.
The second band of the evening was Vil Condena, a harsh/terror EBM band from Mexicali. When the front man emerged from backstage, he was wearing a cloth sack over his head similar to the one worn by the creepy kid in the movie The Orphanage. He was also wearing a placard sign that read "No Obama," and began tossing out fake money and paper cutout Guy Fawkes masks. These guys were great—the front man had great stage presence, engaged with the crowd frequently, and was quite animated as he writhed around stage in his grease paint-covered industrial jumpsuit. At one point during the show, he took an aerosol can and a lighter and began spraying fire everywhere (you can't do that in the States—especially in a tiny club with no sprinkler system!), which was quite entertaining. Towards the end of their set, the front man went backstage and changed into a black cowled cloak and was carrying around an old cross made out of decaying wood. He paraded it about the stage and dropped it into the audience, ending their set.
Up next was Electrovot, a Tijuana synthpop band who were quite good, with a sound similar to Assemblage 23 and Neuroticfish. They had a great set and the audience ate their music up. Again, I wasn't too familiar with their music either so I regret not being able to mention specific songs. At this point in the show, the crowd had become thicker and the lack of air conditioning was made even more evident. It had become a hot, sweaty, stinky mess near the front of the stage so I retreated to a less populous area of the club, but still with a full view of the stage which was in the middle of the room. It was also an excuse to get away from an especially boisterous gal who kept swinging around her dreads and elbows with glee just a little too close to my face for comfort.
After Electrovot, Reaxion Guerilla finally took the stage. The crowd around the stage had gone from being sparsely populated to being jammed in together nearly shoulder to shoulder, and you could feel the excitement brimming in the air. The energy they displayed in their performance was astounding. Stomping, screaming, and pacing back and forth across the stage, the crowd going wild the whole time. A majority of the songs played were off the album I Hate You, including "Cyberkillers" and the title track "I Hate You." At several points during their performance, Exsubte took a handheld electric sander and held a piece of metal to it, sending sparks flying everywhere. I took some sparks to the face, but I didn't care because I was so damn excited to finally see Reaxion Guerilla perform live. During their set, you could feel the boot stomping resonating throughout the floor, vibrating your being, shaking your very soul to the core.
Up next was Larva, an industrial/harsh EBM band from Barcelona, Spain. Their set was fairly long, and their music was quite good. Unfortunately, I wasn't terribly familiar with their music, so I wasn't able to identify any of their songs. They did, however, show vignettes of slightly fuzzy full-penetration porn in their background video (another one of those things that snaps you back to reality and make you realize you aren't in the States anymore) interspersed with images of (wouldn't you know it) various larvae, seemingly painful surgical procedures (or torture, sometimes I can't tell the difference), and other things that I would like to never see again and refuse to describe in detail lest I traumatize my readers. The band was comprised of a frontman, a keyboardist (whose bondage belt loops kept getting tugged by my rather intoxicated friend), and a female keyboardist. The front man was certainly a hit with the ladies in the club—there was full-on swooning during parts of their set when he would move to the edge of the stage and sing into the mic close to a girl's face. Many of the girls in the front were grabbing him and tugging on his legs; at one point he jumped off the stage and meandered through the audience, making even more girls swoon.
After Larva performed, it was finally time for Amduscia to take the stage. As with the rest of the bands performing, their energy was impressive and their stage presence was excellent. Polo took the stage, leather-clad with his characteristic demon-face makeup, and paced furiously about the stage, while the drummer and keyboardist played on. He moved so quickly that it was rather difficult to get any decent photos of him. The crowd went positively wild, dancing without abandon, and stomping their boots. Between the bands and the excited crowd, the floor felt as if it might break away underneath my feet, it was vibrating so much. They played a lot of songs from Filofobia, including "Bitch Killer" and the title track (of course). Polo obviously had good rapport with the crowd, pausing between every few songs to lift his beer and say "salud, Tijuana!" Much to my chagrin, all of the band's sets this night felt like they were over way too soon. Not because the sets were short, but because the performances were so enrapturing that it felt like no time had passed at all. But apparently it had since it was after 3 AM when we left the club.
This was an amazing show, one of the best I've been to in a while. The energy of the bands was incredible, as was the energy of the crowd. Mixed together, it created one amazing feeling that I was glad to have experienced. Personally, I can't wait to go to another Clüb Respekt event at Black Box or any other club they decide to commandeer for the night; they put together such an amazing night and the overall vibe was just so mellow and unpretentious. These are the shows I love—great music, great bands, and great friends in small, intimate clubs. One of the things I really liked about this show was that there was very little time between band performances. Some venues make you wait a decent amount of time between bands; I typically find that lull to be fairly boring and tend to get a bit anxious. Here, setup took these guys maybe ten to fifteen minutes between bands, which was awesome. Additionally, all the people working at the club were quite nice and friendly
After the show was over, we ate tacos and took another terror ride in a taxi (this one had seatbelts, but the driver was even more reckless so it's kind of an even trade-off). After wading through the kind of poverty that slaps us as Americans in the face, we then stood in the long wait to cross back into the U.S. on foot, amidst drunken idiots hollering, "I'm an American! Let me through!" and local farmacias taking prescription drug orders while folks stood in line. Although I had thought the night's adventure was over, I had to deal with a border patrol agent who didn't want to let me back into the U.S. with my birth certificate, and after some dealings he eventually let me through. What a night! And a great one at that! I can't wait for the opportunity to see these guys perform live again.

Tags AmdusciaClüb RespektElectrovotJaymie BurzetteLarvaNoise of TerrorReaxion GuerillaVil Condena
You may also like...