:Retrowerks: Reiz – Snow Covered Sun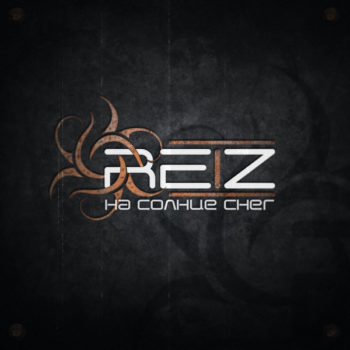 Reiz – Snow Covered Sun
Release Date: March 18, 2013
Label: Synth-Me
Website: Facebook
Review by Jaymie Burzette
Reiz is a Moscow-based aggrotech/neurofunk/darkwave/electro-industrial/etc. project founded by Alexander Verzicht of Witchcraft and Cutoff:Sky. This album is one of those that are a bit difficult to place into a particular genre, as the album is sort of all over the place musically. The album features different electronic styles, ranging from operatic and danceable to harsh and gritty. Snow-Covered Sun is a two-disc album, featuring originals on the first disc and remixes by other artists such as Advent Resilience, Darkrad and Nitemare Machine, to name a few.
The album opens with "Intro: Cardiograms," a soft darkwave track featuring almost spoken-style vocals from Verzicht. This track is only 1:37 long. The next track "In Silence" follows with more darkwave style, but alternates between being fast and danceable with slower beats and spoken-style vocals in Russian by Verzicht. "Mortuus In Anima" features similar beats as the preceding track, but the track is more consistently upbeat and the vocals here are more sung than spoken as they were in the preceding tracks. This track actually figures lyrics that are taken from the manuscript of Bavarian poetry, the Carmina Burana. As a nerd, this only adds appeal to this track for me. "Oxygene" is another dance track that draws more heavily on electro-industrial musical stylings than the previous tracks, but with portions of the track that are operatic as well.
"Hakenkreuz" comes next with more electro-industrial influence and processed vocals, staying with the upbeat and dancey tracks. "Snow-Covered Sun" maintains the electro-industrial influence with stompy beats and adds in some funk influence as well. This is a great title track and I could see this one getting a lot of club play due to its beat and being so danceable. Next track is "Psalm Zero," a cover of an Id Molotov track. This one is another upbeat and dancey track with stompy beats and an element of harshness to it. The lyrics and samples were taken from the satiric drama Die Physiker (1961) by Friedrich Dürrenmatt. "Both Sides of Me (feat. FRZ)" is more slow-paced with darkwave elements, reggae-styled guitars, trip-hop drum beats and vocals that alternate between rapping and Enigma/Deep Forest type vocals (very popular in new age music from the '90s). Personally this style isn't really my thing, so this was not one of my favored tracks.
"Incrustations" is a slow-ish, stompy track in parts and then transitions to more drum and bass stylings, which I'm not a huge fan of, personally. "Drops of Rain" begins with operatic synthesizers and moves into being sort of darkwave with stompiness and growling vocals, with the occasional drum and bass style drumming. In "Mythology" the music and beats felt very dubstep and featured classical guitar throughout the track. "Undone (feat. Miriam Miles)" is a slow track that closes out the first disc with unprocessed female vocals very reminiscent of styles from the '90s, in the familiar romantic melody of music from that decade.
The second disc opens with "Intro: Mechanism of Fate," a brief dubstep-influenced track with the organ sampling coming from the track Toccata Super "Miser" by Corvus Corax. Next up is a Nerva Tremo remix of "Hakenkreuz," a bouncy, dancey track with more thump and distortion than the original version of this track. "Both Sides of Me" remixed by Nosense, still possessed of the reggae rhythms and rapping in Russian, whereas the Deep Forest-style tribal singing is minimized in this mix of the track. "Drops of Rain" remixed by Nitmare Machine brings this track into a dance club hit, bringing more stompy goodness and dark electro styled synthesizers from the more slow and prodding drum and bass influenced original.
My favorite tracks on this album are the ones that are more dance-inspiring and faster than the ones that are more rap-ish with slower trip-hop beats, but I also don't care for rap or that method of vocalization, so that definitely influences my thinking here. However, as a Russian speaker I enjoyed the tracks that were in Russian a lot, as you tend to not hear much Russian vocals here in the States. A lot of elements on this album felt like they were lifted from the '90s.
Track Listing
Disc 1
01. Intro: Cardiograms
02. In Silence
03. Mortuus In Anima
04. Oxygene
05. Hakenkreuz (album version)
06. Snow-Covered Sun
07. Psalm Zero
08. Both Sides of Me (feat. FRZ)
09. Incrustations
10. Drops of Rain
11. Mythology
12. Undone (feat. Miriam Miles)
Disc 2
01. Intro: Mechanism of Fate
02. Hakenkreuz (remix by Nerva Tremo)
03. Both Sides of Me (remix by Nosense)
04. Drops of Rain (remix by Nitemare Machine)
05. Snow-Covered Sun (remix by Advent Resilience)
06. Hakenkreuz (hard version feat. Arkhitektonika)
07. Psalm Zero (remix by Đetuned Đestruction)
08. Drops of Rain (remix by Vhelena Project)
09. Mortuus in Anima (hard version)
10. Psalm Zero (remix by Meine Liebe)
11. Hakenkreuz (remix by Nosense)
12. In Silence (remix by Darkrad)
Tags Advent ResilienceAlexander VerzichtArkhitektonikaDarkradÐetuned ÐestructionFRZJaymie BurzetteMeine LiebeMiriam MilesNerva TremoNitemare MachineNosenseReizSynth-MeVhelena Project
You may also like...