:Retrowerks: Nine Inch Nails – Hesitation Marks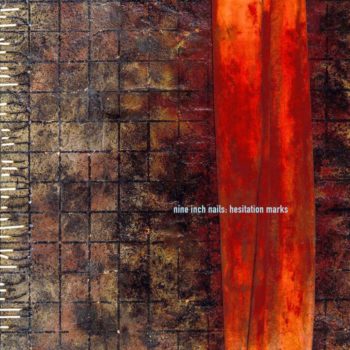 Nine Inch Nails – Hesitation Marks
Release Date: September 3, 2013
Label: Columbia Records
Official Website: http://www.nin.com
Review by Maresa Whitehead
Full disclosure: I am an avid Nine Inch Nails fan. Rather, to be unquestionably transparent, I am an obsessive fan-girl who has seen them live ten times and owns every Halo I can get my grubby paws on. Yes, I'm aware of the in-scene debate about whether NIN actually qualifies as an industrial artist, and it is no secret as to which side of the line I stand on. But this is a review of an album, not an argument for the merits of the band at large (though I welcome lively discussion if you'd like to contact me privately—knowing you'll never change my mind!).
Naturally, I jumped at the chance to review Nine Inch Nails' Hesitation Marks, the group's first album in five years and their eighth studio album. It's also NIN's first album since they announced their hiatus and performed a wave of farewell concerts in 2009. Furthermore, Hesitation Marks is NIN's first major-label release since Year Zero (2007) in an attempt to garner the largest possible audience, despite legendary front man Trent Reznor's vocal criticism of the corporate music industry.
The album both opens and closes with short instrumentals, a staple on previous NIN albums. "The Eater of Dreams" crescendos into fuzzy guitar, becoming a static-y, all-out aural assault which fits nicely as an album opener. The development of "Black Noise" mimics that of the first track, and its ribcage-rattling bass and echoic synths beneath plucking grow evil as distorted guitar is amplified to an abrupt album end. "Black Noise" is clearly the better instrumental, but NIN missed the opportunity to expand both by keeping them under two minutes.
If you're looking for the tracks that most closely resemble something a NIN fan might enjoy, "Copy of A," "Came Back Haunted," "Disappointed," and "I Would For You" all provide the guitar-driven, drum-heavy aesthetic previously marketed by NIN. "Copy of A" and "Came Back Haunted" are the catchiest, most danceable songs on the album, both featuring dynamic drum work and Reznor's clear, sure vocals. "Came Back Haunted," the third track, could very well be a proclamation of Reznor's return to NIN in song form with lyrics like "I am not who I used to be" and "I said goodbye but I / I had to try / I came back haunted."
"Disappointed" has an irregular rhythm which picks up the album's tempo after a couple of slower songs, but it is the reintroduction of NIN-like guitars in the chorus which builds up to the most industrial rock sound since earlier on the album. However, it is perhaps "I Would For You" that, as a whole, best harkens back to earlier NIN. It begins with throbbing bass and skipping beats which move into an atmospheric chorus. A later, evocative guitar solo ends with a piano solo overlaying synths in perfect NIN fashion.
Ready to try something a bit outside of the NIN norm? Hesitation Marks has you covered. Check out "Find My Way," the mild-tempered fourth track. Emphasizing R&B hallmarks through soulful vocals, a slow tempo, and minimal instrumentation alike, this track embodies a distinct turning point for the album—one that may be hard for historical NIN fans to move beyond in its stark difference. As the track builds, though, the lyrical repetitions and fuller-bodied sound meld into a haunting lullaby.
Other minimal tracks which build to poignancy include "Satellite," "Various Methods of Escape," and "While I'm Still Here." "Satellite" becomes all-encompassing as its low bass, high-pitched beeps, and echoic atmosphere mimic the potential sound of an actual satellite. "Various Methods of Escape" breaks its nondescript essence through the melodic, droning guitar of its chorus. And "While I'm Still Here," much like "Find My Way," morphs into a sort of lullaby with its echoic, static-y atmosphere, call-and-response vocals, and comforting lyrics.
Track five, "All Time Low," keeps with the album's more muted ambiance and is best described as a languid, sultry disco song. Complete with funk guitar work, repetition of the pet name "baby," and high-pitched vocals, there doesn't seem to be much that makes this song electronic at all. But its electro foundation is readily apparent in the synth- and effect-heavy chorus as well as the twinkling arpeggios of the last minute or so. And if the beat sounds familiar, you'd be right—Reznor himself acknowledged the similarity with "Closer" by fusing the two onstage during NIN's recent U.S. tour.
Interestingly, nearly all of the best moments on the album occur around the three-minute mark of their respective tracks. For proof, check out the undulating, almost Egyptian synths in "Disappointed" or the low vocals and instrumental buildup in "Various Methods of Escape." Even the vocal rounds and layering in "Running," aptly named for its galloping, almost tribal beat, effuse beauty. This timeframe also harkens back to the most familiar NIN atmospheres, as with the guitar work in "Copy of A" and "Came Back Haunted," or the muted vocals and guitar picking in "In Two."
It is "Everything," though, which protrudes conspicuously, as it doesn't follow the logistics of the album. Though it is guitar-driven and even heavy in the chorus, it sounds more like a mash-up between Queens of the Stone Age and NIN. Only through that lens can the song be accepted, though it is one of the least NIN songs on the album (and considering some of the other tracks, that says a lot!).
Hesitation Marks, named for the wounds inflicted on one's body with a knife prior to self-mutilation or suicide, heralds both a return to and divergence from familiar NIN territory. The proliferation of Native Instruments effects and guitar-driven reverberations will engage historical fans, but the introduction of instruments and characteristics previously unheard in NIN orchestrations (such as the saxophone on "While I'm Still Here") sever this album from any before it. These instances in which Reznor reinterprets NIN's aural capacities are make-or-break moments, and they can be tough for previously salivating fans to digest. It is best to remember what Reznor himself points out in a variety of interviews scattered across the internet: this is a new era for NIN. It is unfair to listen to this album and expect The Fragile when Reznor has clearly (and expectedly) metamorphosed as an artist in the five years since he last produced under the NIN moniker. After all, he has scored films and collaborated with his wife in How to Destroy Angels, thereby opening his milder chakras. The man's almost half a century old and a father now, so cut him some slack!
That being said, Hesitation Marks also deviates from the last few NIN albums in that it leaves behind the heavy-handed dystopian themes of Year Zero and The Slip, instead returning to earlier NIN's more personal lyrical themes. And though it's not fair to dismiss NIN's entire back catalog while listening to the newest foray, it was when I compared Hesitation Marks to my earlier NIN favorites that I had the hardest time swallowing the album. As such, it is my best recommendation to listen to it without expectation and with open ears, giving Reznor the benefit of the doubt on NIN's "new era," because only then could I embrace the most evocative moments on the album—of which there are many. Though it may not make sense as a NIN album coming directly after The Slip, it certainly makes sense on Reznor's personal creative timeline as a follow-up to his post-NIN work with film scores and How to Destroy Angels. It's safe to say that Hesitation Marks was destined to make waves—and make waves it has.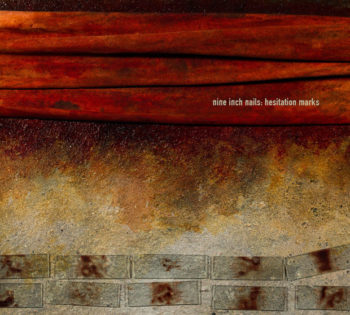 Track Listing
01. The Eater of Dreams
02. Copy of A
03. Came Back Haunted
04. Find My Way
05. All Time Low
06. Disappointed
07. Everything
08. Satellite
09. Various Methods of Escape
10. Running
11. I Would For You
12. In Two
13. While I'm Still Here
14. Black Noise
You may also like...