:Music Review: Loveproof – Neon Blood Volume One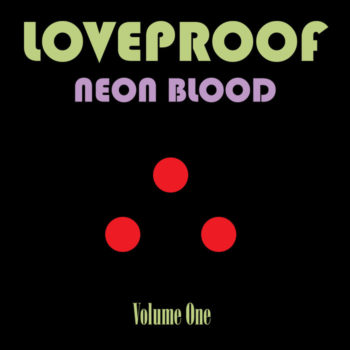 Loveproof – Neon Blood Volume One
Release Date: December 5, 2017
Label: Off-label
Websites:
Facebook – https://www.facebook.com/loveproofmusic/
Bandcamp – https://loveproofmusic.bandcamp.com/releases
Review by William Nesbitt
Professor of English
The duo of instrumentalist Brendan McGarvey and vocalist Ciaran Megahey form Loveproof. Neon Blood Volume One is their debut album. The name, like the music, is both optimistic and pessimistic: proof of love or immune to love. Some of the influences you can hear in the album are Guided by Voices, Joy Division, My Bloody Valentine, The Pet Shop Boys, Depeche Mode, New Order, and dub such as King Tubby and Lee Perry.
This is powerful music but not party music. Dreamy and floating, Ciaran's voice is a high cliff to throw yourself off of, a sky to fall from, a sea to drown in. Fog at dawn, the heat from a lover's lips, fractured shafts of sunlight, the tips of white reefs at low tide, reverberations from the outer rim of the heart, echoes from inside empty stone palaces, crushed ice, the quivering light from extinguished stars, a shimmering mirage, the last fragment of a dream.
The songs are about love and relationships. However, this is not the world of candy, balloons, and hearts dotting the letter i. These are moody, abstract, introspective considerations of love and relationships. "Power," for example, asks, "Couldn't we do this over / Shouldn't we do this over." Perhaps the song asks about doing over an entire relationship or perhaps just a defining moment within the relationship. "Sister Moonlight" says, "Love is dying on the vine." Reminding us that "nothing lasts forever," it asks or raises the distinction between "What's not to be / what ought to be." "The Vortex" references a "love gone twice insane." "Tabula Rasa" commands, "give me your love," and declares triumphantly that "I will not be undone." When "Modern Ecstasy" offers to "let us compare our myths" the track may also suggest a key to the album as an examination of various moments and recollections of a relationship or relationships. Plus, there is a mythic quality about these lyrics (some of it reminds me of Jim Morrison's writing, which is a plus). "Clever As" reminds us of the fragility and sensitivity of human beings with the line "Anyone can break your heart in two." Loveproof won't break your heart or put it back together but they might help you to identify the pieces and understand why having a heart hurts so much.
The title of "Death's Flower" sums up the dichotomy of Neon Blood Volume One and its celebration of the power and majesty of love as well as its lamentation over love's failures and unsatisfied desires. Love can be a splendid kingdom or a lonely empire. When I interviewed the band, they said that the narrator is not the same on every song. However, if I had to describe the overall narrative voice of the album, I'd use these lines from "Death's Flower": "There once was a boy / Lost in a world of joy / And there's nothing that he wouldn't do for love."
There's a whole world to find and lose in here.
Track Listing
01. The Power
02. Sister Moonlight
03. Post
04. The Vortex
05. The Lowdown
06. Tabula Rasa
07. Modern Ecstasy
08. Clever As
09. Neon Blood
10. Death's Flower
You may also like...