:Movie Review: Death Race 2000 (1975/2010)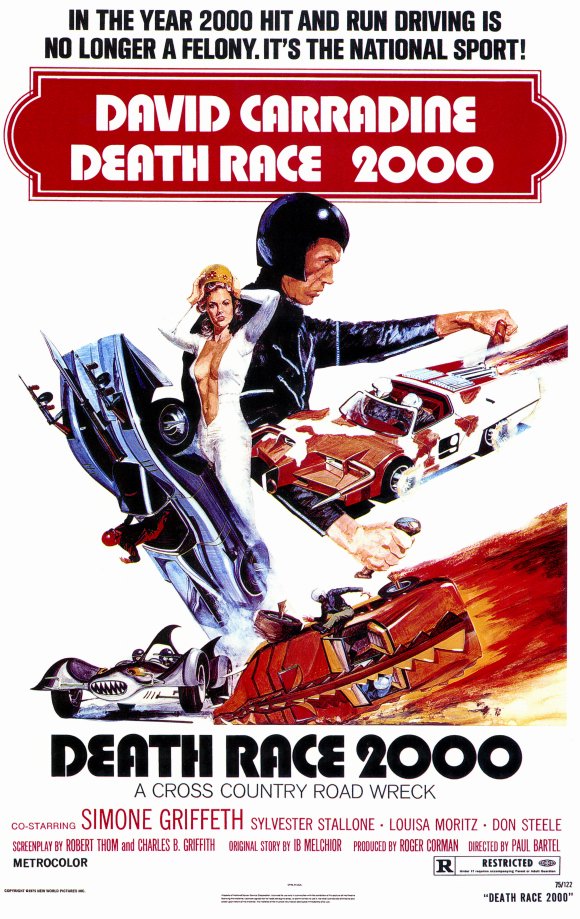 Death Race 2000
Theater Release Date: April 27, 1975 (USA)
DVD/Blu-ray Release Date: June 22, 2010 (USA)
Studio: New World Pictures / Shout! Factory (home media rerelease)
Starring: David Carradine, Simone Griffeth, Sylvester Stallone, Martin Kove, Sandy McCallum, Mary Woronov, Louisa Moritz, and Don Steele
Music: Paul Chihara
Director: Paul Bartel
Rated R
Review by William Nesbitt
Professor of English, Beacon College
The film takes place within an America reeling from a world crash and experiencing societal unrest and economic issues. The current government is a totalitarian regime ruled over by Mr. President. Once a year there is a Transcontinental Road Race in which a group of drivers race around the country in custom cars killing pedestrians and onlookers for points. There is a tiered system of scoring. For example, the elderly and babies count for more points than the average person.
In the year 2000 five racers compete: Frankenstein dresses in all black with a cape (maybe he's our Goth); Machine Gun Joe, a gangster; Calamity Jane, a cowgirl; Matilda the Hun, a Nazi with swastikas; and Nero the Hero, a Roman gladiator. Each one has a navigator of the opposite gender.
Thomasina Paine, a descendant of revolutionary Thomas Paine, plans to disrupt the government by sabotaging the race. Her granddaughter Annie is Frankenstein's navigator. While she is successful in interfering with the race, the government covers it up and blames it on the French. One by one, all the drivers are killed except for Frankenstein whom Annie discovers is neither the original Frankenstein—just the latest in a series trained to race as Frankenstein—nor a supporter of the current government. In truth, Frankenstein plans to win the race and blow up Mr. President with a grenade implanted in his hand—a literal hand grenade, which Annie has to use to kill Machine Gun Joe.
Frankenstein wins the race but is wounded. Annie puts on his costume and plans to stab Mr. President to death. Thomasina who doesn't realize Annie is playing the part of Frankenstein tries to kill her because she thinks Frankenstein killed Annie. The real Frankenstein seizes the opportunity to kill Mr. President.
Annie and Frankenstein marry. Frankenstein who is now the leader of America ends the race and makes plans for positive changes.
In his review Roger Ebert gave the film zero stars. No, Death Race 2000 does not represent the highest level of movie making, but it is notable for a variety of reasons. The film provides relevant social commentary on Americans as a people preoccupied with entertainment, sports, and violence and on America as a society with the potential to become an oppressive regime. The film grossed $8,000,000 on an estimated budget of $300,000 and made almost $5,000,000 in rentals. While it's a movie that time has not been overly kind to, it's still entertaining. Viewers can also see aspects of The Hunger Games and The Fast and the Furious. And, like other Corman films, you can see some big stars at various stages of their careers. David Carradine fresh off of Kung Fu was the biggest name at the time. Martin Kove went on to a number of roles including the evil sensei in The Karate Kid. Sylvester Stallone was just one year away from appearing in 1976's Rocky.
Like a lot of the other New World Pictures reissues, this one comes with extra features. Designing Dystopia is a sort of mini-documentary about designing the cars, costumes, and landscape. There is an interview with costume designer Jane Ruhm. This was her first movie and she had no idea what to expect. Carradine—The Big Star of the movie—was highly displeased with the costume she designed for him and he cursed her out. She told director Roger Corman and a few days later Carradine showed up at her apartment with his dog and acoustic guitar to offer an apology. For several hours he played and sang songs for her. Carradine's interview doesn't reference the event, but he shares recollections of Death Race 2000. The movie is based on a short story by Ib Melchior called "The Racer" and he talks about some of the key differences between his story and Paul Bartel's film. Paul Chihara talks about the music he designed for the film and how some of the softer, gentler pieces he composed were used for the violent scenes and how some of the harsher compositions were used for lighter moments. As he discusses these unexpected combinations, songs such as "Dance of the Sugar Plum Fairy" play in the background. While the juxtaposition is fitting and must be intentional, it is also funny.
A common selling point is to say that whatever the latest version of something is has been improved, enhanced, or restored in some way from the original. The box says that the reissue is a "new anamorphic high-definition widescreen transfer (1.85:1) from the interpositive film element." So what does this mean to make a high-definition widescreen transfer (1.85:1) from the interpositive film element? I conducted some quick research on this via the Internet for the Battle Beyond the Stars review so I will recap some of that—you should read that review for all of the background information—and expand.
Shout! Factory's website gets into aspect ratio and explains that "1.85:1" is for "Widescreen (wider than 16×9)," so if you are watching on any type of current device, phone, TV, or tablet that is rectangular shaped, this is probably the ideal aspect ratio.
Interpositives and internegatives are the earliest generations of the actual finished film and usually used for transfers and restorations. These are used for release prints or copies that go to the theaters. The interpositive is generally preferred over the internegative for transfers since it is generation one higher. Thus, Death Race 2000 transfer uses the best available finished source.
Whereas film element does not seem to be an especially meaningful term, high-definition does seem to be. Essentially a high-definition transfer will look better than a standard-definition transfer, especially on modern television.
This is the third New World Pictures film I have reviewed and I notice that the reissues are not created equally. Why is Galaxy of Terror remastered instead of transferred as Battle Beyond the Stars and Death Race 2000 are? Why is Battle Beyond the Stars transferred from the internegative and not the interpositive as Death Race 2000 is? Why does Battle Beyond the Stars not receive a high definition transfer, which Death Race 2000 does, but Battle Beyond the Stars gets a new 5.1 Dolby surround mix, which Death Race 2000 does not? There are backstories that would answer these questions. It's fun and useful to think about what things are but it's also interesting, to me, at least, to know how things came to be.
No, these movies are not perfect but they are better than some of what's in theaters right now.
Tags David CarradineDeath Race 2000Don SteeleIb MelchiorJane RuhmLouisa MoritzMartin KoveMary WoronovNew World PicturesPaul BartelPaul ChiharaRoger CormanRoger EbertSandy McCallumShout! FactorySimone GriffethSylvester StalloneWilliam Nesbitt
You may also like...