:Retrowerks: Mr. Moonlight Tour – 35 Years of Bauhaus – July 26, 2013 – Hollywood, CA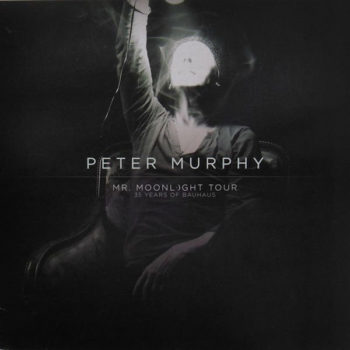 Mr. Moonlight Tour – 35 Years of Bauhaus
Concert Date: July 26, 2013
Venue: The Fonda Theatre
Location: Hollywood, CA
Review by Jaymie Burzette
This was a night of firsts for me: the first time I had been to Hollywood, as well as my first time seeing Peter Murphy perform. I have loved the music of Bauhaus for a long time, but being relatively young in their heyday, I had never had the chance to see them. When I heard Peter Murphy was on tour, I was quite excited. But when I heard that he would be performing mostly Bauhaus material, I knew I had to find a way to go. Unfortunately, this decision ultimately led to my having to give up on going to Comic-Con, but I knew this was an opportunity I couldn't pass up.
The drive there held the usual crap traffic L.A. has to offer, and the heat of the day made this trip even more fun and enjoyable. After about six hours we finally arrived in Hollywood, which was actually a lot cooler than I expected. It was neat to see some of the things you see in TV and movies; in addition to some famous theatres, such as the Mann Chinese and the Pantages. Our destination was the Fonda Theatre; a gorgeous venue fancifully filigreed with vaulted ceilings that enhanced the quality of the acoustics. The venue truly made you feel as if you were somewhere luxurious and prestigious, almost as if you were in an old Hollywood movie yourself. In addition, we were surrounded by a handful of lesser known celebrities—we couldn't place all of them but there were many familiar faces.
The opening act was an older man playing ambient guitar running through a synthesizer pedal. He was really good but I thought he was a little too mellow if your goal is to get the crowd excited for the show. His music was sort of a cross between Tangerine Dream and Dead Can Dance with some Peruvian flute band sprinkled in.
The next band on was Ours, a rock band from New Jersey. They had quite a good set and were quite talented. The vocalist, Jimmy Gnecco had a rather operatic voice which I enjoyed; it vaguely reminded me of Bruce Dickinson of Iron Maiden. The drummer's playing style reminded me of Animal from The Muppets. I enjoyed their set and would definitely be interested in seeing them headline a tour.
After Ours came what we were all waiting for: Peter Murphy. He emerged onto the stage amidst low lighting and smoke, casually tossing confetti about. Silhouetted against the back-lighting, his band began playing "King Volcano." The sound from the band and vocals were excellent due to the theater's stellar acoustics. His band was quite good, and the guitarist played a mean twelve-string guitar. They moved into "Kingdom's Coming," and followed with "Double Dare," opening up with Murphy bellowing "How dare you!" at the crowd, and the audience reacting joyfully. The next song played was the always familiar "In the Flat Field," followed by "A God in an Alcove."
The biggest issue of the evening was the lighting guy, who kept shining the stage lights into the audience's eyes and in the band's faces, which was more than a mild annoyance. Next came "Boys," followed by "Silent Hedges" and "Endless Summer of the Damned." With the show in full swing, the energy in the venue was fantastic; everyone was having a great time and enjoying the show, which generated a good vibe that resounded throughout the crowd. "Spy in the Cab" and "A Strange Kind of Love" came next, followed by the classic "Bela Lugosi's Dead," again sending the crowd into a frenzy of dancing, sweating fervor. "Kick in the Eye" came next, and another well-loved Bauhaus song "The Passion of Lovers" followed, extolling cheers from the crowd. My personal favorite "Stigmata Martyr" was played next and lastly "Dark Entries" closed out the set, after which Peter Murphy and his band walked offstage.
The crowd cheered for more, calling out for the band to return to the stage. Finally, after much cheering and calling out, the band walked back onstage and began playing "Hollow Hills," another one of my favorites. Next came "Spirit" and "Telegram Sam." The final song of the night was Bauhaus's cover of David Bowie's "Ziggy Stardust," then sadly the show was over and people started slowly filtering out through the only entrance that allowed us to spill back onto the streets of Hollywood, embedded with the terrazzo and brass stars of some of the cinema and TV legends of yesteryear.
It was an excellent show full of great bands and great music. The venue was amazing and I highly recommend going to shows there if given the opportunity. The crowd was entertaining as well; it had great energy and it had been a long time since I had seen people dressed in '80s goth attire, even some of the younger people, which was surprising. I was quite happy that Peter Murphy played all of my favorite Bauhaus songs; it all sounded very well and true to their original signature sound even though he was the only remaining member. I've heard people complain about his performances recently, but I thought he put on an excellent show and performed flawlessly. Overall, a night well spent in a part of town I hadn't experienced yet, complete with a crazed guy who yelled out, "It's written in the clouds!" while shaking his fist towards the sky and being approached by middle-aged Hare Krishna's inviting us to a free breakfast at their temple.
Tags BauhausJaymie BurzetteMr. MoonlightOursPeter MurphyThe Fonda Theatre
You may also like...