:Retrowerks: iVardensphere – The Methuselah Tree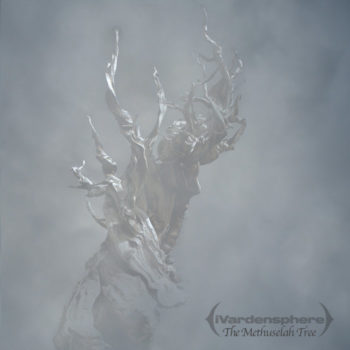 iVardensphere – The Methuselah Tree
Label: Metropolis Records
Release Date: November 12, 2013
Official Website: www.facebook.com/ivardensphere
Review by Maresa Whitehead
Once again, Canada's iVardensphere has shattered genre paradigms with the release of their fourth non-remix studio album, The Methuselah Tree. The act, fronted by Scott Fox, created its own niche from its inception through its experimental influx of tribal and world music onto an industrial/power noise foundation. The Methuselah Tree inhabits the same auditory atmosphere that iVardensphere fans have come to crave, but with a level of precision and expansion that makes this album distinctive.
"Mother of Crows" opens the audio excursion the way a movie's score begins—gently and progressively. The operatic Latin vocals of Twilla MacLeod (Booming Tree Taiko) are otherworldly, and coupled with building orchestral melodies, multiple drum layers, and haunting musical phrases, listeners land in a fantasy headspace that is played up by the rest of the album.
It is precisely the Middle Eastern influences in "Bloodline," the Indian vocals and sitar melodies in "Snakecharmer" and "Narada" respectively, the tribal drumming in "Observing Bartok (Stamping Dance)," and the Asian-inspired components of "A Black Sun on the Horizon (Invocation)" that keep Western audiences out of their musical comfort zones. But, coupled with the industrial synths, grueling beats, and dark ambient tones in "The Doorway" and "Eclipse," Western audiences have a foundation that keeps them grounded as they feel out new aural territory.
And that is perhaps the best part of The Methuselah Tree. The dichotomy between Western dark ambient/industrial and worldly characteristics not often found in the dark electronic scene is exquisite and refreshing. "Narada" is perhaps most representative of this in that the Indian sitar charms and acoustic tribal drums mesh exotically with the otherwise galloping eight-and-a-half minute industrial dance track.
Atmospheric vocals are also utilized as instruments, placed evocatively throughout specific tracks. Fox's wife, Chantal, even makes an appearance on the soothing lullaby-like "Second Sleep." Though vocals have never been the focus of iVardensphere's compositions in favor of the instrumental soundscapes themselves, The Methuselah Tree also features several prominent vocalists as guests on specific tracks. What makes this noteworthy (besides name-dropping the likes of Tom Shear and Daniel Graves, of course) is the seamless integration of each vocalist's signature style into iVardensphere's body-thumping arrangements. It's clear that Fox tailored his creative sensibilities to complement them by creating tracks imbued with musical matter that allows composer and vocalist alike to shine without losing any of iVardensphere's punch.
In "The Impossible Box," the guttural delivery from iVardensphere's own Jamie Blacker (also of ESA fame) is seamlessly melded into an undulating, crunchy track sure to have audiences bouncing with the heavy beat. Blacker also vocalizes the album-ending title track, "The Methuselah Tree," the most traditional-in-structure song, a dark invocation to all listeners to "face Methuselah and awake." The eminent Tom Shear (Assemblage 23) collaborates with Mari Kattman on "Society of Dogs," where the sure, clear vocals smooth twangy Middle Eastern brightness above muted tribal tempos. And Daniel Graves (Aesthetic Perfection) lends his crooning to "Break the Sky," which begins ballad-like, sluggish with saccharine vocals, atop horror-ambient nuances. After a minute and a half, though, the track explodes into dance floor excellence, and Graves' signature shouts are swathed in the kind of club-ready synths which sustain them.
In fact, it is this kind of ebb and flow that pervades The Methuselah Tree, marking Fox a master of his craft and iVardensphere the preeminent experimental construct in the electronic music scene. Where else can listeners encounter choral vocals, tribal rhythms, and sitar melodies on the same compilation as driving 4/4 beats, fuzzy synths, and throaty shouts? This aural journey works flawlessly, both to evoke interest and emotion as well as to elicit fleshly freedom in the form of unrestrained dance escapades. The search for tasteful, unique new music in the scene now (and has for some time) stops at iVardensphere.
Track Listing
01. Mother of Crows
02. Bloodline
03. The Doorway
04. A Black Sun on the Horizon (Invocation)
05. Break the Sky
06. Snakecharmer
07. The Impossible Box
08. Observing Bartok (Stamping Dance)
09. Society of Dogs
10. Eclipse
11. Second Sleep
12. Narada
13. The Methuselah Tree
Tags Daniel GravesiVardensphereMaresa WhiteheadMetropolis RecordsTom ShearTwilla MacLeod
You may also like...