:Music Review: Iris – Radiant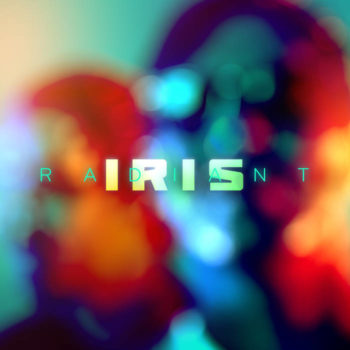 Iris – Radiant
Label: Dependent Records
Release Date: October 24, 2014
Websites:
Official – http://www.irismusic.com (reroutes to Facebook)
Facebook – https://www.facebook.com/iris.radiant/
SoundCloud – https://soundcloud.com/andrew-sega/iris-dont-cry
Bandcamp – https://iris-us.bandcamp.com/
Review by William Nesbitt
Professor of English
Formed in 1993 as Forgiving Iris, members Reagan Jones (vocals, songwriting, and keyboards) and Matt Morris (keyboards and programming) released their first album, Disconnect, in 2000. Jones and Morris started disagreeing about their musical direction and split apart. Jones met Andrew Sega and they made Awakening in 2003. After that came Wrath in 2005 and Blacklight in 2010. Jones and Sega had an argument and split apart. Eventually they reunited and put out Radiant.
Note the brightness, the warmth of the album cover. Not only does the cover summarize Radiant, it also summarizes Iris' sound. Their songs are melodic, with high, bright, clear vocals. While the lyrics and songs explore and contemplate serious topics—our place in the universe and what we are doing with our lives—they tend to be optimistic and positive. It's a good change from some of the harsher vocals and doom and gloom of their contemporaries. While all of Iris' releases are good and worth picking up, Radiant is their best and most consistent album from start to finish.
Sega says that Radiant "is the story of a man who all of a sudden sees his world within a new environment and realizes how bright and radiant it can truly be if one looks upon it with different eyes." Maybe there is an argument to be made that this is a concept album, but listening to it from start to finish, it sounds more like a collection of perspectives on the concept Sega discusses. Radiant tell us not to be afraid. Consider these lines from "Cries of Insanity": "Enough of these cries of insanity / It's you and I / Don't be afraid / There's light in the sky / to illuminate." "Rewired" gives us positivity and hope for a positive change: "From now on / there's a blaze / There's a light of fire / As the morning stars sang / I became rewired." A later passage picks up the theme of fear and says, "And all the fears I'm ready to face / With courage I say bring it on."
While nothing official has happened in the studio since Radiant, Iris has remained active and creative. In a 2015 interview Jones said he has a whole album of demos worked up. Most recently Iris played Convergence 23 on May 20, 2017. On May 31, 2017 IRIS posted that they finished and released a ten year old B-side from the Wrath era titled "have i lost it all." Let's hope they make progress towards a new full-length studio album.
Track Listing
01. Another Way
02. Phenom
03. Wayseer
04. In The Clear
05. Sound Becomes Waves
06. Don't Cry
07. Infinite Yonder
08. Cries Of Insanity
09. Rewired
10. Sight Unseen
11. Life In A Forest
You may also like...