:Retrowerks: KMFDM, Legion Within, CHANT – March 11, 2013 – Santa Ana, CA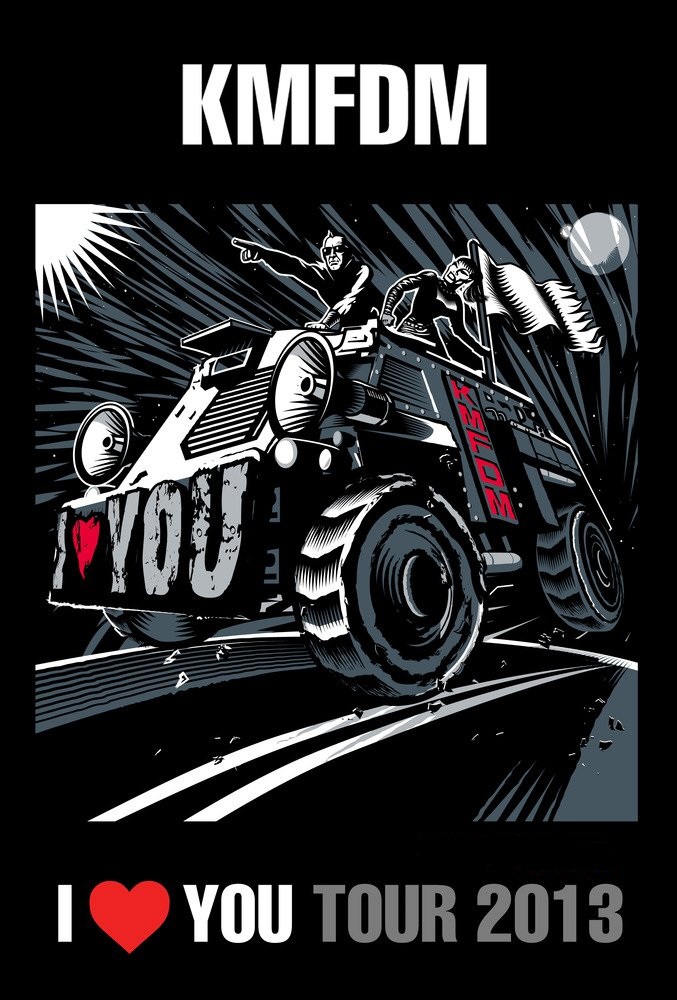 KMFDM, Legion Within, CHANT
Concert Date: March 11, 2013
Venue: The Observatory
Location: Santa Ana, CA
Review by Jaymie Burzette
For someone who has loved industrial music since they were 13 years old, it may come as a surprise that I had never seen KMFDM perform live before. They were one of the first industrial groups I was exposed to back in the mid-'90s along with Skinny Puppy, Einstürzende Neubauten, Gravity Kills, etc. Needless to say I was quite excited to finally have the chance to see KMFDM perform live. The venue was hard to spot at first, what with it being in the back lot of an office complex. It looked relatively new and actually had two separate stages; one small side stage that appeared to host local bands and a larger stage that hosted larger, more renown acts.
Unfortunately, due to the border checkpoint between San Diego and San Clemente being open and operational, I was held up in traffic and was only able to catch the last two songs of the opening act, a local band from Orange County. What I did manage to catch was a cover of the theme music from "Escape from New York;" a fantastic piece of music that was paid excellent tribute with a well-made cover. The next band up was another local Orange County group, a nü-metal band called Core 10. They seemed fairly out of place for the type of show that evening, but it was cool that a local band was able to get that much publicity.
Up next was CHANT, an industrial drum project led by Bradley Bills from Austin, Texas. These guys were amazing; the drum setup was excitingly impressive featuring a sprawling set of toms, bass drums, snares, cymbals and other objects that could be used in percussion, such as trash cans, buckets, and satellite dishes. The sheer energy and talent was mind-blowingly epic. I strongly recommend that if given the chance to see them perform, you definitely go out to see them! As a drummer/percussionist myself, I was immensely impressed by their music.
The next band was Legion Within, a goth rock band that sounded like they were heavily influenced by Bauhaus. During their set some drunken guy just wandered onstage and started walking across the stage laughing and giggling like a school boy peering into the girl's locker room. It was quite strange; he looked like he might've been trying to crowd surf but he was eventually pulled off the stage by security. He was up there for a surprisingly long time before security seemed to notice his presence. I was about 10 feet from the stage so I had a good view of the chaos.
As the crowd waited anxiously for KMFDM and the venue grew more crowded, "Vienna Blood Waltz" and "Voices of Spring Op. 410" played over the loudspeaker. Then the lights were dimmed, the stage suddenly lit up and KMFDM stepped out. They opened up with "D.I.Y." and moved into "Kunst." "Split" came next followed by "Tohuvabohu" and "Son of a Gun." The power and speed of the group was utterly astounding; it was as if someone had sent a shockwave of energy through the room. Next they played "Rebels In Kontrol," followed by "Potz Blitz!" "Krank" came next with "Free Your Hate" and "Me and My Gun." This was followed by "Amnesia" then "Hau Ruck."
The first time the band addressed the crowd was when Sascha said: "GOOD NIGHT!" and the band walked offstage. Roadies came out and adjusted the equipment and the crowd began to chant "KMFDM SUCKS!" After a few minutes, the band came out and Sascha said "KMFDM sucks indeed!" They then launched into "Sucks," followed by "Anarchy" where they were joined onstage by the vocalist from Legion Within. The band played "WWIII," then walked offstage once again. Again, roadies came out and messed with the equipment, encouraged the crowd to make noise, and once again the crowd began to chant "KMFDM SUCKS!" The band walked onstage for a final encore, and Lucia shouted "you want some MORE?" The band played "Megalomaniac" and "A Drug Against War," then walked offstage for a final time.
It was a fantastic night full of excellent music. KMFDM's energy was positively amazing and quite impressive, especially the drummer who was banging away without abandon for almost two hours of playing, including two encores. It's been a long time since I've been to a show with this kind of intensity and electricity. My dream of seeing one of my favorite bands perform live was gratifyingly fulfilled, and after that incredible performance CHANT is now one of my favorite bands too. Everyone needs to go out and see this tour, you will not be disappointed.
You may also like...