:Retrowerks: Sonik Foundry – Chaos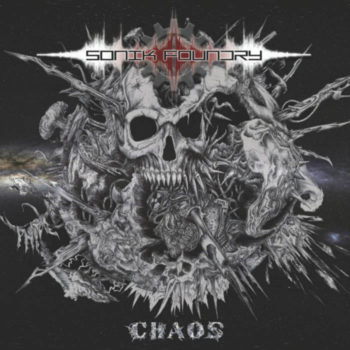 Sonik Foundry – Chaos
Release Date: September 3, 2013
Label: Nilaihah Records
Official Website: Bandcamp
Review by Yvette Arambula
Sonik Foundry is the industrial EBM project of producer/frontman Nikademus, founded in January 2007 and based in Stephen King's backyard: Bangor, ME. Chaos is the latest creation of his, with five releases (three full length albums, two EPs) prior to this album. The companion EP to this album, Twisted Remixes, was released July 23, 2013 in digital only format. He finds his musical inspiration in world events, real life, human behavior, revolution, future, history, Armageddon, peace, salvation, irony; and it shows! Chaos is very much the embodiment of all of those, yet despite the name, this album is cohesive; it has a very organic flow to it. Never forced, just letting it take form as it sees fit.
The album opens with "Mind Twister," which upon first hearing it, reminded me of something you'd hear on the soundtrack to a fast-paced spy movie. It definitely has a sense of urgency to it. In this case, it's fleeing from someone that's just mind fucking him. "Chaos" signals his descent into madness; total disintegration of the psyche. The lines between reality and illusion are blurring, to the point where he asks himself, "Am I alive or am I fucking dead!" You can almost feel him transforming into the "Undead" on this next track. This song is very sinister; mechanical, not quite human anymore, just going through the motions of daily life.
The album slows down a bit on "Into the Storm." Depression sets in as the sky grows dark and ominous, falling with the rain further into the abyss. Appropriately enough, the track ends with a crackle of thunder. "Impact" turns the BPM up again. Now comes the warning of imminent danger with the possibility of widespread damage; brace yourselves. "Sadness" has a nice, danceable synth melody despite being a song about loneliness. "Dreamland" has those lovely EBM synth bass lines that I always enjoy.
A "Liar" is exposed! The intricate tapestry of deceit has been torn down with a killer, stompy beat. "In Exile" speaks of the longing to find one's place in the world; a path that is often walked alone. The fallout of the wars being waged in one's mind can be just as devastating as those waged in the outside world. "The Aftermath" starts out as classic mechanized industrial; slow, sultry, and soothing, in a way. At about the three minute mark, its inner EBM soul bursts out and almost uncontrollably makes you crawl out into the dance floor.
"House of Fear" starts out with a sonic boom, somewhat literally. At some point you have to start fighting the demons that keep you from reaching the zenith of your potential and attaining the comforts of life that are so simple, yet so difficult to come by. "Placate Me" is the only track on this album that has distorted guitars and a bit of anger to go along with those riffs. Learning the truth behind someone's motives can be rage inducing.
"Chaos (Bella Morte remix)" is much slower than the original. The music is completely different but it still has the same vocal track laid over it. It's almost haunting, with synth choral voices in the background. "Dreamland (Alkemic Generator remix)" starts out a bit chaotically, with distorted guitar and synth arpeggio off beat from each other. Around the one minute mark, it becomes more electro-industrial sounding. I prefer the original but this is a good interpretation, as well.
It's not often that an album actually follows some sort of progression into the various states of being that one experiences as they traverse the ragged terrain of life. This epic tale illustrates the agonizing pain that comes with discovering the truth beyond the gently laid veil that befogs the mind and the carnage it leaves in its wake. I know a few people that can definitely relate to this. Needless to say, I highly recommend this album. It has a lot of substance and is thankfully free of filler. Every song has a purpose, each with a distinctive emotion to channel into the listener. The intensity will punch you in the face, and you will gladly savor the pain.
Track Listing
01. Mind Twister
02. Chaos
03. Undead
04. Into the Storm
05. Impact
06. Sadness
07. Dreamland
08. Liar
09. In Exile
10. The Aftermath
11. House of Fear
12. Placate Me
13. Chaos (Bella Morte Remix)
14. Dreamland (Alkemic Generator Remix)
You may also like...