:Retrowerks: Negative Gain Productions Fundraiser Show – April 13, 2013 – Glendale, CA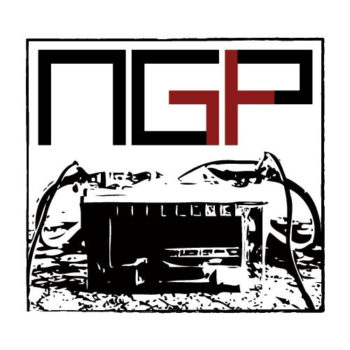 Negative Gain Productions Fundraiser Show
Alter Der Ruine, HexRx, Kevorkian Death Cycle, A Brilliant Massacre
Concert Date: April 13, 2013
Venue: Complex
Location: Glendale, CA
Review by Jaymie Burzette
This was a show that I was really looking forward to since it featured a lineup of excellent bands, one of which I've been a fan of since my teen years. It was an exciting night indeed with so much awesome music and a good ambiance. No one was too rowdy or rude and for the most part they kept to themselves, which is always a plus for me since I'm claustrophobic. One of the neat things about this venue, however, is that it's so small and intimate, with a low stage that allows bands to interact often with the audience members. Tonight, with the promise of so many great acts the small venue quickly filled up with patrons. This time I grabbed seats in the back so my ears didn't bleed from the exceedingly high volume of the live music.
The show started just a bit later than scheduled but that was fine with me. It just built up the crowd's anticipation if anything. A Brilliant Massacre was the first band to take the stage and they did quite a good job with their set. Off their album Science Fiction, they opened with "Horizon," followed by "Iron Sky," "New Pretender," "Brilliant Massacre (Massacre Mix by HexRx) and finished with "Science Fiction." Their set was short and sweet, slowly fueling up a growing and excited crowd.
Kevorkian Death Cycle came on next with another great performance. For me the highlight of their set was a cover of The Pet Shop Boys' "It's a Sin;" it was fantastic and played well live. Other songs they played included "Death to the Flesh," "Static," and Prison." The crowd bounced excitedly, emitting copious bursts of energy. They also played "Lifter," Kill For Christ," and "Veal." The first two sets of the night were fairly short due to the long list of acts that played that night. For the most part, setting up the stage between bands didn't take very long since they often shared equipment, which was good considering there wasn't much time set aside between bands.
Up next was HexRx, filling the stage and small room with fog and eerie images of a hospital gone horribly, horribly wrong. Roger worked behind the synthesizers, while Squalor writhed and twitched to the beat of the music behind a sheer, old-fashion medical curtain. They opened up with "Flesh," and played other great tracks such as "Heartbeat," "Murder" and "Detonator." Roger played away on the synthesizers as Squalor writhed and twitched some more outside of the sheer screen, featuring goggles glowing eerily red and a red glow stick down the codpiece of his outfit to match. They carried on with "My Next Sin," "Eviscerate," "Dominate" and "Living On Video." Nick Viola, wearing a t-shirt that had CORONER printed on it, was the vocalist for some of their songs when Squalor wasn't gracing us with his presence. Some songs had both of them singing only adding more chaos to the stage. Their set was quite lively and also involved the audience a lot. They let some of the fans borrow their light-up goggles and even had one of their female fans writhe/dance around the stage for a bit.
The last band of the evening was Alter Der Ruine, a power noise outfit from Arizona. These guys were fantastic—their energy was positively infectious and the music was hypnotically thumping. One of the things I love about noise is that you can physically feel it, bumping around and churning inside of you. They played hits off of their most recent release There's Always One More Son of a Bitch, including "Bury It," "Keep the Devil Off Your Back," "Kill the Noise," and "Shit-Disco Stunner." The rapport with the audience was great, and at one point Mike T. jumped offstage, ran through the crowd and jumped over the low tables and off the booth-style seating then back onstage while playing the cowbell. Of course, this led to some people in the audience yelling out, "More cowbell," in reference to the Saturday Night Live skit.
It was a long evening, but well worth it due to the great lineup of bands all of which brought their best to the stage. All the bands had great energy and really engaged the audience members during their sets. I would have liked to see more from each of the bands, but with such a full evening I understand that there's only so much time the club is allotted to operate. In fact, they ended up playing way past the time they were supposed to stop, definitely after last call which doesn't usually happen at these venues. By that time I was feeling pretty dead and kind of suffocated because it gets so hot in there. I was glad when I was finally able to shuffle my way out into the drizzly '"fresh" air and prepared myself for the long drive back home to San Diego.
Tags A Brilliant MassacreAlter Der RuineHexRxJaymie BurzetteKevorkian Death CycleNegative Gain Productions
You may also like...