:Retrowerks: Funker Vogt – Companion in Crime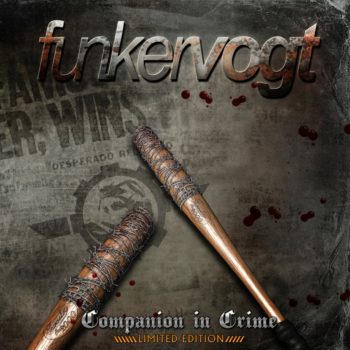 Funker Vogt – Companion in Crime
Label: Metropolis Records
Release Date: June 28, 2013
Official Website: http://www.funker-vogt.com
Review by Maresa Whitehead
Internationally-acclaimed German aggro-industrial slayers Jens Kästel and Gerrit Thomas have returned as Funker Vogt with their 10th studio album, Companion in Crime. Much to the satisfaction of salivating fans, this newest release unfurls the stomping beats, catchy melodies, and punch-you-in-the-face lyrical anthems for which Funker Vogt has come to be known. Kästel and Thomas also revisit their familiar anti-war, anti-society themes, which are featured across seven German-language and six English-language tracks.
The album opens with an unforgiving examination of an image well-known to Funker Vogt's American fans in a track titled "Columbine." Featuring the questions which most Americans were asking themselves about the now-infamous Columbine High School massacre of 1999, the English language was likely chosen for this track to specifically elicit emotions on behalf of the band's American audience. Though it's one of the more down-tempo songs on Companion in Crime, its dark mood is drawn out through bassy synths and booming drumlines.
"Mein Weg," the first German-language track, follows with a more up-tempo, marching beat. Though in German, English-speaking fans are able to latch on to the first line of the chorus—a defiant "Hey, fuck you!" which can easily be heard as the anthem of a riotous Funker Vogt audience. The track features pulsating layered synthlines that produce a full and complex sound. Near the end, the song is broken down into its feral beat beneath Kästel's deliberately skipping repetitions, and the result is mesmerizing.
Companion in Crime is full of these moments of adrenaline, such as in the third track, "Religion." The melodic chorus of this German-language song won't let listeners get away without at least bobbing their heads to the beat. But about three minutes in, during an instrumental portion of the song, you won't be able to sit still as the sharp synths and commanding drums force your body into a dancing frenzy.
But don't hope to be set free quite so soon. "Six Feet Under" follows and is one of the best tracks on the album. The harsh EBM undertones and echoing vocals build into an explosive chorus that is impossible not to belt out alongside Kästel. From its galloping beat to the melodic background droning reminiscent of a choir's hums, "Six Feet Under" feels expansive, all-encompassing, and entirely too short at merely three minutes and 22 seconds.
"Kampf den Maschinen" returns to the album's dark side with its doomy, almost-monotonous sound. The drumline isn't industrial's overused four-to-the-floor beat; rather, it's more like that of an arena rock group. The track also contains German samples. Though solid, there's unfortunately not enough excitement to this song to make it special, so it's okay that it's only three minutes and 11 seconds. The same can be said of "Gott noch nicht," the album's sixth track. Again, it's solid, but not a stand-out.
"Kill on Command" fortunately breaks the cycle. Returning not only to the English language, this seventh track highlights another melodic, easy-to-sing-along chorus over sure beats. The lyrics portray Funker Vogt's recognizable stance on how soldiers are trained to be mindless killers, "a bullet to kill on command."
"Our Life" begins with haunting feminine hums over the orchestral strains Funker Vogt sometimes infuses into their music. One of only two to contain such orchestrations, "Our Life" is of course another of the down-tempo tracks on the album. Its low-octave tones and echoing chorus are some of the most emotionally evocative on the album, begging "Mother, kiss me when it's over / Father, forgive me this fight / I don't have the power to live anymore." The orchestral elements make it melancholy and thus fit in perfectly.
The ninth track, "Kapitulation," returns to the German language and is ultimately one of the catchiest on the album just from the way Kästel enunciates "kapitulation" in line with the beat. The chorus's synthline bounces, and the instrumental portion of the song (beginning about two and a half minutes in) is melodic and danceable.
"W.o.t.W." amps up the danciness right from its pounding beginning. The title stands for "warrior of the world," which is found in the chorus. The rollicking synths are atmospheric, and this is another anthem that gets stuck in your head and makes it hard to hold your tongue (or your body, for that matter).
Next, "The Firm" continues the consistently more upbeat path the album has taken. At first one of the most aggressive songs due to its speedy and unforgiving beats, the track quickly disintegrates into orchestral elements during the first chorus before it picks back up into pure synth-and-drum-driven industrial. This back-and-forth movement creates interesting complexity and may make you wish it happened more than just that once. Still, the track is energetic, fun, and begs for repeated listens.
"Revolution," like "Religion," is an English-titled German-language track. Its sliding synths make it almost sultry beneath the aggressive vocals and marching beats. The short section of guitar work is a welcome change from Funker Vogt's expected formula and adds a unique layer to this track. Interestingly, "Revolution" is the only track not to have its lyrics printed in the album's booklet.
The final track, "Brueder," could be Funker Vogt's version of a ballad. It's slower and atmospheric with its echoic and sparkling sounds. At over five minutes, it's the longest track on the album, but the last two minutes are just instrumental. As with some of the other tracks on the album, it doesn't have any kick to make it especially memorable, but it makes a sensible choice to close out the album.
Overall, Companion in Crime is a solid album from an inexhaustible band. If you're over Funker Vogt's formula sound, don't even bother, as it's not nearly the band's best work. If you're a fan, you'll be pleased, though not ecstatic. There are certainly some magical moments and catchy tracks between otherwise generic songs. And it is precisely those magical moments that will keep you coming back, even if it means you'll have to skip some tracks to get there.
Track Listing
01. Columbine
02. Mein Weg
03. Religion
04. Six Feet Under
05. Kampf den Maschinen
06. Gott noch nicht
07. Kill on Command
08. Our Life
09. Kapitulation
10. W.o.t.W.
11. The Firm
12. Revolution
13. Brueder
You may also like...