:Music Review: Danzig – Black Laden Crown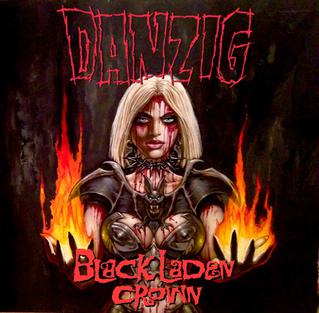 Danzig – Black Laden Crown
Release Date: May 26, 2017
Label: Evilive Records, Nuclear Blast Records
Websites:
Official – http://www.danzig-verotik.com/danzig/news.html
Facebook – https://www.facebook.com/Danzig/
Twitter – Nope. Glen Danzig doesn't do Twitter. Good for him! From an interview: "I don't do Twitter . . . I hate that crap."
Danzig Official SoundCloud or Glenn Danzig SoundCloud
Review by William Nesbitt
This is Danzig's first release of new material since 2010's Deth Red Sabaoth. The first bit of good news is that the production is much better than Sabaoth and the 2015 covers album Skeletons. The songs aren't as good as Deth Red Sabaoth, but they aren't far behind. At this point, we should not expect a new record that will match the raw youth of Danzig I, the blues masterpiece that is Danzig II, or the intricacy and range of Danzig III—all touchstones of the Danzig catalog.
That lineup and those times are gone. While the number of players and the gap between studio albums isn't quite as large as, say, Chinese Democracy, Black Laden Crown definitely went through a process. For example, including Glen Danzig himself, the album features five drummers. But here's the thing: too many metal bands with rotating lineups like Black Sabbath and Megadeth have put out inconsistent work over the decades, but Danzig has managed to keep the quality of releases consistent.
This album is more spooky-cool and big-biker-groove than speeding metal, a classic Harley rumbling over the road rather than a cheap new knockoff that will fizzle out after the first curve. This is meat and potatoes Danzig (with a little gravy in the form of the burning guitar lines on every track). "Devil on Hwy 9" summarizes the aesthetic of the album with its command of "Don't look to the left, don't look to the right / Keep your eyes on the fucking line."
Danzig doesn't fall to distraction. While some tracks here may not bump anything out of your essential Danzig playlist, there also aren't any duds; it hits all the marks without always exceeding them. It marches but never drags and sometimes gets up to a thrashy gallop, especially toward the end of "Eyes Ripping Fire," "But a Nightmare," and "Blackness Falls."
Now in his early 60s, Danzig's voice shows the patina of years of singing and touring as it becomes less Elvis powerhouse and more the sound of winter wind rattling corn husks. He comes to us from a place beyond faith, fear, or redemption, delivering this gospel of the apocalypse in his dead man's voice.
Danzig has always had an affinity for Jim Morrison's vocal phrasing and lyrical style and that influence appears in the slowed down "Pull the Sun," a doomed love song in which Danzig sings, "I pull the stars out of the night / I give them to you until we die."
And it all sounds sincere. No shameless, shallow rewrites of past songs, no cash grab holiday albums, no forced collaborations with teeny bopper chart stars concocted by out of touch record labels. Glenn Danzig seems to be doing exactly what he wants. It's not fresh, but neither is it a cliché. This unholy ground is still solid and the crown remains secure (just don't listen to it back-to-back with Danzig II). Let's hope the next studio album arrives sooner.
Track Listing
01. Black Laden Crown
02. Eyes Ripping Fire
03. Devil on Hwy 9
04. Last Ride
05. The Witching Hour
06. But a Nightmare
08. Skulls & Daisies
09. Blackness Falls
10. Pull the Sun
Tags DanzigEvilive RecordsGlenn DanzigNuclear Blast RecordsWilliam Nesbitt
You may also like...