:Retrowerks: The People's Republic Of Europe – Feel The Power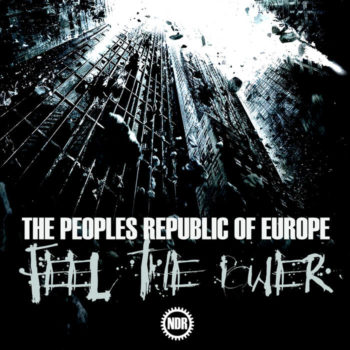 The People's Republic Of Europe – Feel The Power
Release Date: February 8, 2013/August 2, 2013 (Bandcamp)
Label: New Darkness Recordings
Websites: Official │ Bandcamp │ Facebook │ Twitter
Review by Nicole E. Calcagno
This group from the Netherlands is all about the noise with this album, Feel The Power. From the first song and throughout, the vibe is heavy and stompy; some good ol' power noise. You can't deny that if you listen to it. There are many elements to this album that make it really unique in my opinion. Most songs include that anticipation for the beat, which most people love. They tease you, drop it out, and bring it right back. That is a great feeling when you are in a car, on a dance floor, or even just listening to a song. There are some rhythmic elements to it, as well as some ambient elements. There is a really cool use of other types of music mixed in with that driving power noise sound you would expect. I like the variety that comes along with it. That may very well be what caught my ear most. There are only 10 tracks on this album but they make a lasting impact.
As you travel through this album, the first track is "Asylum." This is not a song, it's an intro. It's got that militaristic tone to it that pushes the envelope a bit and kind of sets the tone for the album. The first song we come into is "After Dark." This song has a cool mixture of an ambient/trippy sound overlaid with power. It blends two different types of sounds into one song and is really interesting sounding.
"Feel The Power" is the next track. With this song, the title is pretty self-explanatory. It starts out kicking your ass from the get-go and holds that beat throughout the song. This is the stompiest song on the album. Then, we move on to "Motorik" which is still stompy but has a different vibe to it. It has a distorted sound to it, the beat goes in and out, and it has a very eerie feel to it. This is the darkest song on the album, I would say.
"King Of The Flies" is the next track and my personal favorite. It has a long slow buildup and then the beat kicks in hard, which I love. It still has that harsh noise sound to it but it has a more rhythmic undertone than the other songs on the album. The beat drops out here and there and it almost sounds like you are in a rainforest, then it hits you again. It teases you as you listen. This goes into "Warrior" which has a very appropriate name. It makes you feel like you are going into battle. There is a lot of power to this song but it is the most danceable in my opinion. I can picture a packed dance floor of people going berserk to this song, and I would be one of them.
"Energy" is the next track and this song is full of it. I really enjoy this track as well. This is another very danceable track on the album. My first impression was that it made me want to stomp my heart out. It's got a great driving beat that mixes in other elements as well and it really adds to the song.
The next track, "Techna Zina" commands your attention immediately. It starts off with that driving powerful beat but has an ambient background to it. It's the really cool mix that really catches your ear. We move on to the next track, "Proximity," which leaves you wondering what to expect. It starts out slower and then the beat comes in like a force to be reckoned with. It's got that buildup that I love so much as well. The final song, "The Eye," is also very danceable. It has a bit of a disco funk sound behind the strong stompy beat. It's a really interesting fusion of sounds without losing that power noise sound.
Overall, this album made me want to dance. It had that classic power noise sound fused with several other types of music in a way that is really pleasing to your ears. I do enjoy power noise, but it's not my first choice. This album, however, I feel I can listen to any time and enjoy it. If you like power noise or you are interested in learning more about it, this is a great album to get going with.
Track Listing
01. Asylum
02. After Dark
03. Feel The Power
04. Motorik
05. King Of The Flies
06. Warrior
07. Energy
08. Techna Zina
09. Proximity
10. The Eye
Tags New Darkness RecordingsNicole E. CalcagnoThe People's Republic of Europe
You may also like...