:Retrowerks: Faderhead – September 14, 2013 – Glendale, CA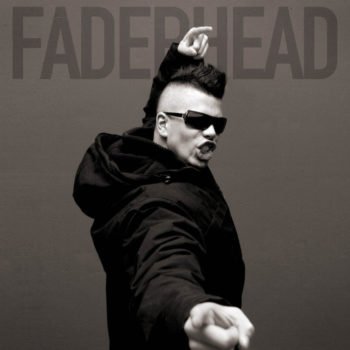 Faderhead, Gentleman Junkie
Concert Date: September 14, 2013
Venue: Complex
Location: Glendale, CA
Review by Jaymie Burzette
Why must all the awesome go to the City of (Dark) Angels (and its outskirts)? There I went again; on the usual San Diego–Glendale commute that can make me murderous, anxiously wading through the chaotic sea of traffic for the promise of witnessing two bands perform live that I had been waiting to see for a while now: L.A.'s own Gentleman Junkie and Germany's Faderhead. I was very excited, to say the least, and took the precaution of leaving extra early in the event that any more freeway melting accidents should block my way and make me miss any of the show. Fortunately, nothing crazy happened and we made it there with time to spare.
Gentleman Junkie was the local opener for the evening, a two man group composed of Bil K (Kevorkian Death Cycle) on keys and Ed Korn on vox. They kicked off the night with "No God," followed by "The One For Me" and "Life is Death." These guys were clearly crowd favorites, being locals. They played "To Be King" and "Never Again" next, with more and more people milling into the club. "Killing Time" and "Holy War" came next, two tracks where Ed sings with a robot voice. They closed out their set with "Shivoham," where Forest Nui Cobalt took the stage to sing part of the song with Vedic-style vocals. Their set was good; I'm a fan of their music so I enjoyed seeing them live for the first time.
After Gentleman Junkie came time for the main event—Faderhead. Conveniently, there was a countdown clock projected onto a white screen hanging down the back of the stage that let the audience know how much more time they had to get drinks and go out for a smoke. After the countdown ended, "The Way to Fuck God" began to play. Faderhead exploded onto the stage in a burst of energy and charisma, sending the largely stagnant audience into dance. In his bouncing around singing in his characteristic fashion, he almost bounced right off the small stage (I'm glad he didn't) and almost hit his head on the low-hanging speaker. He then began to play "ZigZag Machinery" and his energy was absolutely infectious, he had the whole room moving in no time. It was at about this point that he confiscated a camera from a girl standing at the front of the stage, a move she was none too pleased with. A friend had informed me that he did this at the Phoenix show, so I purposefully didn't take any pictures.
"Burning/Dancing" came next, followed by "Self Control" from his new album FH4, and "Join Us." He followed up with "Electrosluts Extraordinaire," bouncing and yelling the whole time. Before the next song, he regaled the audience with the story behind the song "Swedish Models and Cocaine," and then launched into playing it, except he substituted "U.S. Models" for "Swedish Models," he likes to adapt to his audience he said, and the audience shouted out the modified version of the chorus along with him. At this point, Faderhead gave the sad girl at the front her camera back, but only if she promised to start having fun. After that, he and his keyboardist took a few minutes to determine which songs to play next (they decide this according to how the crowd is reacting) while telling stories to the audience to keep them entertained. I noticed as the show went on as he addressed the crowd, his accent seemed to get thicker as he downed more and more of his large bottle of clear liquid (which I assume was alcoholic in nature) as if it was merely water (that's a pretty impressive feat, one which would most definitely induce me to vomit). Conveniently, selected lyrics from each song were projected on the screen so that those who didn't know the words could sing/shout along.
When they were ready to play again, they decided on "Fistful of Fuck You," (one of my favorites) and "Dancers," another new track, to get the crowd moving again. "Dirtygrrrls/Dirtybois" came next, followed by his cover of Justin Timberlake's "Sexy Back." "Noisebastardz," "Not a Robot" and "Houston" kept the show rolling, followed by "Take Your Fuckin' Meds" (another track off the new album). He closed out the show with "Destroy Improve Rebuild" and "TZDV," thus ending a fantastic performance.
Faderhead had great rapport with the crowd and engaged in a lot of audience interaction; talking with them and having various people sing parts of songs into his microphone. I've often heard people say that Faderhead is of an arrogant sort, but I found him to be quite affable and charming. From the moment he stepped onstage he had the audience moving, dancing through the duration of his set. He was an excellent showman and had a tremendous stage presence. I greatly enjoyed his performance and look forward to seeing him live again.
You may also like...