:Retrowerks: Komor Kommando – Hail To The Rhythm EP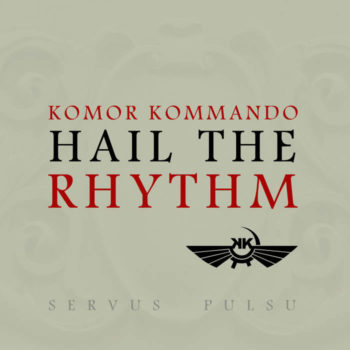 Komor Kommando – Hail To The Rhythm EP
Release Date: December 6, 2013
Label: Alfa Matrix
Websites: Facebook │Twitter
Review by Nicole E. Calcagno
Sebastian Komor is known mainly for his work as a producer and has been responsible for some great music. He brings his own flair and penchant for making club music that will move you to this solo project, Komor Kommando. Hail To The Rhythm has all of the elements of great dance music, only a little different. This specific EP mixes chants, an orchestra, and driving beats that create a beautifully dark sound.
While this EP has a short track list, it packs a punch. The first song "Servus Pulsu" starts out with a good creepy chant, a great buildup, and then BOOM! The beat kicks in and you automatically want to dance. There is a great beat to this song and a nice variety of sounds throughout. I can envision a dance floor full of people going ballistic to this song and I'd be one of them.
Track two is "Cardiovascular System Check" which is also a great track. It starts out with a slow, futuristic sounding build. You aren't quite sure where it's going but you anticipate the beat. Then it drops to a steady, hard, and very stomp-worthy beat. Then the orchestra instruments chime in. The way they mesh with the beat is really interesting and I like the different layers of this song.
"Servus Pulsu (Symphonic Version)" is just what it says. A version of track one that is more mellow and focuses more on orchestra-like instruments. This track also had a cool buildup but it had a different vibe. There were different layers to this song. You heard bells, piano, and it was not as hard of a beat. It was a lovely and dark song that had a haunting appeal to it. This is the mellowest track on the EP.
Finally, we are greeted with "Servus Pulsu (Red Mix by Inertia)" which starts out with a hard beat. It still has that dark, almost creepy vibe to it. It also had a lot of the original elements in the song. This mix, however, had more of a straightforward symphonic vibe with a solid beat.
Overall, I dig Hail To The Rhythm. That is exactly what I want to do. I want to get on a dance floor and go nuts. I usually prefer stuff that will make me feel that way. I also enjoy the variety and layers in each track. I like the dark, creepy feel and the mix of symphony instruments with a beat. I'd definitely recommend this to anyone looking for something new.
Track Listing
01. Servus Pulsu
02. Cardiovascular System Check
03. Servus Pulsu (Symphonic Version)
04. Servus Pulsu (Red Mix by Inertia)
You may also like...