:Retrowerks: Deuxvolt – Union of Opposites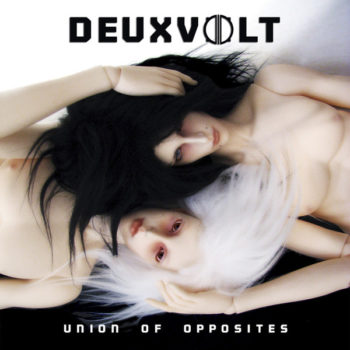 Deuxvolt – Union of Opposites
Release Date: 2012
Label: Glory & Honour Records/Dark-Frame Music
Websites: Official│ Facebook│ Twitter │SoundCloud
Review by Jaymie Burzette
Deuxvolt are an industrial/dance/goth band from Tuscany, Italy that formed in 2011. The idea behind the band was to merge various influences including goth rock, techno, dance, industrial and classical music, utilizing instruments ranging from synthesizers and electric guitars to violin and harpsichords. Other material includes The Dance Machine (credited as Just Deux) and the Horrormx compilation. As the title implies, The Dance Machine is more heavily dance, industrial, and techno influenced than Union of Opposites and is quite good in my opinion.
Union of Opposites opens with "Blackheart" a bouncy danceable number with heavy guitars and electric drums. The vocals were clear, with main female vocals punctuated with operatic singing. "Dance With Ghosts" came next, this one with more of an industrial metal feel to it, but still with techno and dance elements. This one felt reminiscent of Genitorturers to me, with similar guitar and vocal styles. "From The Stars" followed, which felt more on the electro-industrial side, along with higher-pitched distortion on the guitars and drums that seemed heavily techno influenced.
"Lose My Soul" felt like Genitorturers as well, as far as the cadence and style of the drums, the rhythm of the guitars, along with the lightly processed vocals. But that's not to say that this track doesn't have a style all its own, there were just elements of this track that made me immediately think of the Genitorturers. "Goth" comes next; a synthy, stompy track that sounds almost like the bass line was played on an actual bass guitar fed through a synthesizer effect pedal. "Breathless" features classical elements such as operatic vocals and classical guitar, but was mixed with their distorted guitars, synthesizers, and clear vocals. "God Of Himself" is a danceable track with their distorted guitars (prevalent throughout the album), punchy drum lines, synthesizers, and vocals that move between clear and mildly processed. Of course, I can't really describe the actual melodies and rhythms of the songs without going into music jargon, but all the tracks have been quite good so far.
"Evampire" features a harpsichord, distorted guitars, and electronic drums. This song feels more goth rock but with electronic drums and synthesizers. "Devil Vs Man" had a great galloping beat, more guitars, synthesizers, and piano. "Dies Irae" is an instrumental track with synthesizers and a decent drum beat. "Beyond The End" brings more harpsichord, catchy guitars, and piano. The album goes out on a good note.
I thought this album was interesting and well put together. Although the diverse elements and influences of the music are different, they all blend together well for a cohesive, tight sound. As an avid fan of classical music, I definitely appreciate the influences and utilization of classical instruments such as piano, violin, and harpsichord (which are actual instruments, not synthesizers). Another neat thing about this band is you can download a lot of their music for free on their website, and I like to support bands that do what they do for the love of music. Overall, this album is definitely worth a listen.
Track Listing
01. Blackheart
02. Dance With Ghosts
03. From The Stars
04. Lose My Soul
05. Goth
06. Breathless
07. Evampire
08. God Of Himself
09. Devil Vs Man
10. Dies Irae
11. Beyond The End
Tags Dark-Frame MusicDeuxvoltGlory & Honour RecordsJaymie Burzette
You may also like...