:Retrowerks: Caustic – OBΔMΔCΔRE; Beauty Queen Autopsy – Roughest Cuts: the demos EP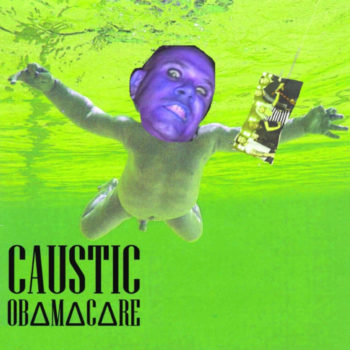 Caustic – OBΔMΔCΔRE
Release Date: December 13, 2013
Label: Self-Released
Official Websites: Bandcamp│ Facebook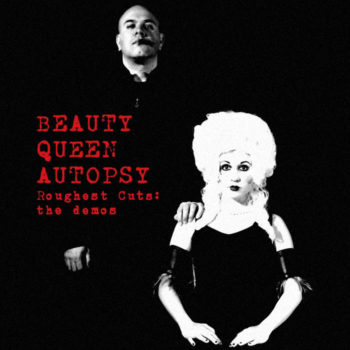 Beauty Queen Autopsy – Roughest Cuts: the demos EP
Release Date: December 17, 2013
Label: Self-Released
Official Website: Bandcamp│ Facebook
Review by Stephen Beck Fey
2013 was a busy year for Matt Fanale, fearless leader and only member of Caustic. Two EPs with his main act, an album and an EP with DarkNES of The Gothsicles (the former of which I declared the "dancing around your room in your underwear" album of the year), an EP with Unwoman, and a bunch of remixes that I couldn't be bothered to count. One wonders how he found time to sleep.
Now that it's January of 2014 and the trickle of new releases won't become a flood for a little bit, it's time to talk about the two projects Matt Fanale put out in December before we all get distracted by shiny 2014 things.
Caustic's OBΔMΔCΔRE (the first of the aforementioned two projects) features a much more stripped down lo-fi approach than the experimental and comparatively polished sound of the last couple Caustic releases. It's not exactly a Nebraska-style back to basics release, but it's a fair bit closer to the raw (almost punk) sound of This Is Jizzcore than it is to the eclectic wackiness of The Man Who Couldn't Stop and, as much as I loved the latter album, the return is an oddly refreshing one.
The EP features three new songs as well as a pair of covers and a few remixes. The first new song, "The Persistence of Anti-Division," is a deceptively simple instrumental that gets some serious mileage of building up and tearing down a wobbly synth groove. Following it is "More Requested To Not Stay Away From Uteri Than a Republican," which drenches an almost chanted vocal in reverb and floats it on a bed of melodic synths and bouncy drum sounds. Just when you might start to complain about the overall lack of shouting on the first two tracks, "Industrial Home Ownership" leaps into action with a pounding distorted rant in the classic Caustic tradition of "The Bottle, The Bomb, and The Bible." This right here is the Caustic I fell in love with, fist in the air and tongue in cheek.
The two covers continue the trend towards heavy beats and distorted vocals. The Vomit Arsonist-assisted take on Godflesh's "Christbait Rising" runs about two minutes too long for my liking, but that's also true of Godflesh's version, so what can you do? The revamp of Babyland's "Worst Case Scenario" though actually tops the original. Where Babyland sounded merely upset, Caustic sounds downright pissed-off and the music backs that up, filling out the low end with more solid percussion and buzzing static; the rage is palpable.
The remixes have a little something for everyone. Highlights include "More Requested et cetera" being taken off its pillowy synth cloud and kicked into gear with the iVardensphere tribal club treatment, Salvo giving "Industrial Home Ownership" some NyQuil and pushing it at a leisurely pace down an assembly line manned by robot insects, and Mahr's woozy "contemplating the vastness of the universe at three in the morning" mix of "Eyes Pried Wide" (from The Coprophagia/Consummatia EP) that should inspire you to go to her Bandcamp page and pay the total fifteen dollars for everything there because Mahr deserves to be way bigger than she is.
Basically, OBΔMΔCΔRE is a fun, noisy snack to tide us over while we're waiting for the beautiful orgy of chaos and excess that is the only possible way Matt Fanale can follow The Man Who Couldn't Stop. It's a neat little slice of jizzcore and it's free. What's not to like?
The other thing Fanale released in December was an EP of demos in collaboration with Erica Mulkey (Unwoman) for a new project called Beauty Queen Autopsy. Roughest Cuts, as this EP is called, showcases a dark synthpop sound that calls to mind adjectives like "sexy" and "glamorous," but also adjectives like "cold" and "medical." Basically, it's what robots get down to (and I mean that in the best way).
The Dan Savage-inspired opener, "Good, Giving, Game," is surprisingly bare-bones. There's the sultry vocal melody, a repeating '80s-style house bassline, a basic drum machine beat, and not a whole lot else in the way of ornamentation, but the simplicity pays off. The two elements combine in such a way that it drills into your brain and doesn't leave.
"Birthday Pony" is another virulent earworm, slightly less minimalistic this time, but only slightly. Mulkey's vocals are contrasted with a buzzing synth lead set to a slower, more deliberate beat, lending the song a sort of robotic allure.
"Submission" is a Sex Pistols cover that, if they hadn't said on the Bandcamp page that it was a Sex Pistols cover, I would probably never have recognized. The buzzing mechanical sounds are emphasized more and the sound is overall fuller than the first two songs; the way the music combines with the melodic vocals, it actually reminds me a lot of Depeche Mode.
"Lotharia" continues the fuller sound, adding onto the first track's goth house approach with a couple extra channels' worth of synths. It's still really stripped back by most standards, but it's an interesting pointer to what Beauty Queen Autopsy might sound like on an actual album. Though not as brilliantly catchy as the first two tracks, it's still a fun danceable song.
Then, just like that, the EP is over. If I have any complaints at all about The Roughest Cuts, it's that I want more of it. At four tracks, it feels like a bit of a tease. Nonetheless, as teases go, it's a really excellent one. I love these songs and I really dig the minimal aesthetic. They'll probably be great in any case, just because the songs are so good, but I really hope the full versions of these tracks retain some of that simplicity and vintage spirit.
As with OBΔMΔCΔRE, The Roughest Cuts is free on the relevant Bandcamp page. It's also been out for a month, so if you don't have it by now, there's really no excuse. Get over there and put this in your ear holes immediately.
OBΔMΔCΔRE Track Listing
01. Persistence of Anti-Division
02. More Requested To Not Stay Away From Uteri Than a Republican
03. Industrial Home Ownership
04. Worst Case Scenario
05. Christbait Rising (Vomit Arsonist vs Caustic)
06. Eyes Pried Wide (Loss Mix)
07. Industrial Home Ownership (Salvo mix)
08. Bring Out Your Dub (Null Device mix)
09. Must Have Pills (Tinhead mix)
10. More Requested To Not Stay Away From Uteri Than a Republican (iVardensphere mix)
11. Eyes Pried Wide (Mahr mix)
Roughest Cuts Track Listing
01. Good, Giving, Game
02. Birthday Pony
03. Submission
04. Lotharia
Tags Beauty Queen AutopsyCausticErica MulkeyiVardensphereLossMahrMatt FanaleNull DeviceSalvoStephen Beck FeyTinheadVomit Arsonist
You may also like...