:Retrowerks: NOIR – Feature Article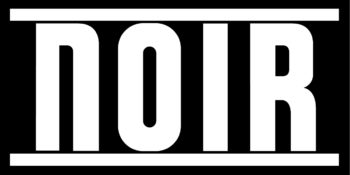 :Feature: NOIR
Written by Jay Adler
Athan Maroulis, born Athanasios Demetrios, is best-known for his work as the lead vocalist of Spahn Ranch, but his credits as a writer and performer include The Blue Dahlia, Fahrenheit 451 and Black Tape For a Blue Girl, just to name a few. He recently released the first album, titled Darkly Near, for his latest project, NOIR. He calls it "the closest I have come to a solo project."
"The original idea behind NOIR was for me to collaborate with different people to achieve some level of diversity from song to song and be a solo project without really being a solo project," Maroulis said about his latest musical endeavor.
"After many years of not performing and releasing just a handful of tracks, I joined Black Tape For a Blue Girl," said Athan. Black Tape released an album and some singles then toured the U.S. and Europe. However, "Black Tape takes very long breaks in between albums so I decided I wanted to stay active and start another project." That's how NOIR came to be.
"At first it wasn't even all that serious," he said. "In fact, I started working with a collaborator who wishes to be anonymous because he's from an unrelated scene of music. The loose plan was to try to cut a few beat-friendly dark synth tracks and release a single." That single turned out to be "My Dear." Maroulis said, "It got a pretty good response, so we decided to cut an album."
It seems Maroulis can't go long without working on a musical project of some sort; he's driven constantly by the need to create. When asked as much, he said, "Yes, you outed me! I can't really add much to that, it is true; I always need to be working on something to feel alive." In fact, if Maroulis isn't working on music directly, he's helping bands from the promotional side, or producing and contributing liner notes for compilations, something his broad taste in music has helped him with immensely.
"Like many people, I like a number of different types of music. Although as an artist I am certainly known as a goth/industrial performer, in reality I have quite a library of music, upwards of 10,000 LPs and CDs." Throughout his vast collection, you will find "1920s through late 1950s jazz, vocalists, and some soundtracks."
"I write liner notes for a number of record labels on many reissue releases…and utilize my personal library regularly. I also like blues, soul, and some 1950s and '60s rock. Yet I do have quite a collection of goth and industrial vinyl, too."
Born in 1964, it may seem that much of this music was before his generation, but he owes much of his musical taste to his parents. "My parents were never into rock and roll. In fact, the handful of records that they owned were Nat King Cole, Sinatra, Hank Williams, and some easy listening instrumental records. As a kid I spent hours looking at the record covers from the 1940s and '50s, and it must have stuck."
This interest went on into his teens and far into adulthood, according to Maroulis, "yet [it] ran concurrently with my interest in goth and industrial. Guess I have just always had a love for music and film of the 1920s until about the early 1960s?" He says that even though each of those decades are different from one another, "any one of them is far sexier than any of the feces we are fed today."
That fondness has leaked its way into his musical projects. The name and theme for NOIR's Darkly Near is an obvious throwback to that era of music and cinema.
He does tend to keep his influences separate from his more electronic-based work. "I have kept it mostly separate for many years although I have borrowed bits and pieces. Vocally, it seeps through on occasion. I mean, I am a crooner at heart, so when performing live I often wear a suit which one might perceive as being borrowed from jazz. I have only recently tried to alter my vocal phrasing from verse to verse, something that's a direct link to jazz vocals. So while musically it is limited, I do try and implement the imagery of other eras and think I did so with NOIR. The album cover is actually Lupe Velez, a lovely actress that committed suicide in the 1940s. There are other elements blended in there as well."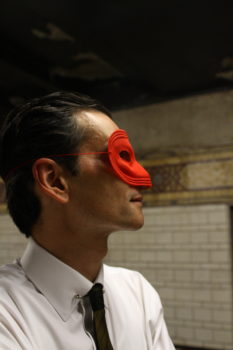 The first instrument Maroulis ever picked up and played was the violin, and he didn't always start out wanting to make electronic music, "it is just something that kind of happened," he says. His first musical project was a band he performed in as a teenager. "We were called The Pedestrians—a high school band doing new wave and some 1960s covers. It was there that I got the bug for this." While The Pedestrians wasn't necessarily his first success, it's the reason he decided he wanted to make music.
When he started, he definitely wanted to make music for fun, but getting signed seemed like an awesome perk, "[It's] possibly a little bit of both, or better said, getting signed seemed like it could lead to more fun on someone else's money." But it was just before his 20s when he decided he wanted to pursue music seriously, "I suppose it was in 1984 when I was nineteen years old. There, I started Fahrenheit 451, which is the first band I was in that performed nearly all-original material. You could even say I was a bit too serious about pursuing a career in music at the time." The name was obviously inspired by the Ray Bradbury book of the same name. "I loved the book, so it was a natural fit. Truth is, it was actually…guitarist Shel Stewart who came up with the idea to use the name, and I liked it."
Maroulis later went on to join Spahn Ranch. Spahn Ranch, the place, is part of a historic park. It's also a popular filming location for many westerns, and it was home to the Manson family during the Tate murders.
"Well, I spent a lot of time trying to explain…back in my Spahn Ranch days. The band was named before I even joined, so it wasn't actually my idea. Oftentimes, I would respond by saying that was where my favorite western, Duel In the Sun, was filmed in 1946. While that is a true statement, it was not the real reason the band was named so. I suppose my SR bandmate, Matt Green, was thinking of the effectiveness of shock value at the time, especially considering how hard, noisy, and gritty SR was in the beginning. Manson seemed to be familiar in the imagery of the first wave of industrial artists in the 1980s and with the RE/Search crowd, so it seemed like a cocky, yet fucked up, good idea to name the band Spahn Ranch," says Maroulis of the name.
The times have changed, however. Now, rather than paying for expensive studio time, bands can experiment with music. It seems that promotion is mostly done through social networks, and services like Bandcamp make it possible for everyone to release an album. While this may make it easier for some to be heard, it's counterbalanced by the fact that it's easier to get lost in the noise.
"Yes it has made self-releasing music more possible, but it has also brought about 18 million more bands to the table fighting for an ever-shrinking crumb left on the plate," Maroulis says of those advancements. "I have said this before and I will say it again, I am much happier and relieved knowing I am closer to the end of my career in music than I am to starting one, especially in this climate. I would imagine one could argue this topic with both sides having viable points, yet when trying to get people to look at a YouTube video in hopes of selling a banner ad is the goal, it just sounds like an enormous pile of shit to me. Perhaps if you came into this musical climate and don't know any different then I suppose it is the norm for most young musicians. This is not to suggest that it used to be easier—it was just different. I feel as if there are more people listening, while at the same time less people are giving a shit. I have literally lost count how many releases I have completed, and while I do begrudgingly participate in Facebook, Kickstarter and such, I can't help but feel that things seem slightly disposable, finite, and so dominated by bearded indie rock clichés that it is a great time for me to be seeing the light at the end of the tunnel. Hence, I am much happier to be in the 'autumn of my gothic and industrial years' and just don't give a flying fuck."
He does add, "While it is true that these outlets seem fantastic for bands just starting out, logic makes me wonder 'where do you go from there?' Can a band turn [Facebook] 'Likes' into sales? I have my doubts. Attention spans have indeed shortened immensely in the last decade, which certainly isn't helping, either. I am just hoping this all leads to something better for the younger musicians."
There are definitely a lot of positives to having the technology we have today. Back in the earlier days of Maroulis' career, his band used to send music to each other on tape. "We used to send cassette tape ideas back and forth literally, 'writing by mail,' and I guess I still do it but not snail mail. Darkly Near was written partly in Seattle, Mexico City, San Francisco, and NYC. Yet, I was only in New York City. This is obviously very common these days and definitely an upside to the technology boom."
When working on NOIR's Darkly Near, Maroulis definitely hit on a theme. To accomplish this, he had to put himself in a certain mindset. "I kept coming back to this idea that sex and death are more similar than they are different, that life is a series of endings. Then, the Bergman film Through A Glass Darkly kept coming back to me. While the title is a biblical reference, Bergman knew how to blend dark and erotic into the surreal and meaningful, so perhaps I pinched the title to create Darkly Near in order to forge a similar ambiance. This was the first time in a decade that I had to literally sit down and write an entire album of lyrics and vocal melodies, which was not easy for me having been away from it for so long. I had a briefcase filled with all of my old lyrics and memories from over the years; there, I found a few snippets then elaborated on them."
"Ultimately, I wrote much of this album as if I was standing in a train station looking down the tracks waiting for the train and lost deep into my own thoughts; reflecting back on places, the personalities, relationships, intimacy, women familiar to me and tragic actresses I never knew, flashes of sensuality all mixed into a surreal blend of old films, faded newspaper clippings, and wrapped it into a campy black and white 1950s TV show where NYC is the backdrop to some overly dramatic, blackened story. My collage if you will. If I learned one thing from Quentin Tarantino it's the fact that it doesn't have to make sense, it just has to work," he said about the feel and theme of the album.
He's not just a performer. Much of Maroulis' music career involves the production and promotional side. "Part of it was survival. I have worked for myself for many years yet have had to use all of my skills as a musician, writer, historian, booking agent and record collector to make a living in music; otherwise, I would be the guy delivering the box to your door in the brown shirt, but I would have good benefits. I regret the fact that I stopped acting in my twenties thinking that music would lead me back to it, but it never happened."
Maroulis signed on to Metropolis Records. "I have been friendly with the Metropolis crew for 20 years and always wanted to do an album for them. I have worked with them many times over the years and some of the bands I represent, like Ego Likeness and Ludovico Technique, are signed to the label. It seemed like the right home for NOIR."
Perhaps with NOIR, Maroulis can reach a wider audience. In the past, it seems that the "goth" scene (for lack of a better word) was much more divided: post-punk, industrial, synth-pop, EBM and so on. That may be changing a bit, "[That division doesn't exist] as much as it once did. Granted, certain music festivals like Kinetik seem very industrial, while other festivals mix it up. I feel that over the years all of these genres sort of exist under the same umbrella (whether they like it or not) because the overall scene is indeed shrinking these days."
That said, the music within the scene seems to become much more divided every year. It's not unusual to hear someone describe a band as "elecro-industrial EBM-tronica-aggro-step" when it can be just as easily classified as industrial. We asked Maroulis his thoughts on that. "Possibly so people can feel like what they are doing is original and unique. It kinda reminds me of parents and baby names, they often think they are doing something unique when in reality 500,000 other soccer moms discovered and used the same name. That's how you end up with 12 Jayden's in a 2nd grade classroom!"
Currently, NOIR is promoting Darkly Near, but a full-scale tour isn't in the works yet. For now, however, Maroulis wants to focus on what's next for his project: "Working this album and seeing what happens? Possibly doing a video? All the while keeping my regular juggle alive. I recently bought a hundred-year-old house as a getaway home in the mountains of Upstate New York. Now that these shows are done and I saw the NOIR album through the early phases, I think I am going to go up there and be someone else for a little while—it's quite therapeutic."
NOIR's debut album, Darkly Near, is available on Metropolis Records.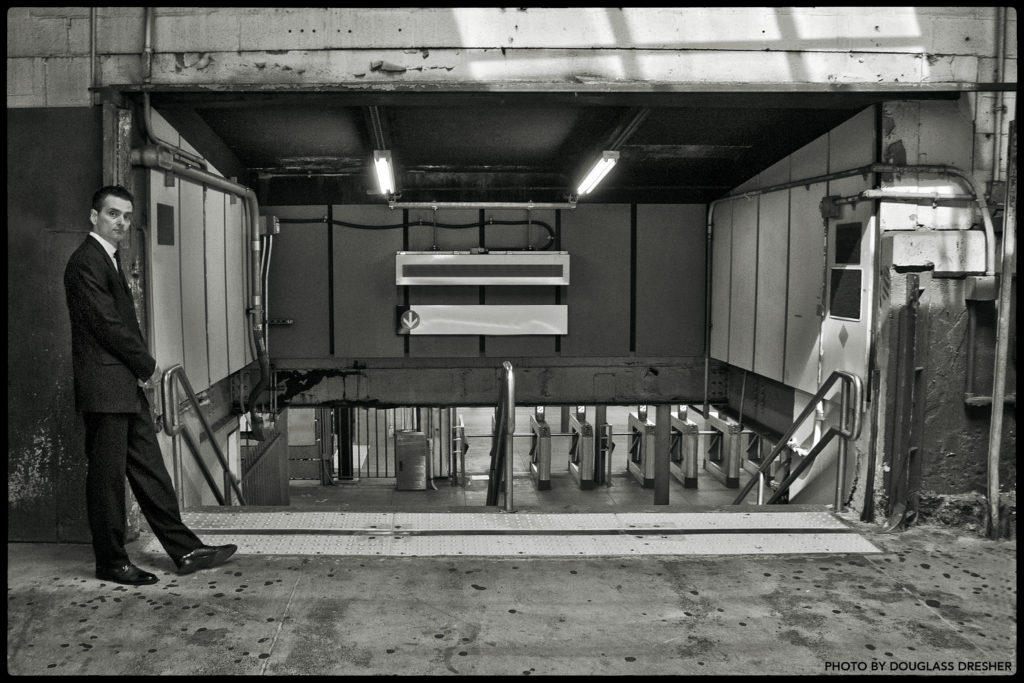 You may also like...