:Retrowerks: Kinetic Festival 5.5 – May 23-26, 2013 – Montreal, Quebec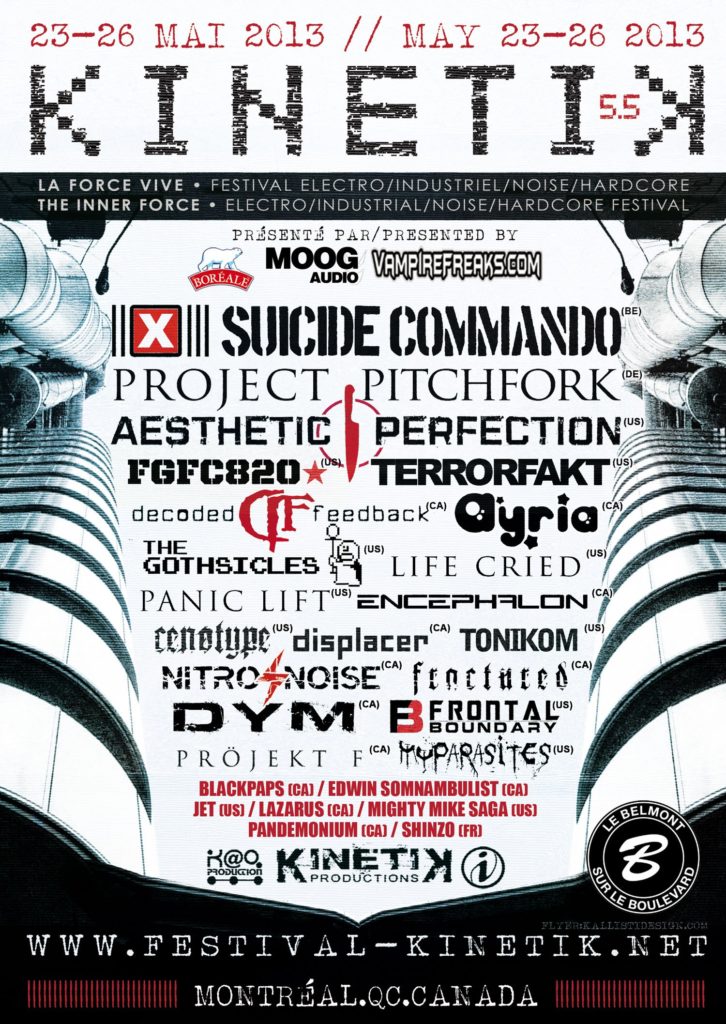 Kinetik Festival 5.5
Dates: May 23-26, 2013
Venue: Le Belmont
Location: Montreal, Quebec, Canada
Review by ???
In the first few weeks of 2013, Kinetik 5.5 was announced and there was much rejoicing! Billed as a mini-festival happening in a new venue, the Internet was abuzz for weeks with excitement, speculation, and clamoring for tickets. As the announcements gradually trickled out in stages, I found this "mini-fest" was to be four nights of incredible music, 20 bands, epic DJs, and my first chance to actually experience this amazing festival I've been hearing about for years. With no prior experience (apart from the tales my friends have told over the years), I ventured forth with an open mind, ready to absorb all of the things! Despite the smaller venue and shorter duration, Festival Kinetik did not disappoint.
Le Belmont is located a relatively short cab ride from the previous years' venue, and we made full use of Montreal's plentiful cabs as the rain and cold persisted for the duration of the festival. I found the door staff to be incredibly friendly and helpful, checking in, picking up our passes, and bag searches took almost no time at all. A quick tour revealed two main rooms and a balcony area, boasting multiple bars and several tables, a massive merch table, and even a little bit of seating. Heading to the bar, I found the prices to be pretty much the same as I would expect in Baltimore, and actually cheaper than many east coast U.S. cities I've visited recently. Bartender Alain Poirier made a great impression by remembering my drink for the entire duration of the festival, and it was truly impressive to watch all of the bartenders and bussers handle the crowds like a well-oiled machine. The flooring in front of the stage was smooth and easy to dance on but seemed to be comprised of some sort of stone tiles, so by the end of each night I was a wee bit sore. Lighting in the stage area varied from act to act, but seemed to be dominated by the largest two thousand watt strobe light I have ever seen.
Phase one was a relaxed night in hindsight, as more and more bands and fans arrived as the long weekend progressed. It was fascinating to watch the crowd adapt and shift as the days went on, managing to dance, shoot video and photos without getting in each other's way. Video screens in the non-stage room allowed you to watch the show when it got too crowded or strobe-y, or just wanted to chat up all of the performers that were milling about. Throughout the festival there was a pervasive sense of jubilation and homecoming, almost like going to a reunion party for the club you used to sneak out to in high school. That sense of intimacy was further reinforced by the lineup being comprised of mostly North American bands, many of whom know each other well and support each other fiercely. Founder Jean-Francois Fortin Gadoury and his team sure know how to throw a party!
To describe every performance and nuance of the festival in addition to the backstage and behind the scenes shenanigans would not only take forever, but would likely result in getting me lynched. (What happens at Kinetik stays at Kinetik.) Some personal highlights for me in no particular order:
* The amazing response of the stage manager during MyParasites when in the middle of the third or fourth song the lead singer's effects microphone stopped working, and without missing a beat he grabbed the microphone from the keyboard stand and kept right on going. By the end of that song, the keyboard player had another microphone, and within another song or two the effects microphone was fixed and back in the lead singer's hand.
* Cenotype along with members of FGFC820 and The Gothsicles covering Bronski Beat's "Hit That Perfect Beat."
* Johan from Suicide Commando crowd-surfing.
* Tonikom's amazing handmade light vest.
* DYM's ribcage rattling wall of bass.
* The moment during Terrorfakt's show when Deftly Demolition was standing in a shopping cart grinding and started to tip over, and the crowd reached up and held him.
* Getting a shout-out from The Gothsicles, and Micah filling in on keys.
* FINALLY getting to see Project Pitchfork live, then having them take COMA stickers.
* Discovering new bands that blew me away (Nitro/Noise, Encephalon) and dancing myself stupid to Displacer.
I could go on forever, but I will wrap up here. After years of talking to festival staff and patrons on the Internet, my first experience was completely mind-blowing. I cannot wait for the 2014 installment, and I strongly encourage you to check out the website and the Facebook page to participate in the polls about who, what, when, where, and how!
Tags Aesthetic PerfectionAyriaCenotypeDecoded FeedbackDisplacerDymEncephalonFGFC820FracturedFrontal BoundaryKinetikLife CriedMyparasitesNitro/NoisePanic LiftProject FProject PitchforkSuicide CommandoTerrorfaktThe GothsiclesTonikom
You may also like...