:Retrowerks: Bruderschaft – Return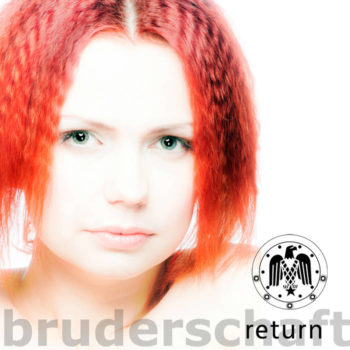 Bruderschaft – Return
Release Date: November 22, 2013
Label: Alfa Matrix
Website: www.facebook.com/bruderschaftofficial
Review by Yvette Arambula
This month marks the release of Bruderschaft's second charity album, Return. It has been a decade since Rexx Arkana's (FGFC820) super-group first released the Forever EP in collaboration with talent from VNV Nation, Covenant, Apoptygma Berzerk, and Icon of Coil. This time Rexx was able to round up a whole new set of vocalists from Assemblage 23, Beborn Beton, Haujobb, Aesthetic Perfection, Colony 5, System Syn, Syrian, and Ien Oblique, as well as the song writing contributions of Daniel Myer (Haujobb), Johann Sebastian (State of the Union), and Maze (Blank). Like Forever, this album's proceeds will also go towards cancer research and treatment, and various charities that offer assistance to families with loved ones affected by this scourge of humanity.
The opening track "Trigger," with vocals by Clint Carney (System Syn), starts out with solemn synth strings, and then you hear a distant arpeggio fading in. A sense of anticipation builds as the melody grows louder, eventually becoming quite danceable. It is a haunting song of longing for the life you once had, but instead being faced with the end of everything you've ever known. Track two, "Return," features Tom Shear (Assemblage 23) on vocals. His vocals are minimally processed, sounding like his earlier A23 material. The main theme of the song can be summed up by the chorus, "Will you still be by my side / when the sun burns from the sky / or if this fragile world should fall / would it still be all my fault? So much suffering and pain / the life we lose we start again / nothing changes, nothing learned / an endless cycle of return."
Daniel Graves (Aesthetic Perfection) lends his voice to "Dead Tomorrow," a farewell toast to the world that we know and the despair that lost time brings to the hopeless. This is my favorite track on this album. There's just something about it that really tickles my brain and illuminates my being with the soft glowing embers of a dying fire. "Goodbye" with vocals by Jared Lambert (Ien Oblique) is a conversation with someone apathetic and hopeless. No matter what he says to try to make the situation better, it just falls on deaf ears. It certainly evokes a feeling of frustration; but what can you do when someone refuses to see past their own self-loathing?
Next is a cover of The Human League's "The Things That Dreams Are Made Of" with vocals by Andylab (Syrian). Futurepop meets electronic new wave; the two hit it off right from the start. It is the most upbeat song on this album, offering a glimpse of hope and daring you to dream despite the darkness that embraces you. Then comes "Falling," featuring Daniel Myer (Haujobb) on vocals. With this song, you are once again reminded that life is pain, desperately clinging to the promise of relief, yet there's no end in sight. The following track is "6AM (And Now That You're Gone)" sung by Stephen Netschio (Beborn Beton), another song of loss and regret. The arpeggio in the background is a nice touch; a good complement to the synth bass line that fades in and out, becoming more prominent during the chorus.
Track eight, "Goodbye" with P.O. Svensson (Colony 5) on vocals, comes next. It sounds a lot more upbeat than the previous version, but it still has some of that darkness in it. We are after all still dealing with someone who doesn't want to be saved from their own misery. Tom Shear once again graces us with his voice on the closing track, "Forever 2013." It was interesting to hear Tom singing in Ronan Harris's (VNV Nation) signature cadence, but it really worked for this revamping of the song. It definitely has the sound and feel of early 2000s VNV Nation, with a modern twist. This song serves as a reminder that we are not alone; there is always someone there to help pull you up from the dark abyss your mind creates when faced with life's struggles.
This gathering of awesome artists is indeed a brotherhood united for a greater cause. Their signature vocal styles melded perfectly in forming a cohesive album that sends you on a journey to hell and back again, with glimmers of hope and acceptance of one's fate sprinkled throughout. I highly recommend it; its themes are dark yet it still manages to be fun, danceable, and pleasant to sing along to. Go out and buy it as soon you can!
Track Listing
01. Trigger (feat. Clint Carney)
02. Return (feat. Tom Shear)
03. Dead Tomorrow (feat. Daniel Graves)
04. Goodbye (Ien Oblique Vocal) (feat. Jared Lambert)
04. The Things That Dreams Are Made Of (feat. Andylab)
05. Falling (feat. Daniel Myer)
06. 6AM (And Now That You're Gone) (feat. Stefan Netschio)
07. Goodbye (Colony 5 Vocal) (feat. P.O. Svensson)
08. Forever 2013 (feat. Tom Shear)
Tags Alfa MatrixAndylabBruderschaftClint CarneyDaniel GravesDaniel MyerJared LambertP.O. SvenssonRexx ArkanaStephen NetschioTom ShearYvette Arambula
You may also like...