:Retrowerks: A Brilliant Massacre – Science Fiction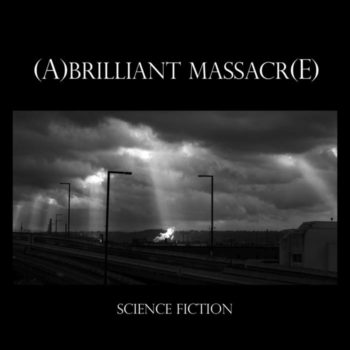 A Brilliant Massacre – Science Fiction
Release Date: August 23, 2012
Label: Negative Gain Productions
Websites: Facebook
Review by Jaymie Burzette
A Brilliant Massacre is a Seattle, WA synthpop/industrial band founded in 2011 consisting of Sean Whitman and co-produced by Roger Jarvis. Whitman has been previously involved in writing with Kevorkian Death Cycle (KDC); Jarvis with HexRx and KDC. Whitman and Jarvis began collaborating together on a project called The Cut which later evolved into A Brilliant Massacre. This album is quite different from their other projects. Whereas HexRx is electro-industrial and KCD is more purely industrial, A Brilliant Massacre is far more dance-like and EBM; quite different, but good. Personally I'm a bigger fan of both HexRx and KCD, but that's not to say I dislike this project. I just prefer the musical styles of the former two. This album also features remixes by Daniel Myer, Assemblage 23, and HexRx.
The album opens with "Horizon," a dance-like track with hard trance beats and mild distortion in the music and vocals. It's a good opening track and sets the tone for the rest of the album in its musical style. "Iron Sky" follows, one of the more pop sounding tracks on the album; slightly reminiscent of early 2000s pop electronic music. "New Pretender" features heavily processed vocals, more synths, and dance-like beats. "3 Blind Words" is a bouncy track with a disco beat. Of all the songs on this album, this track sounds like it could be played at a regular nightclub. The vocals are slightly processed with no pronounced distortion. "Liberte de la Lune" is an instrumental track that starts with mechanical sounds and features electronic sound effects and rhythmic drums that sometimes wander into distorted snare effects.
"Science Fiction" seems to bring the album back into more familiar territory where you can really feel Whitman and Jarvis's style. I feel this is where the album really picks up and comes into its own as far as the caliber of lyrics and music. It all flows together very well; the guitars, drum beats, and synth effects are great and the vocals are well done. "WBML" was next, opening with violin plucking synth effects and drums that drive the song forward building to other synth effects. The vocal processing makes them sound robotic and are sometimes processed to drone on, but it works fantastically for a very cool effect. "A Brilliant Massacre" follows, with clear vocals, great synth effects, and light drum beats. This song has been stuck in my head for the last few days since I first listened to this album, but I can't complain. It's a fantastic track with great lyrics and a pleasantly catchy melody.
"Science Fiction (Alchemical Remix)" is the first of four remixes on this album. While I like the remixes, I have to say that I would have preferred to see these released on an EP and instead had four more tracks of original material. "Science Fiction (Alchemical Remix)" is my least favorite of the three "Science Fiction" remixes. It sounds like a slowed-down version of the original with the pitch shifted lower. "Science Fiction (Remixed by Daniel Myer)" is next, which is bouncier than the original version, with more electronic effects and the melodies changed slightly. This version also seemed to have a '90s Depeche Mode feel to it. I thought this was a good remix, as I would expect awesome things from Mr. Myer. "Science Fiction (Remixed by Assemblage 23)" is taken to a new level of awesome with Tom Shear's signature layers of complementary sounds. The album ends with "Brilliant Massacre (Massacre Mix by HexRx)," a fantastic remix, featuring vocals reminiscent of '80s David Bowie, darker synths, distortion, and more prominent drums. This track definitely has a more industrial feel to it than the original version.
I really enjoyed this album; it was well made with quality instrumentation. The layers of music blended really well together; from driving drum beats and guitars, to melodic synths and electronic sound effects. In addition, I thought it was interesting to see another side of Whitman and Jarvis that was more floaty and synthy. From "Science Fiction" on you could really feel more of the HexRx and KDC influence shining through since those songs had more distortion and the mechanical sounds associated with industrial music. That was the half of the album I preferred, as I am more partial to industrial than pop/synthpop, but that's a matter of personal opinion. Although it feels like a somewhat incomplete album due to all the remixes, it's definitely worth listening to.
Track Listing
01. Horizon
02. Iron Sky
03. New Pretender
04. 3 Blind Words
05. Liberte de la Lune
06. Science Fiction
07. WBML
08. Brilliant Massacre
09. Science Fiction (Alchemical Remix by A Brilliant Massacre)
10. Science Fiction (Remixed by Daniel Myer)
11. Science Fiction (Remixed by Assemblage 23)
12. Brilliant Massacre (Massacre Mix by HexRx)
Tags A Brilliant MassacreJaymie BurzetteNegative Gain Productions
You may also like...