:Retrowerks: Front Line Assembly – AirMech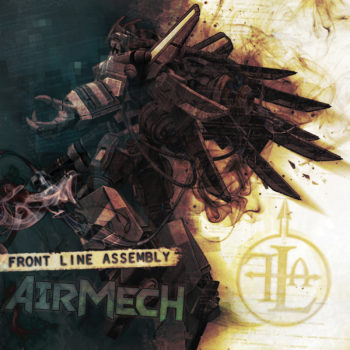 Front Line Assembly – AirMech
Release Date: November 21, 2012
Label: Metropolis Records
Website: Facebook
Review by Jaymie Burzette
Front Line Assembly is a Canadian electro-industrial band formed in 1986 by Bill Leeb after leaving Skinny Puppy. Throughout the years the band's lineup has rotated through several members, including Michael Balch (Blackland, Ministry) and Rhys Fulber (Delerium). Front Line Assembly has an extensive collection of work, beginning with The Initial Command and State of Mind, through Artificial Soldier and Improvised Electronic Device to their latest release, AirMech. AirMech features all instrumental tracks and is very different from normal Front Line Assembly (FLA) fare. Instead of their usual electro-industrial sound, this album bears a heavy dubstep influence. AirMech was developed as the soundtrack for the game bearing the same name by Carbon Games, which is apparently why this album sounds so very different from what FLA usually sounds like.
AirMech opens up with the album title track "AirMech," an instrumental that is fairly deceptive on what to expect from the rest of the album. It's an instrumental track that feels very FLA and leads you to think that the rest of the album will be the usual familiar FLA. "Arise" is up next with the introduction sounding like familiar FLA, but at about 1:10 the sound becomes totally different, and at 1:40 you're wondering what band you're listening to. "Pulse Charge" follows in a similar vein, but this track is more dubstep than the previous two tracks yet at times offers glimmers of the electro-industrial sound you would expect from them. "Prep for Combat" has a fairly dubstep sound, mixed with some elements of signature FLA, while "System Anomaly" has a much stronger dubstep sound with some elements of trip-hop and ambient beats.
Next are "Mech Killer" and "Everything That Was Before," both of which seemed to have a Robert Miles-influenced sound, but with more dubstep influence. "Lose," amidst the dubstep had some aspects of the FLA sound but was still quite different than what you'd expect. "Burning Skyline" offers more dubstep elements with ambient beats, dreamy synth in the background, and pretty melodies sprinkled throughout. "Stealth Mech" and "Death Level" both open with ambient sounds and beats and then move into dubstep, with very slight elements of the Front Line Assembly sound. "Prime Empiricism" closes out the album with more ambient sounds and beats. It does definitely feel like something that would be playing at the end of a game; possibly at an ending cut scene or as the credits are rolling.
Overall, this album is very different from what I would expect from Front Line Assembly. Instead of being the usual electro-industrial, AirMech is far more dubstep and trip-hop influenced. In fact, one could argue that the only elements of FLA we're so familiar with present in this album can be found in minute snatches, only aspects of their sound mixed into something very different. If you're expecting the typical FLA album, you will be greatly surprised, unless of course you read this review or listen to a preview. Ultimately, this album does feel like it could be the soundtrack to a sci-fi game set in the near-distant future which is what they were trying to accomplish.
Track Listing
01. AirMech
02. Arise
03. Pulse Charge
04. Prep for Combat
05. System Anomaly
06. Mech Killer
07. Everything That Was Before
08. Lose
09. Burning Skyline
10. Stealth Mech
11. Death Level
12. Prime Empiricism
Tags AirMechBill LeebFront Line AssemblyJaymie BurzetteMetropolis Records
You may also like...