:Retrowerks: Christian Death – September 15, 2013 – Charlotte, NC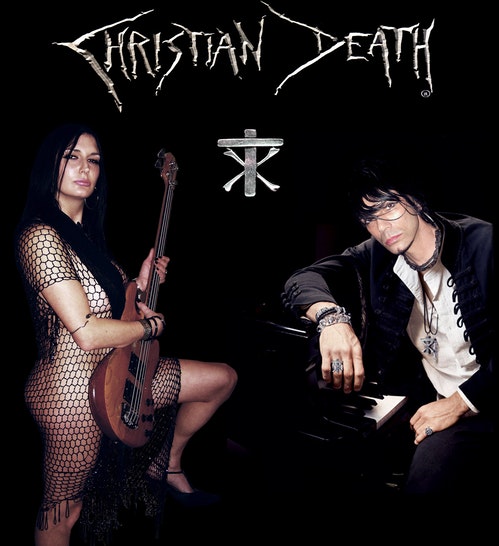 Christian Death
Concert Date: September 15, 2013
Venue: Tremont Music Hall
Location: Charlotte, NC
Review by Mona Eastes
There are shows where bands experience technical difficulties, sometimes repeatedly. Then there are shows where technical difficulties seem to descend upon a band's set like a biblical plague of locusts. Such was the fate of Christian Death when they dared to bring their heathen asses down the Billy Graham Parkway to perform at Tremont Music Hall in Charlotte, NC.
They had barely taken the stage, which was simply yet effectively adorned with clusters of red roses and wispy white "blood"-spattered cheesecloth draped on the mic stands and drums, when Valor began trying to send subtle hand-signals to the person running the soundboard. After the first song, he apologized while they tried to adjust things. Nothing unusual there. But they had to stop again after the second song. And the third. Someone dashed up to the stage with a cable…and another cable. Another song, another delay. They fiddled with things the likes of which I know not.
At first the sound issues didn't seem to affect their performance much. "Seduction Thy Destruction" was dark and sultry, gritty with a nice, sleazy grind. Maitri's vocals were brash and spot-on. To keep the crowd engaged (small though it was, being a Sunday night) during the reparative lulls, Valor talked about seeing the signs for the Billy Graham Parkway and Library on the way there, wondered about all the books that aren't allowed in it, and joked that they were being cursed and haunted by him.
As the problems continued, the frustration started to come out through the music, but not in a bad way. Well, through the music, and Maitri declaring, "I'm frustrated!" and saying she wanted a drink, which resulted in assorted beverages being brought to the stage. Hopefully that wasn't just Southern hospitality and fans everywhere try to make sure the artists they've come to see don't go thirsty. The classic glam-goth-rock feel to "Narcissus Metamorphosis Of" took an even more contemptuous turn, so that the chant-like chorus, "I am in love with myself" sounded less defiantly narcissistic and more like a love-hate relationship.
Possibly the worst impact the tech issues had on the show was during "The Selfish Gene;" some (like me) who were unfamiliar with the song weren't sure at first if the drastic tempo changes were intentional or the result of yet another malfunction. Everyone caught on, though, and it turned out to be one of the thrashing-est numbers of the night. Still, problems persisted, and the jokes about Billy Graham went from "We're being haunted by his ghost!" to "Is he dead? Where is his grave? I wanna go piss on it!" (Which brought almost as enthusiastic a response from the crowd as some of the songs did).
Naturally, right around the time it seemed everything might be fixed; Valor broke a string and had to replace it. Yep, right there on the stage, just laid it down and went at it. You might think by that point people would have been getting pissed off or annoyed, if they weren't already (besides the band, that is), but that was one of the things that made this night so enjoyable; everyone took it all in stride. "Oh, he has to change a string? This means I have time to step outside for a smoke, right? Or visit the facilities, or hit the bar, without missing any songs." In a way, the technical setbacks added to the intimacy of the show (as if the offers to sign various genitalia weren't intimate enough). Except for their gorgeous stage attire, it started to feel less like a show you'd paid money to see, and more like hanging out at your talented friends' band practice with a bunch of cool strangers.
The only truly disappointing thing was the turnout; there were only about 50 people there. I know there are those who reject any incarnation of Christian Death that does not include Rozz Williams, but they're missing out on a lot of great music by doing so. When I saw that Raven was coming to Tremont recently, and checked to see if it was the same Raven I listened to in the '80s, it turned out there are over half a dozen bands with that name. Just sayin'…
Overall, it was an impressive show on a number of levels. The music was raw, sexy, and a bit dirty; the way it's supposed to be. Speaking of sexy—Maitri talked about her bass being sexy, and while it was mouth-wateringly handsome with its glossy wood-grain finish, the true sexiness of a bass (or any instrument) depends on how it is played, and in her case, WOW! We've probably all seen bands with female bass players that took the stage scantily-clad and relied more on T&A wiggling than playing anything beyond the most basic, simple rhythms. That was not the case here. Granted, her ensemble left little to the imagination, but what my bass-playing and perfectly libidinous friends were talking about on the way home was her fretwork. I don't think I've seen a woman, or even that many men, throw down on a bass like that since TKK at the Wax Trax! Retrospectacle. And while I've never seen a band experience so many problems onstage, I've seen performers totally lose their cool, and even worse, totally lose the audience, over far less.
Instead, every member of Christian Death channeled their agitation into delivering a powerful and captivating performance. By the time they got to "This Is Heresy," the energy was so intense and focused it was nearly palpable, almost overwhelming, and the crowd hung on every word, pause, and note. After the show, they hung around talking to everyone and signing anything anyone wanted signed, just as happily and graciously as if the entire thing had gone off without a hitch; until we started to get the impression the venue staff was running out of things to clean and was about to turn their brooms on the last of us stragglers.
Maybe the sound issues had something to do with the opening acts. Robert Childers and his Luciferian Agenda had put on an eclectic show featuring alternative percussion which included banging the shit out of what looked like a giant industrial-grade mixing bowl, and Andy the Doorbum's surreal performance of his Ghost Worship Ceremony was very bass-heavy. Maybe they fried something. Maybe it was part of that Luciferian agenda, or Andy somehow conjured up the ghost of the not-dead Billy Graham.…
Whatever the case, PLEASE, Christian Death, don't let one night's fucked-up-ness keep you from coming back! This is NC, after all; with all the hog farms here, surely we can come up with enough swine blood to desecrate all the Billy Graham signs before your arrival to protect you.
Tags Andy the DoorbumChristian DeathMona EastesRobert Childers and his Luciferian Agenda
You may also like...