:Retrowerks: [product] – I, Omega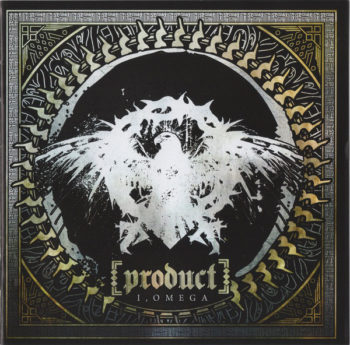 [product] – I, Omega
Release date: October 18, 2012
Label: COP International
Official Websites: Facebook │Bandcamp
Review by Jaymie Burzette
[product] is a dark electro/harsh EBM project based in Portland, Oregon.
I, Omega
is their first full-length album, following the digital
I Hope You Choke
EP
. This album features hard stomping beats, a tight galloping pace, and multi-layered synthesizer rhythms and melodies. Nearly every track on this album is dance-worthy; the tracks are fast-paced and the beats unrelenting. In my opinion, this album is best listened to through headphones so you can hear all the subtle layers of music and effects which I couldn't hear when I listened to it through speakers.
I, Omega opens with "The Last Battle," a galloping, stomping, punchy track that immediately incites one to dance. This opening track sets the tone for what to expect on the rest of this album. "Lungs Full of Water" follows, the beat moving at a fast tempo under multiple layers of synthesizer rhythms and processed vocals. "Brackish" comes next, slower than the preceding tracks, featuring heavy drums, bass, synthesizer melodies, and distorted vocals. Up next is "Greed (The Second Skin)," featuring more stomping beats, tight industrial effects, and distorted vocals.
"Imminent" follows; it's another dance-inducing stompy track with multiple layers of synthesizer sound. "The Decline" features fast galloping beats and multiple layers of synthesizers that complement each other well. "Death (A New Beginning)" is another slower track, but the drum beats are just as unrelenting as on the faster tracks. "Everything Falls Apart" starts right off with a swift, galloping pace and moves into tight synth effects. This is my favorite track on the album; the beats, the synth effects, the timing, and the pauses—this song is quite well done.
"I, Omega" is another great track, starting off immediately with thumping drums and bass, moving into catchy synth melodies; another quite danceable track. "An Era of Agony" is not as stompy and driving as the other tracks on this album, with an almost Velvet Acid Christ feel to it. "Provoke (9mm Intervention)" sounds similar to the previous track, but with a faster tempo. This one is more dance-inducing, but not as stompy and thumpy like the majority of this album's tracks. "Blind Indifference" closes out the album on a good note starting out very synthy instrumental; soft but scathing with light drumming and effects that sounded like metal clanking underwater. The track itself was very dark and watery.
I, Omega is a great album with relentless stomping beats and thumping bass guaranteed to get dance floors moving. The rhythms are tight, the layers complex, and the beats addictive. There are no filler tracks on this album either, which I think is utterly fantastic, seeing how so many bands these days fluff their albums with them. In my opinion, [product] is a great up and coming band that should garner much attention in the future, and I greatly look forward to their next release.
Track Listing
01. The Last Battle
02. Lungs Full of Water
03. Brackish
04. Greed (The Second Skin)
05. Imminent
06. The Decline
07. Death (A New Beginning)
08. Everything Falls Apart
09. I, Omega
10. An Era of Agony
11. Provoke (9mm Intervention)
12. Blind Indifference
You may also like...