:Retrowerks: Bella Morte – Feature Article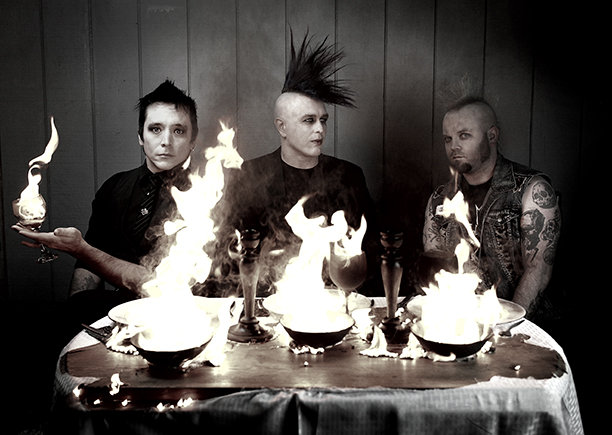 :Feature: Bella Morte
Written by Jay Adler
While Charlottesville, Virginia is best-known for Grammy award-winning acts like the Dave Matthews Band; it's a small, underground goth project formed in 1996 that has become one of the best-loved, but least-known, bands out there today. Andy Deane and Gopal Metro had no intentions of making it big when they started Bella Morte. Chances are they didn't even know what they were doing when they formed the band. "The original plan," said Andy Deane, singer and co-founder of Bella Morte, "was to record a cassette tape that we could share with all of our friends. That was it, and it was enough." The project grew into something larger than either had imagined.
Andy grew up in Charlottesville, Virginia and has lived there all his life. "I don't recall wanting to leave here. I had too many great friends to even consider it. Still do. I'm saving my angst for when I'm 80 or 90," he says. Surely someone in a goth band with such dreary lyrics must have had a rough childhood. Actually, Andy says quite the contrary. "To be honest, I had an amazingly good time growing up. My parents were very warm people. They were very caring, and open to letting my make my own decisions." His relationship with his father, to this day, remains very close and very important to him.
"I still consider my dad my best friend, and work to be as selfless and good a man as he is. Yeah, he's great," Andy says about his father. "I dedicated my first novel, The Sticks, to him. Dad didn't sweat the little things, and that really stuck with me. As a kid I'd have a friend over who would spill a drink or get some dirt on the carpet…they'd always look up a little panicked, expecting harsh words from him, but he would just make a joke about them having to replace the rug as he grabbed a towel. That went a long way toward teaching me that stuff is just stuff…people are the only things that truly matter, and in the grand scheme, a dirty carpet isn't going to have much impact on your life." Another important lesson Andy learned from his father was to speak up. "He was also big on me not biting my tongue," Andy recalls. He explained that "people would get offended from time to time, but that I shouldn't be quiet because of it. It was all about not intending to hurt people while not letting a bunch of politically correct bullshit hold me back."
Andy began watching horror movies at a young age, "and Dad never criticized me for it, or forbade my watching them. That was important." The first horror movie Andy remembers is John Carpenter's Halloween. "It's still one of my favorites! I was so enamored with Michael Myers…still am if we're talking about the original film." He also remembers watching Phantasm at a drive-in with his cousin and uncle when he was very young. He said that it "scared the fucking piss out of me!" As Andy got older, he realized that many of his friends weren't allowed to watch gory movies or nudity. "I was confused as to why. The films hadn't turned me into a violent person or a pervert, so I didn't see the threat. That cultivated my love of the genre, and I'm as big a fan now as I was at six years old." It's something that has led Andy to contribute music and books to the genre he loves so much. He also hopes to begin making horror movies soon.
Without the guidance of his dad or his support in whatever career choice Andy went for, it's not clear what he'd be doing today, he says. "It's hard to say where I would have ended up. I had an interest in joining the military, but it didn't come close to my love of music." Still, Andy says he'd probably have found a way to be an artist. "Something tells me I would have found my way to writing songs no matter what, but the path would have been longer and harder to follow without him paving the way. When I told him I wanted to start a band, he got me a guitar and eventually a PA system. And we didn't have much money. He just cared that much. He let my bands practice in the basement of our house, and we were loud and horrible at the beginning."
Gopal grew up in Yogaville, a community in the county of Buckingham, Virginia. As Gopal was growing up, he was originally learning to become a monk. However, he learned through his teachings at Yogaville that it was important to try everything as you find what makes you happy. Gopal, too, says he was always surrounded by a very supportive family. That influenced his decision to make music as well. In fact, both Gopal and Andy's parents' support would help them many times along the way, even when Bella Morte was touring thousands of miles from home.
The two met through a mutual friend. According to former bassist Gopal, "our first contact was on the phone." Andy called Gopal and asked him if he wanted to form a band. "There was no goth scene here at the time, so this guy asked me if I knew Gopal and when I said no he gave me his phone number," says Andy. "I cold-called his house and one of his sisters answered the phone and said 'Metro residence' when she answered. I had no idea that this was his last name and figured I'd reached a restaurant or some shit! But I asked for him anyway, and when he picked up, I told him I was into this music and that we should hang out. Turns out I sang and played a little guitar while he was a bassist with a drum machine. A real match made in heaven!" says Andy with a laugh.
Like many young adults wanting to make music, Gopal says the conversation was basically an exchange between two goth kids telling each other what instruments they had, which was nothing more than a guitar, some cabinets, a bass, and a drum machine. That was good enough for them. "I was like, 'Wow! There's another goth in the world,'" said Gopal remembering his first phone conversation with Andy. The two agreed to meet up at a local mall. "We donned our best attire," said Gopal, which, according to him, meant a bunch of black and white makeup. The black lipstick and lines across their faces were more inspired by James O'Barr's The Crow, than either would have liked to admit.
Andy had been in a band before, a metal project called Nerve No Pain, but he had also recently started to get into the goth scene. Through Gopal he found a like-minded musician that wanted to make electronic-tinged goth rock. The two formed Bella Morte which is Italian for beautiful death. "Nerve No Pain was a metal band I started with some high school friends that stayed together in one incarnation or another for many years," says Andy. "I still miss that band and the music we made. There are many traces of that sound in Bella Morte. But when Bella Morte came along it stole my focus, and NNP had been at it for many years. It was simply time for a change."
"We [Andy and Gopal] started playing together right away from what I remember. We'd set the drum machine (a Roland R-5) on a loop and pound out these slow, nasty dirges that would drone on for hours. It was a blast. And working together came easily, like we knew what the other person was going to do before they did it. We'd have friends over to our practice sessions all the time, and we'd play our songs for them as if we were on a stage in front of 10,000 people. It was a magical time for sure," Andy says about the beginning of Bella Morte.
Gopal says that everything "just kind of happened." He and Andy clicked so well that they became inseparable friends. The band gained popularity locally and formed a quick following. They won a battle of the bands and went on to record their first album using some of that funding. That being said, the two never formed Bella Morte with dreams of becoming much more than a couple of friends who just liked to jam together. It was just the way things went. Of course, they weren't going to fight off any potential success, either. When Bella Morte started, it was really nothing more than two goth kids, a drum machine and a giant keyboard. The instruments used in the recordings were the same ones the two lugged around to play gigs. This was before the days of music players like iPods and when playback formats like MiniDisc were probably not a viable option for two broke musicians needing backing tracks.
One night, Gopal was at work. It was snowing, and as he walked around the shop, he heard something around the side of the store coming from behind a soda machine. It was Tony Lechmanski (pronounced "Lemanski"), a homeless kid who had recently moved into town and played guitar in some local bands. Gopal knew who he was around town, but this was their first formal meeting. "He [Gopal] was going into work one day and noticed something in between a brick wall and a soda machine. It happened to be me because there was just enough room for me in there, and it blew out warm air every once in a while! It was the middle of winter so I took any warm air I could get! (Thanks Pepsi!!) He woke me and told me he'd called his roommate (Chris "Frizzle," a former guitarist for Bella Morte who worked with the band for a short time) to come get me. I kind of just never left! He helped me out more than I could say!" Tony says, recalling when he met Gopal.
"He was wearing a dress," said Gopal laughing, "He was wedged behind the soda machine and I asked him, 'What are you doing in there?'"
"It's-it's…it's warm back here," Tony told him, shivering from the cold. The young guitarist had gotten in a fight and walked several miles through the snow. The dress was, for one reason or other, all he had to wear. Gopal gave him a place to stay at his apartment, and the two became friends.
Tony came from California. "I did a lot of growing up in Castaic, CA. I was a rotten kid because it wasn't the most stable of environments to grow up in. I'm sure I was a nightmare!" Tony says about his childhood. "My stepfather's job moved. I was super against it, but it was, without a doubt, the best thing that could have happened to me! A lot of my friends from back then weren't so lucky." The move got Tony out of California and into Virginia where he would later find friends who would become more like family through Andy and Gopal.
Tony had up to then been playing in the bands Riot Act (punk/metal) and The 40 Boys (a trash rock-n-roll band that Tony still plays with to this day) and doing anything he could to make extra cash. If that meant cleaning the windows at a store for a few bucks, he'd take it. "I played in a street punk/metal band at the time so money wasn't flying around. I did what I could and made the best of it." Tony couldn't pinpoint the first time he met Andy, it just kind of came naturally. "Way back in the day, Andy and I and our girls at the time hung out constantly and it was ALWAYS so much fun! With Gopal, we just kind of slowly met and the big thing for me really was when he woke me up by that soda machine! I'm not sure I could even understand that kind of kindness at the time so that was a defining moment for me with us."
While Bella Morte was still active, Gopal and Tony formed Undergrave, a separate goth/punk project with Gopal on vocals. Eventually, Tony joined Bella Morte as a guitarist, replacing Ben "BN" Withlow, who had joined after Frizzle left. "Tony was already a good friend to both Gopal and I. He came in and fit the part immediately! We had finished half of The Quiet with Ben and needed to choose the songs that would make up the other half of the album, so we gave Tony a CD with a bunch of songs on it and told him to pick his favorite five or six tracks and write parts for them. It was pretty seamless," says Andy about recruiting Tony to the band.
"After Where Shadows Lie they gave me a CD and said, 'pick your favorites and write for them.' I think "Logic" was the first one I did," Tony said, remembering his first official contribution to Bella Morte. Bella Morte was, at the time, more of a gloomy, goth band. "They were, and I am," Tony says. Tony was a rocker who loved punk. "It just worked. I like to think that you can listen and hear when I joined," says Tony about joining midway through the process of recording The Quiet. I remember my head swelling from the comments I got once I was there. And everyone already loved them anyway, and knew me from my bands, so it was kind of perfect! I remember feeling like we were some sort of local super group."
Bella Morte kept on track and began recording and writing As the Reasons Die, the band's fourth full-length album. Tony was on-board as the guitarist through the whole recording process, and Micah Consylman of another Virginia act, Logic of Decay, joined as a synth programmer and keyboardist. It was the band's most diverse lineup yet, and their songwriting had evolved into a sound that felt much more refined than previous releases. The band also brought on live drummer Jordan Marchini. Gopal fondly remembers much of the tour to support that album. "The band was so tight," he says. "Every member knew every one of those songs like the back of our hands."
For many, this may have felt like one of the heights of Bella Morte's career. There was interest, the band was touring, and Rue Morgue magazine was a sponsor. As the Reasons Die was getting plenty of attention, and goth rock was big with acts like The Crüxshadows and The Last Dance. Bands in the alternative scene such as AFI (A Fire Inside) and My Chemical Romance were hitting the mainstream, and things could only go up from there. The band played Warped Tour and opened for bigger acts like Mindless Self Indulgence and KMFDM. However, as much as all the members wanted it, they could never quite break in past that point.
Though Gopal has no regrets and made it a clear point to say that everything he ever experienced with Bella Morte was positive, he said, "We didn't have any business sense." The band "didn't know our elbows from our asses." Bella Morte loved what they did so much that they were willing to give up money for the sake of playing. It ultimately hurt the band's progress. If a promoter couldn't pay up, Bella Morte was willing to work with them. While it was all done with good intent, it meant that the band could play a show several states away from home and leave with $500 in their pockets to split between five members. Many of these factors caused some frustration. This was felt especially by Gopal, who was also facing personal problems at the time.
"I thought they were the problem," said Gopal reflecting on that period of his life. He says it was a dark time, "then I figured out that I was the problem. I was being a douche." Every member had given up so much to be part of the band, but the stressors of touring, feeling like Bella Morte was spinning its wheels, and personal life issues were taking its toll. Gopal told the band that he would be leaving. While it was all on good terms and the members remained friends through it all, Gopal and Andy are not afraid to admit that there was some tension at the time.
Andy remembers that tension, "It's always a bit hard to answer (on his temporary falling out with Gopal.) We were definitely going in different directions musically, but there was more to it…something in the air between us that I've never completely been able to define. I know how it felt, but don't have the words to accurately portray it. I think that Bella Morte starting to get 'big' was more stressful to us than we were willing to acknowledge at the time, and things became strained. We lost trust in one another, lost faith that everything said or done by the other was coming from a place of love."
"It was just so painful at the time," said Gopal, comparing it to a divorce. "Things are said sometimes; when you're hurt, and you don't realize that the other person is hurting, too." At the time, it was the thing to do, and everyone understood Gopal's decision to leave. He played with Bella Morte one more year before departing, playing his last show March 10, 2007; (Jay's note: My birthday, of all days?). Some fans may recall Andy becoming teary-eyed and making fun of himself for crying, then crying some more. It just went to show that the two were good friends who genuinely cared about each other.
During the period shortly after leaving Bella Morte, Gopal took time to figure himself out. He tried dressing up by wearing a suit and removed his piercings. "But I realized that I'm a goth. I love wearing black," he says. He formed a small side project called IDIL (Ideal), and put together a handful of songs with some friends. Around that time, Andy and Micah had their own side project, Mortech, which was a harder industrial band that melded Andy's voice and Micah's harsh growls with an almost hip-hop feel akin to Stromkern, for lack of a better comparison. They never got around to releasing those tracks, however.
Gopal took a positive experience out of everything that happened. Before leaving Bella Morte, Gopal told the band, that he loves the project and that he will do anything to help. "If you ever feel like ending the band, call me. I will do anything in my power to help you guys," Gopal told the band. "And I meant it." Gopal feels no ill will towards any of the members, and still calls all the guys his brothers, and he's not afraid to say, "I love all those guys."
Gopal went to Full Sail University to study the music business, marketing, and management because he doesn't want Bella Morte, or any other band, to ever have to go through a period where he explains was their own dilemma, "We had the music. We had the demand. We just didn't have the business sense." Helping Bella Morte is something he's vowed to do. In fact, Gopal told me during an interview, "If anyone out there wants help, I will do what I can. I'm only one person, and can devote so much time, but I will do everything in my power to help others. They can contact me if they want to." Gopal doesn't want others with potential to go through the struggles Bella Morte experienced.
The touring life wasn't always easy for Bella Morte. You sleep in a van and pack your own stuff. You eat Taco Bell and cheap pizza. Former member Micah Consylman once told a story about how the touring life is dirty, "you stop at a rest area to use the bathroom. The floors are wet, then you go into the van and that stuff gets on the floor. Later you sleep on that floor." He wasn't complaining by any means, "I love it," he said.
Andy has no complaints about the touring life. "I love it all. I'm okay losing sleep, eating poorly, needing a shower…all of it adds up to a tiny sacrifice when compared to the incredible joy being in this band has brought me. There are so many incredible people in my life who wouldn't be there were it not for Bella Morte…. And hell, being on stage is so much fun! Even on the worst night the music is still there. And I couldn't love our music more. And I can't stand bands who are shitty to their fans…don't take your bad mood out on people who are doing nothing but supporting your art. Suck it up and stop fucking whining!"
Touring also gave Andy the opportunity to become a horror writer. His first book, The Sticks, is a werewolf story that originally began as "Party Crasher." Andy says, "The Sticks started as a short story I was messing around with to pass time on the road between gigs. At some point I looked down and realized I had written 10,000 words, and decided to just keep going. It took forever to write, but when it was done, I handed it to Tony and asked him to read it so I'd know if it was complete shit or not. He loved it." That, Andy says, gave him the confidence to send it to publishers. "I didn't get too focused on how it'd be received by the rest of the world, because that part is out of my hands. Luckily, the book got far more positive reviews than negative. It was all very exciting!"
Tony has involuntarily become Andy's proofreader, "He doesn't make me [read his books] I guess. (He's here with a knife right now.) I don't really read a lot of fiction, but his books always suck me in! He's a really talented writer, and it's always fun…I even have to proofread them! Touring is a walk in the park…because I have always and still do love it so much!" says Tony about the experience.
Gopal recalls some touring stories of his own. "Once we got stuck in California," he says. The band had no gas and literally no money. He called his father and told him about their situation. Gopal's dad overnighted a gas card to help the band get to their next show. "There will always be bad shows," says Andy. "I don't remember one in particular being the absolute worst, but last year in San Francisco the PA died three or four songs into our set, so me and Tony played a few acoustic tracks before calling it a night. Lemonade from lemons, you know?"
Andy recalls several experiences playing live, and always having a good time. "I don't really have a single experience that tops all. Playing Whitby Goth Weekend in England kicked ass, but so did all our shows in the grungy, little basement of Tokyo Rose here in Charlottesville back in the day. DragonCon is always a blast…hmmm…. Once we showed up to a small club in Sacramento and had to MacGyver a PA out of equipment that wasn't much better than a pile of toothpicks and coconuts. And the stage was so small that I was basically standing on the drums, but the show was a hot, sweaty mess of awesome! Sometimes we arrive at a club and things look so grim that we say fuck it all and just enjoy it for what it is."
People are still sometimes surprised to see that Bella Morte drive themselves around. "I think everyone thinks we're always on giant buses, and that we arrive at the venue by limo every night, but that's just not the case. We are almost completely DIY. And I'm okay with that. Things are growing rapidly for us right now, and if we end up on a tour bus soon (fuck limos…I have no desire to ever step foot in one of those things!) that'd be great, but if we keep doing what we're doing the way we're doing them that's okay, too. I'm having a great time," says Andy.
The band has experienced its share of wild tour moments. "I always remember the funny shit best…or the awful shit that's funny in retrospect." [Laughs] "We've been stranded in the desert twice! TWICE! Who the hell gets stranded in the desert twice?" Gopal remembers one of those experiences, and mentions being stranded for three days in a tour bus. He recalls trying to tie the bus's muffler back onto the bottom of the bus, and not being able to feel his fingers because it was so cold. Then he'd slide out, and Tony and Andy would try to warm his hands so he could work on re-attaching the part. Still, he says it was fun. "We could watch the stars every night. There were no city lights. We chased rabbits around the desert."
A favorite story for the band involves a big guy in a Wendy's restroom, "[We] saw a mostly naked guy (he was wearing socks) covered head to toe in his own feces in Salt Lake City. After one of our shows in Detroit the guys from Overkill showed up and played an impromptu set of cover tunes using our equipment. Dan Aykroyd was at one of our shows at Limelight in NYC and bought an insane amount of merch from us…tipped our merch gals really well, too! That's one generous Ghostbuster! There are so many wonderful stories!"
The lyrics in Bella Morte songs are inspired by a wide range of experiences and ideas for the band. Some are inspired by horror movies, and others are based on life experiences. Andy says that two of the hardest songs he had to write were "Evensong" and "Many Miles." "'Evensong.' I poured a lot of heartache into those lyrics, simple as they are. But I love that sort of thing, and I'm not one of those guys who is ashamed to cry when I need to." The song "Many Miles" is about Andy's best friend Bram who committed suicide in 1995. "That one hurt a lot as well, but felt so good to write. Putting tragedy to music is the most cathartic thing in the world. Helps me process my feelings, and hopefully helps someone else out there who might be going through something similar."
Gopal said his feelings over the last year with Bella Morte were perfectly described by Bleed the Grey Sky Black. It's an album he had very little involvement with because of his personal life at the time. However, those were tough times, and though he doesn't know for sure, it's possible that many of the lyrics came as Andy was feeling the same pains of their then-struggling friendship. As for that, Andy says, "Honestly, the lyrics on any given album can give you a clue as to what I'm going through. I mix in fictional elements, but they are often tools used to more easily explain abstract emotions."
Currently, Gopal has finished school, and plans to place more focus on Brighter Fires, a project he started with Andy that hearkens back to the old Bella Morte days. The two say it's definitely a project that needed to happen. "Brighter Fires means the world to me in a few ways," says Andy. "First off, it got Gopal and I back to where we're supposed to be. I like my life better with that guy in it, and he seems to tolerate my public nudity well enough. Hahaha! There's a sound that Gopal and I created back in 1995 that we'll never escape. It happens as naturally as breathing. And I'm glad we've rediscovered it so that we can continue to share it with the world." In a sense, Brighter Fires picks up where early Bella Morte left off. However, there is no label. Still, that doesn't affect their songwriting, "I don't feel that it has affected my writing. I'm always putting new songs together…I never stop. But we have big plans for Brighter Fires and Bella Morte, and now that Gopal is out of school, we ("we" very strongly includes Tony!) are going to be hatching some enormous plans. Time to tackle the universe…and stuff."
Former keyboardist Micah is living the married life, going to school and working as he learns more about acoustic science and electronics. He says he wants to build his own synths, and make machines that can do things that current hardware isn't capable of yet. Other than that, he's become a fighting instructor for students wanting to learn mixed martial arts and Muay Thai kickboxing.
Tony also loves the married life, and says, "It's great! I get to hang around life with my best friend and we crack each other up! She's a bad ass and she's funny as hell! Oh, and she's hot as a motherfucker!" He's still an active part of Bella Morte and The 40 Boys, and he plays guitar with his friend Lauren Hoffman about once a week.
Andy's other projects include writing books and photography. He soon hopes to make his own horror movies. Besides his new project with Gopal, Brighter Fires, Andy also has a solo project called The Rain Within, named after the Bella Morte song "The Rain Within Her Hands." He's constantly writing music. He says, "I'm always writing songs faster than I can release them. Right now, I have hundreds of finished or partially finished pieces of music sitting on hard drives that may or may not ever see the light of day." The Rain Within came when Andy realized he was writing songs that were much more electronic and do not fit the current Bella Morte style. Rather than "trying to force a square into a circle, I decided to branch out."
Now that bands don't need to be tied to a label, and services like Bandcamp and iTunes exist, artists can easily distribute their work. "There's never been a better time for independent artists," says Andy. In the past, Bella Morte always had to buy studio time. Andy remembers those days, "I think back on the loads of money we used to spend recording albums and it damn near stops my heart." The band now has their own studio, and writes and records music without any outside influence. "This is true freedom, and art isn't art if it doesn't come from an honest place."
Bella Morte's current members [in 2013] are: Andy Deane, Tony Lechmanski, Marshall Camden, and Jordan Marchini.
You may also like...