:Concert Review: Depeche Mode – Delta Machine Tour – September 14, 2013 – Tampa, FL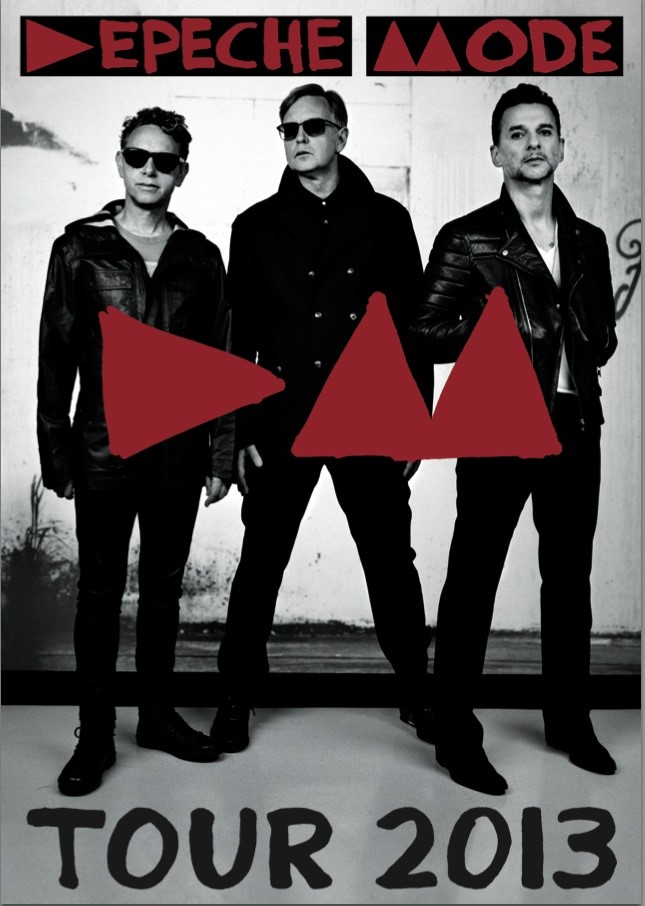 Depeche Mode Delta Machine Tour
Concert Date: September 14, 2013
Venue: MidFlorida Credit Union Amphitheatre
Location: Ybor City, FL
Review by William Nesbitt
Professor of English, Beacon College
My wife and I got the VIP package for Tampa. Been a longtime fan and we finally saw them for the first time last tour promoting Sounds of the Universe. We sat in the last few rows, but dead center. Great sound and visuals, but we're looking forward to being MUCH closer this time.
On the day of the show, we decide to get some lunch at Bahama Breeze. We get back and start getting ready for the concert. With the VIP tickets, we are guaranteed the first ten rows, but we don't know where. I got a ticket code for early tickets with my purchase of the new CD on Amazon, but I didn't use it. When I was bumping around on the site looking for tickets, I stumbled into the information about the VIP package (better deal than platinum tickets that assure you of your seat assignment, but don't give you anything extra). I found it four hours into the sale and pulled the trigger. Lots of people on Internet forums were freaking out with anxiety about where they would be sitting, but I think the best advice came from a poster who said, "I think it's time to settle into the idea that you've got your plans made, tickets are in hand and at this stage of the game the 'what if's' are irrelevant. No matter what happens or where you're sitting you'll have an amazing night, so enjoy!" The package includes free VIP parking, tickets in the first ten rows, special gift (it is a nice sturdy canvas bag with the Depeche Mode Delta Machine graphics, VIP pass and lanyard, special tour T-shirt (not available to the general public), lithographs, and commemorative tickets, along with crowd free merchandise shopping, and a pre-show VIP area with some food and two beverage tickets.
We received the e-mail with the package information about a week before the show. We got a call about half an hour before our arrival time of 4:45 that told us about a parking lot change (the information was much appreciated). When we got to the gate, the guy asked for a packing voucher. What? So he kept saying we had to pay $20 even though we explained the situation, showed him our paperwork, and so forth. Then he said, if we checked in and brought him back proof of our VIP status, he would refund the $20—like we want to spend our time backtracking and working this out. Anyway, I was getting ready to pay, had my wallet out and the whole thing, my wife, who was driving, just kept repeating herself. I think we held the line up because one of the other workers told our guy to move it along or something like that. Suddenly, he said we could go.
Perhaps there is a better way to communicate things to the parking lot folks. Another option would be if the e-mail we got could also have a bar code that could be scanned to confirm VIP status. There is always the old fashioned list that never crashes.
Parking was close to the VIP lounge. The check-in process was polite and efficient (much appreciated since it looked for a while like it might rain). We got inside and found picks, earplugs, and some sharp looking booklets for some sort of Depeche Mode charity. Bathrooms were very good and air conditioned. The crowd free shopping was free of pressure as I could spend some time looking and asking questions without feeling like I was holding things up or being rushed. I went out to the crowd free shopping more than once. On separate trips I got a wristband for $5 and a keychain for $10. The last time or maybe after the two times I bought merchandise, I did hear Bats for Lashes, the opening act, soundchecking. I asked someone who worked there who it was and they confirmed it was Bats for Lashes. Don't know who else it would have been because they were the only other act scheduled to play and it obviously wasn't Depeche Mode, but one never knows. I don't care much about them but it's always to cool to hear things like that. You can always say later that you heard them for what it's worth.
I always wonder why don't big groups like Depeche Mode have bands like Iris, VNV Nation, Covenant, or Pride and Fall open for them? More or less everyone who listens to those bands has heard Depeche Mode, but there are probably more Depeche Mode fans who haven't heard those bands who would like them if they ever heard them.
Water was free. Glad there were tables to sit at. A red-headed woman sat with us who was going to a number of shows. She is a veterinarian by profession. She said she saw Martin Gore the night before eating at a Sushi restaurant at a hotel (I won't say where in case he stays there regularly). She waited until he was done and outside he was gracious and posed for pictures with her, which she showed us.
I thought food was pretty limited. We had a late but not very heavy lunch. I was expecting burgers and chicken tenders as others had reported. The burgers were some sort of mini-pork sliders, the shredded stuff kind of like potted meat with cabbage bits mixed in. I considered braving one, but when I smelled it, I revised that idea. I'm picky about food; my wife is not. She didn't eat it and later called it "disgusting." Some sort of special wristband was required to access a separate section with the chicken tenders. I don't know how they were acquired; perhaps another phantom voucher of some sort was needed. So later I scavenged some tortilla chips as the fruit kabobs had vanished. When I went to get more, they were gone. We were not aware of any other food options. Lucky for them, no small edible animals strutted, flapped, or slithered into the VIP area. By the end of the concert we were totally gassed from lack of sustenance. If there is hard booze available for purchase, why not food? Maybe we were just ignorant about our options, but I didn't see anyone else with any din-dins either except for those Special Few who had the aforementioned chicken—maybe it was no good, too.
The giveaways were cool. As we know from this tour, meet and greets are not part of the VIP experience. However, it would have been nice to see some special items raffled off (I think someone mentioned some of Martin's used guitar strings from a previous show were a raffle item at one show). Maybe a signed LP or two of Delta Machine, a Dave vest, or even merchandise from a previous tour (given the situation, a package of crackers)? Greedy of me, perhaps, to ask for such things but it is the VIP Experience, not the Economy Experience. Anyway, the giveaway is still a nice touch. I was right there since I was picked to pull one of the numbers. Right after it was over, the woman announced they would be distributing all the VIP goodies, so I was one of the first people in line.
Very happy with the "swag bag." Great to be able to run the bag out to the car. My wife was kind enough to do it as I was trying to conserve calories (somebody had to "hold down the fort" anyway). We like the programs, the commemorative tickets, laminated passes, the shirts, and the actual bags themselves are stylish and substantial enough to see practical use (wonder if I could have eaten it?) The lithographs are secured in sturdy tubes, like the kind posters are mailed in. The longer I looked at it, the more it resembled a Pepperidge Farm chocolate pirouette.
We were ushered to our seats shortly before DM took the stage. The seats. The most important part of the whole thing. For any of you still reading, we were 5th row, just a hair/chair right of center slightly closer to "the Andy side." We had ticket numbers 49 and 50. Very nice seats to have. I have no idea if they fill up row by row or if they take a chunk out of the center of rows 1-10, sell those, and then sell the wings. I'd rather have been center row 5, than row 2 hard left or hard right. Anyway, I was delighted with the seats, especially since they were center and because I was not one of those people who had practiced speed typing my card number so that I could complete check out at 10:00:01.
Are we glad we did it? Yes.
Would we do it again? Probably not.
Why? We've had the experience. Also, I have no way to know if we would get better seats or worse seats. Even if I sat on the computer like a buzzard waiting for tickets to pop up, we might not get center. And it's pricey. $350 per package was the absolute limit for what I would have paid this tour—we saved for a year to do it—and I can't see paying more down the line unless it was my dream setlist (you never know, I suppose—I could see myself doing it for say, Violator played in its entirety).
What would I do next time? I would probably go for the best tickets I could get in the general sale that were center. This time we were 5th row center. Last time we were center about three rows in front of the lawn, which is to say about 2/3, give or take, from the front. Next time I would try to split the difference, I think (there is the less pricey VIP experience). And either eat more beforehand or try to bring something in with me. Still, all the stuff in that swag bag is awfully nice . . .
The setlist is not very fresh. I can't understand dropping "Wrong." But we got "Black Celebration" and "Just Can't Get Enough," which I don't expect to see them play ever again. Maybe "Black Celebration," but not "Just Can't Get Enough."
I am not a big fan of Delta Machine, but I was hoping the new songs would open up live when I heard them. They did a little bit, time and listening to the singles from the album have made me like the album more, but it is a hard, slow road that I have been on with this latest album. I hear interesting sounds, but not cohesive songs is the way that I describe it.
In an article in the Tampa Tribune, Gahan says, "Martin's demos were so well produced. He really worked hard and it was just like, 'I'll go sing on them.'" This may translate to no one worked too hard on this album or got super invested. It was not a collaborative effort. Basically, they are well-produced demos, which explains the weird time signatures, strange shifts, interesting directions that don't last long, and why it doesn't sound like a band. The vocals and the song structures don't go together.
But who knows? Maybe it will be my favorite DM album at some point, but four years later I haven't raised my opinion of it.
This was the setlist:
Intro (Excerpt from 'Welcome to My World')
Welcome to My World
Angel
Walking in My Shoes
Precious
Black Celebration
Policy of Truth
Should Be Higher
Barrel of a Gun
The Child Inside
But Not Tonight (Acoustic; Sung by Martin)
Heaven
Soothe My Soul
A Pain That I'm Used To ('Jacques Lu Cont's Remix' version)
A Question of Time
Enjoy the Silence
Personal Jesus
Encore:
Home (Acoustic)
Halo ('Goldfrapp Remix' version)
Just Can't Get Enough
I Feel You
Never Let Me Down Again
During the Martin set, I sat down and rested. The tour screen for "Precious" was really good as it features dogs. I liked the one for "Should Be Higher" with all of the deep, vibrant reds and splashing lava and fire. We wore our Black Celebration album cover t-shirts, but there wasn't a whole lot of Depeche Mode shirt representation.
This just seemed like mostly a rehash of songs from the tour before with a few changes in the setlist.
We left. We thought we were going to go The Castle in Ybor to the Depeche Mode after party, but we are too wiped out. We get back. Not long after that we go to sleep. I have the air turned down pretty far and we sleep in the cool dark quiet.
We skipped the current tour for Spirit. It was a work night for both of us in the middle of the week and we are not super fans of the album. As luck would have it Depeche Mode canceled anyway—due to Hurricane Irma, I would assume—and did not reschedule. I'm waiting for an album I really like to see them again. I know there will be another one.
Tags Andy FletcherDave GahanDepeche ModeMartin GoreWilliam Nesbitt
You may also like...