:Retrowerks: NOIR – Darkly Near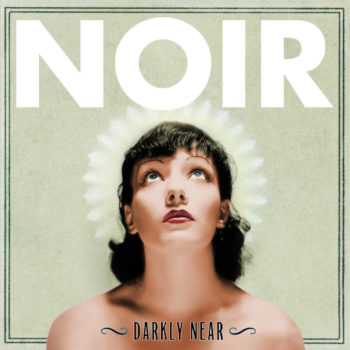 NOIR – Darkly Near
Release Date: October 22, 2013
Label: Metropolis Records
Website: https://www.facebook.com/noirband
Review by Jennifer Renee Atha
NOIR is a perfect collaboration of industrial and goth music; Athan Maroulis' album, Darkly Near, is no exception. Maroulis has done a brilliant job of impelling a new height for dark wavers. He captures the heart of those of us who like the on-the-verge amateur style he has in this album.
Maroulis starts the album off with "My Dear," a very poetically ruminative song that he peppers with an analogue synth. A wonderful beginning to the album, it sets the mood for a wonderful moody progression.
Later, the album becomes more of an evolution that eventually becomes complimentary to the beginning. After the dark, back-in-time feel and the gritty vocals, the album takes a turn. It becomes cleaner with futuristic elements built in.
"In Every Dream Home A Heart Ache" ends the album; a wonderful whisper, like summer to fall. It is a perfect place to leave listeners. We are like school children waiting for spring. The last track was probably my favorite.
All in all, this album gave listeners great insight to Maroulis' past as he brings his experience from his former acts together to give us Darkly Near. It is a must listen for anyone who likes the wondrous sounds of vintage darkwave.
Track Listing
01. My Dear
02. The Bells
03. The Grifter
04. A Forest
05. The Voyeurs
06. The Tragics
07. Timephase
08. When The Rain Comes
09. The Satin Box
10. In Every Dream Home A Heartache
Tags Athan MaroulisJennifer Renee AthaMetropolis RecordsNOIR
You may also like...