:Retrowerks: Imperative Reaction Performing As We Fall – March 30, 2013 – Glendale, CA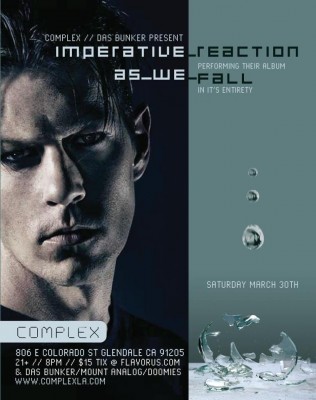 Imperative Reaction Performing As We Fall
Concert Date: March 30, 2013
Venue: Complex
Location: Glendale, CA
Review by Jaymie Burzette
It had been several years since I had seen Imperative Reaction perform live, not since they opened for VNV Nation on the Judgment tour. There were no opening bands this evening, as this was strictly an Imperative Reaction show, performing songs from the album As We Fall along with other favorites. The overall mood of the event was quite casual, feeling more like the neighborhood coming out to a local show, not anything like going to see a well-known, long-standing band. The DJ was playing an eclectic mix of industrial, goth rock, and '80s (mostly darkwave) with the occasional song that seemed out of place considering the crowd at the venue that night. The band didn't take the stage until after midnight. By that time the club had become absolutely packed. Literally—there was hardly any space to move around. I was very glad that I got there early enough to get seats so close to the stage.
The band opened with "Collapse," followed by "Judas," and "Further To Fall." The multitude of fans packed into this tiny club were dancing and swaying to the beat, singing along excitedly. "Only in My Mind" came next, then "Never Ending" followed by "As We Fall." The band's energy was unyielding as they played and sang without abandon. Often they would let an especially fervent fan sing/shout into the microphone. Next they played "Something I Left Behind" off the album Redemption which Ted Phelps said they hadn't played live for a long time. Up next they played "Hanging From Your Own Rope," "Divide," and "Dissolve." Finishing up As We Fall, Ted Phelps brought Clint Carney on stage to sing the last few songs together; "You Remain," "Functional," and "Dependant" after which they closed out the night with "Surface."
This was a very exciting night for fans; it had been a while since the band toured. I can't remember the last time I went to a show where only one band was playing, but Imperative Reaction played for nearly two hours, going through the entire As We Fall album followed by some fan favorites. I am exceedingly grateful that I brought ear plugs, as this was hands down the loudest show I have ever been to. On the occasion I did take an earplug out, it felt like what I believe it must be like to stick my head inside a jet engine. I couldn't even hear the music; it was just pulsating pain and a high-pitched droning sound that left me partially deaf for a few days. Those seats near the stage had to be abandoned in order to save what was left of my hearing. Nevertheless, it was a great show performed with tons of energy and ample fan participation.
You may also like...