:NEWS: Alien Knife Fight Switch it Up with Haunting New Video for Bourbon Princess's "Clocks"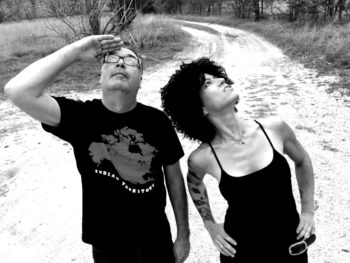 Indie Rock bands aren't something we typically feature over here, but the Bourbon Princess single "Clocks," off of their debut album, Stopline, is definitely not your typical Indie Rock track; think more earthy, gritty New Wave. Front-woman Monique Ortiz took the opportunity afforded her by the development of high tech phone technology to revisit the track–and this is the original 1999 recording, mind you–along with her artistic Alien Knife Fight partner in crime, Mike Howard, to create a stunning visual accompaniment. So check out "Clocks," below, and grab the 2000 released Stopline online HERE!
"I always wanted to do a video for this song, and others in my back catalog, but never had the necessary technology or means until now. This is a song I've continued to perform over the years, in a variety of projects, and we'll be resurrecting this and a few other Bourbon Princess songs for Alien Knife Fight's next live set. Better late than never." – Monique Ortiz
Click HERE to Stream Alien Knife Fight on Spotify!
Connect with Alien Knife Fight:
Facebook | Twitter | YouTube | Instagram
Tags Alien Knife FightBourbon PrincessDIY VideoMonique ortizMusic VideoNew MusicNew WaveStopline
You may also like...