:EXHIBIT: THE DREAM MACHINE: THE BEAT GENERATION & THE COUNTERCULTURE 1940-1975 – SEPTEMBER 28, 2017 – MAY 15, 2018 – ATLANTA, GA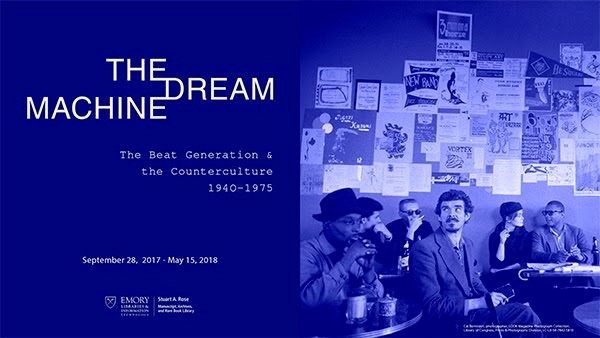 The Dream Machine: The Beat Generation and the Counterculture 1940-1975
Date: September 28, 2017 – May 15, 2018 (visited Saturday November 3)
Site: Schatten Gallery, Woodruff Library, Emory University
Location: Atlanta, GA
Review by William Nesbitt
Professor of English
Kinetic sculpture. A merry-go-round of light. The dream machine is perhaps the only piece of art designed to be looked at with closed eyes. The device consists of a cylinder with pieces cut out sitting on top of a revolving platter. Inside a light shines. As it spins, light comes through the cutouts in the cylinder producing a stroboscopic, flashing effect that stimulates the imagination. At first, it relaxes the viewer and later it helps produce a state similar to dreaming. Brion Gysin conceived of the idea in the late 1950s and started producing dream machines in the early 1960s. "It's the first art object to be seen with the eyes closed . . . You see kaleidoscopic visions and gorgeous patterns as the light flickers over your eyelids," he said. His hope was to mass market the dream machine but this plan never took off. We might think of the dream machine as a sort of predecessor to the lava lamp invented in 1963. (For further information refer to John Geiger's Chapel of Extreme Experience: A Short History of Stroboscopic Light and the Dream Machine.)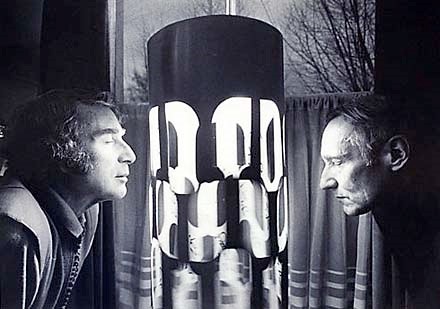 Gysin and Burroughs with a dream machine
Gysin and his collaborator William S. Burroughs experimented with a number of techniques for making art including permutation poems in which one take a short series of words and writes down all of the possible combinations and cut-ups that are the result of taking one or more texts, literally cutting them, and then recombining the various pieces into a new work. These methods allow anyone to become a writer.
Gysin and Burroughs are part of a larger group called the Beats who produced literature, film, and art. Their heyday lasted from about the mid-1950s into the 90s, though there are still Beats such as Gary Snyder, Diane di Prima, and Lawrence Ferlinghetti alive today and creating new work. The movement began in the early 1950s in New York when Jack Kerouac, Allen Ginsberg, and Burroughs began getting together, producing, and sharing their work. Along the way Amiri Baraka, Gregory Corso, and others became part of or associated with the group. Eventually, some of the Beats darted over to San Francisco and figures such as Ferlinghetti, Neal Cassady, and Snyder started working together. While there are many different aesthetics with some Beats like Burroughs often favoring rewarding but difficult work about addiction and alien sex in settings such as the Interzone based on Tangiers; Snyder writing about zen and nature; and Ginsberg writing stream of consciousness poems about travel, politics, and homosexual sex, the intersection is that they all put forth their uncensored truth, pushing back against society and authoritarianism in favor of individual freedom. It's difficult to condense an entire movement and group of individuals writing for decades into a single paragraph, so those familiar with the Beats will find this an oversimplification, but for those new to the Beats, I hope it's a useful introduction. (For a longer and more comprehensive overview get a copy of The Birth of the Beat Generation by Steven Watson.)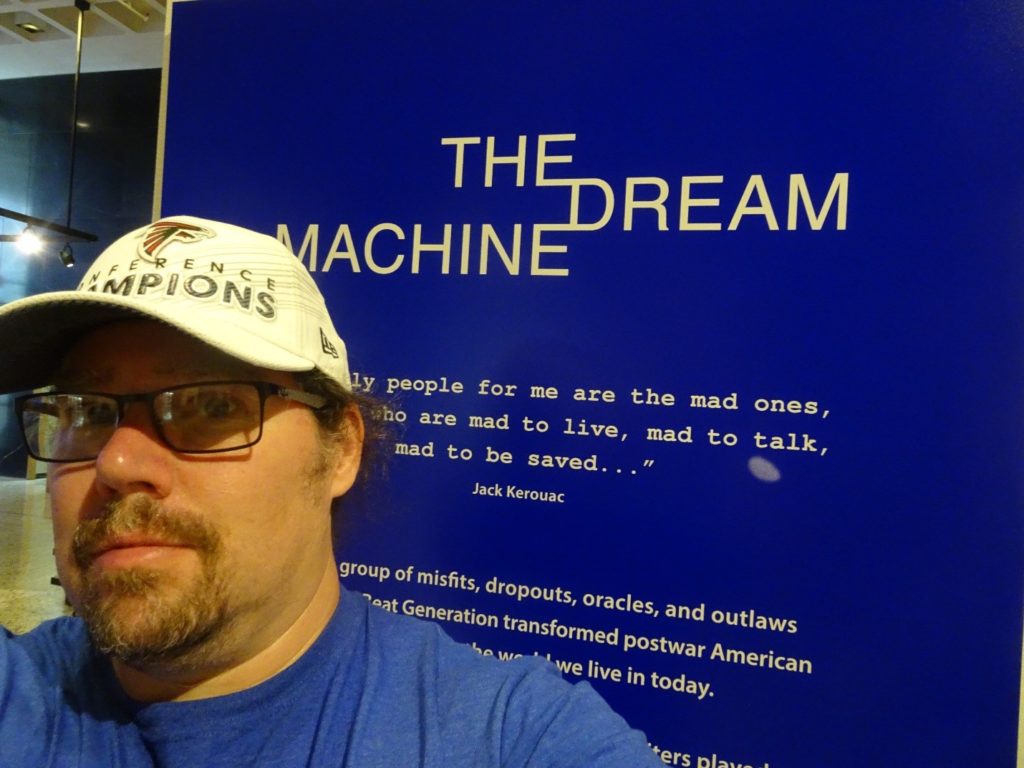 Dr. William Nesbitt at the entrance
One of the objectives the dream machine exhibit fulfills so well is that it is both a solid introduction to the Beats and it offers something new to those already familiar with them. The exhibit is divided into eleven sections according to the gallery guide. Section one is the Dreammachine Chapel: Art and Experimentation. In the center sits an actual dream machine in a glass case. Videos of a working replica play nearby and attached to the inside of the area are curved panels creating the sense of being inside of a dream machine. Section two is titled Sad but Noisy Rebels: Beats in the Popular Imagination. "Sad but Noisy Rebels" is the title of an article about the Beats in the November 30th, 1959 issue of Life. The section shows various mainstream media representations of the Beats. Section three is titled The Beat Generation: Misfits, Dropouts, Oracles, and Outlaws. Various panels hang on the wall with a picture of a Beat and his or her name. You can remove the panel and flip it over for more information. Various ages, ethnicities, and genders are represented. Section four, Beat Beginnings: The Origin of a Movement, is self-explanatory. Section five The Beat Goes On: The Jack Kerouac School of Disembodied Poetics provides information on Naropa University in Boulder, Colorado. Founded in 1974 it is fully accredited and Buddhist-centered. Ginsberg and Anne Waldman founded the Jack Kerouac School of Disembodied Poetics, which focuses on creative writing, English, literature, and poetics. During the opening events, which we were not there for, Anne Waldman gave a reading and participated in a "Beats creativity conversation" (other events included a live music performance and a group reading of Howl).
Conscientious Objections, section six, showcases various pieces of poetry and publications expressing resistance and opposition. Section seven's Reimagining Community shows the ways in which the Beats and other countercultural groups experimented with and created different types of community. Under the Influence is the theme of section eight that examines the means through which the Beats entered into alternative mind states and how those states influenced their writing. On the Road, section nine, looks at the places the writers visited to gain new experiences and escape from the mainstream. Section ten, Beats on Trial, details some of the court battles the Beats were engaged in over censorship of their work. The last section, Bebop Prosody focuses on jazz, orality, and the various styles of Beat writing, which often emphasized fast composition and individual experience.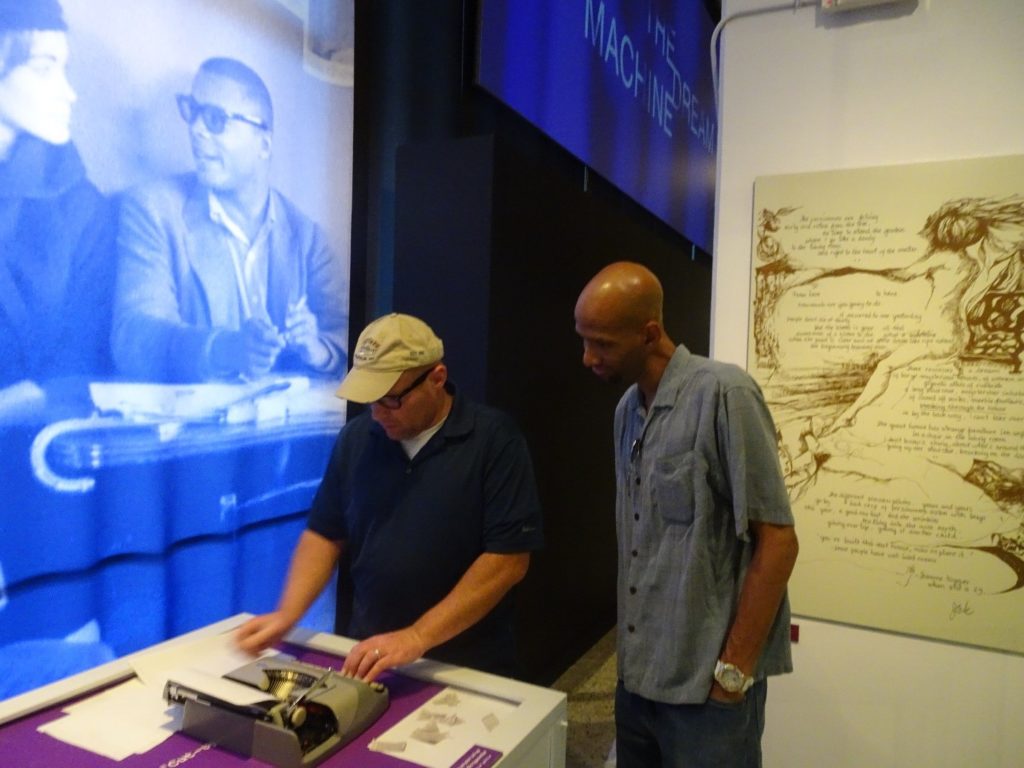 Dr. Stephen B. Armstrong works with cut-ups as Dr. Robert Powell watches
Some of the key items in the exhibition are works by Laura Ulewicz whose poetry has not received enough attention (there is a beautiful poem by her in the exhibit that concludes, "Remember Adam, how he wept / Once for the loss of a God / But twice for a garden"), Kerouac's passport and rucksack, a rare edition of Howl of which only 25 mimeographed copies of the first edition exist, cut-ups from Burroughs, and letters from Cassady (Emory recently acquired the infamous "Joan Anderson" letter written by Cassady). There is also a cut-up station with pages of text, scattered fragments of text, and a typewriter encouraging the user to make an original cut-up. Steve gave it a try and one of the phrases he developed was "the roster of possible replacements." Not quite the league of extraordinary gentlemen we might like to be, we've always felt like outsiders. For better or for worse, other than a girl tucked away in a corner talking on the phone, we were the only people there. Towards the end of our visit while I was taking a bathroom break at the exhibit and checking my e-mail, I received an e-mail that my poem "Mistranslation" has been accepted for publication by Angry Old Man Magazine: A Magazine of Experimental Art and Poetry. Steve pointed out the great timing of getting that message while in the hall of my heroes.
What follows is a little background, instructions on how to get to Emory via public transportation, and a cool side trip you can make on the way.
I've studied the Beats, written about them, and taught a class on them for about twenty years so anytime I hear about something related to the Beats, I have to go check it out. I was in town to deliver a paper at a conference and previously read about the exhibit on allenginsberg.org. I recruited two of my fellow panelists, Steve and Robert, to make the trek with me after the conference had concluded for the day and they generously agreed. Steve, Robert, and I form a group we call The Four Horsemen (with a rotating fourth member) and get together once a year; we go back about twenty years to the graduate school days in Tallahassee, Florida at FSU. My plan to get to Emory was to take the MARTA train on the East line (the last stop is E9 Indian Springs). We got off at the Inman Park / Reynoldstown stop (E3). Originally, I thought we would walk to Little Five Points and then to Emory. This would be a few miles, but I thought we would go up Lullwater Road and take the scenic route. However, when we got off the train, I saw a bus coming, the number 6, with Emory Hospital flashing above the windshield. Rather than do all this hiking, we took the bus straight to Emory and made our way to the library. The city is on our side. We took the bus coming back as well and stopped in Little Five Points.
Little Five Points is the bohemian section of Atlanta. The closest analogue might be something between downtown Asheville, North Carolina and the Haight-Ashbury section of San Francisco. Coffeehouses, theaters, music venues, secondhand clothes, record stores with graphic novels, great food from Thai to burgers and pizza, bookstores, tattoo parlors, New Age stores, people offering to read palms and faces in the plaza—it's all there. Though it has moved outside of the heart of Little Five Points, don't forget A Cappella Books, which also has a small but dedicated Beat section. L5P draws all sorts of people and ages; every now and again if you're paying attention, you might even see a hippie from the 60s. The surrounding neighborhood is pleasant to walk through. Though gentrification has set in, L5P has resisted and held out longer than a lot of similar areas. It's worth a stop.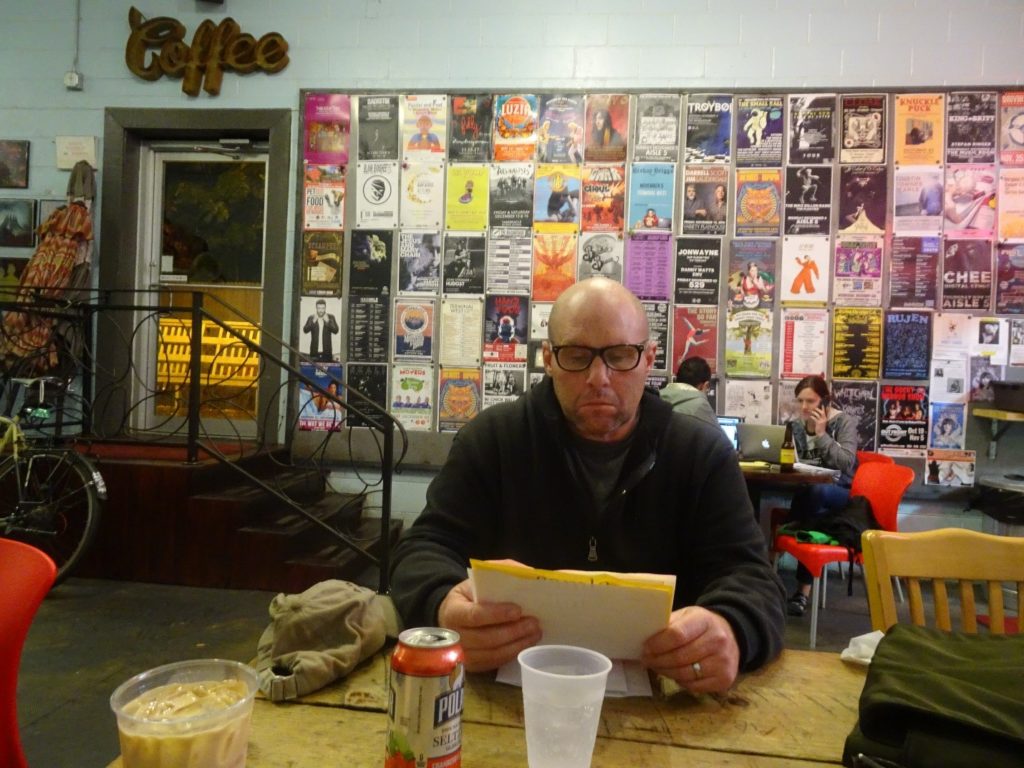 Steve looking over some conference documents in Aurora
We got off the bus and Steve went around the corner to Criminal Records while Robert and I drank coffee at Aurora. Steve stayed put for a while when the rain started down. Later, he joined up with us. After the rain had lightened, we left and the bus was coming around again, so we ran to catch it with Robert leading the way and me at the end. The three of us dashing around people and jumping over puddles streaked with neon light. Three crazy horses in the wet night broken loose from the corral and running full speed through the city to whatever the next thing is. We made it. We always make it. Stay wild. No saddle. Ride on. Ride free.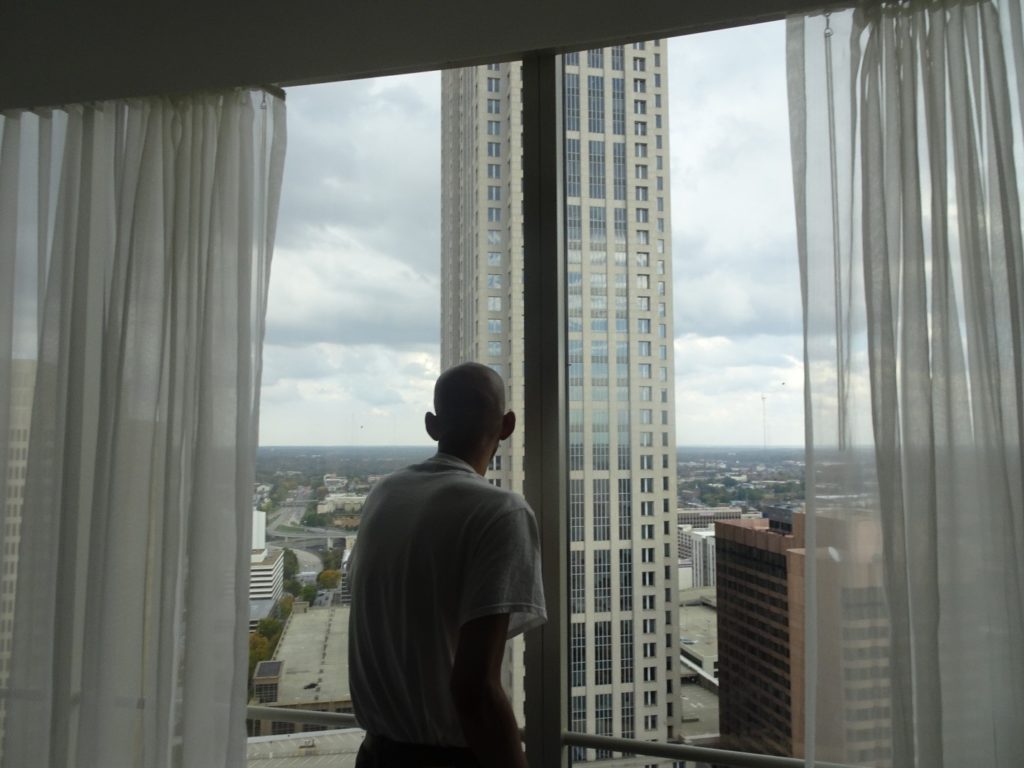 Robert looking out at the infinite possibilities of the city
Tags Allen GinsbergBeat GenerationBrion GysinDr. Robert PowellDr. Stephen B. ArmstrongDr. William NesbittWilliam S. Burroughs
You may also like...