:Concert Review: The Birthday Massacre, Army Of The Universe, Sumo Cyco – June 12, 2017 – Ybor City, FL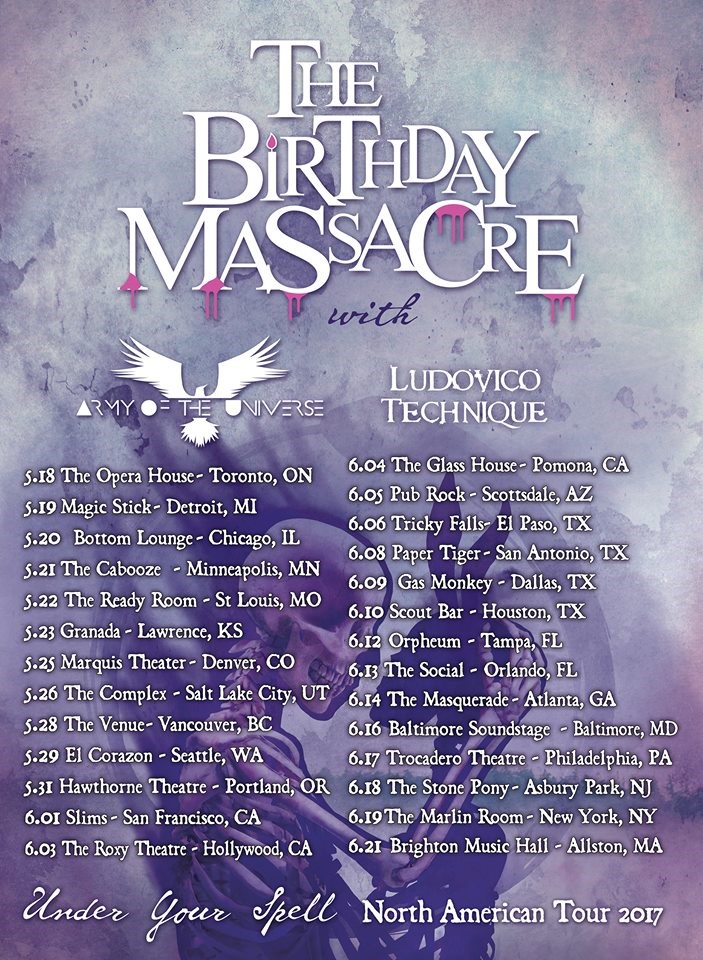 The Birthday Massacre, Army of the Universe, Sumo Cyco
Concert Date: June 12, 2017
Venue: The Orpheum
Location: Ybor City, FL
Review by William Nesbitt
Professor of English
Beacon College, http://www.beaconcollege.edu
We saw The Birthday Massacre at the Orpheum on their last tour and were excited to see them again after such a great show before. This time, we paid for the VIP Experience. After getting an early dinner, we waited in line to get inside. Somewhere within, we could hear the roar of guitars and someone singing. The female vocals were guttural at times and high and soaring at other times. It wasn't Chibi. Someone in line said it was Skye. There was no clear indication how we were to form the line and as the heat in Central Florida in the summer daytime gets kind of warm, people were doing the best they could to find pockets of shade. No instructions were ever given. However, one of the venue attendants barked at all of us to form two lines since we "can't figure out how to loop around." Sorry, dude.
This is what we knew about the VIP package as listed on the Internet:
The Birthday Massacre VIP Experience Includes:
-One General Admission Ticket
-Meet & Greet with members of TMB
-Individual Photo with TMB
-Access to Exclusive Soundcheck (TMB To play 2 rare tracks)
-Early Entry
-Crowd Free Merch Shopping
-One Signed Drumhead
-One Commemorative Laminate
The soundcheck was the most intriguing part and the aspect of the package that I looked forward to the most. Basically, I anticipated a semi-private mini-set with two tracks that the general public wouldn't hear. However, we didn't get this.
There seemed to be no limit on the number of VIP packages sold. After we were herded into line, we were quickly processed through. We were told that the band would not sign any personal items during the meet and greet. The meet and greet followed a four-part formula. Chibi asked where we were from, awkward and distanced conversation followed with the other band members in the time it took for Chibi to write our names on the pre-signed drumheads, Chibi posed for a picture as a band member snapped one picture per person, and we were hugged by Chibi and handed the drumheads which meant it was time to move along. It didn't feel like a positive, interactive, authentic experience (see my live review on PIG for an overview of a great VIP experience). Kind of ironic for a band who finances their latest recording through crowdfunding. There was no crowd free merchandise shopping, but there wasn't much merchandise to choose from anyway. Seventy-five dollars a person for a hug is just not worth it. The commemorative lanyard was the best item. Unless you will be satisfied with a brief interaction, don't commit to a VIP experience unless you can tell that the number of packages is low and limited. And still the listed items may change.
Ludovico Technique were not there, so instead we got Sumo Cyco, a kind of punk/metal hybrid. Frontwoman Skye "Sever" Sweetnam has a strong, melodic voice and we soon realized she was the source of the vocals we heard while waiting in line outside. I will admit to fiddling on my phone during the first two songs. However, their stage presence, energy, and music are so powerful, I started paying attention; they did everything they could to engage the audience. The performance was tight and aggressive. This seems to be a band very grateful for the opportunity to be on tour. After their set, I picked up a CD. Skye signed it for me and was happy to pose for pictures with fans whether they were buying merchandise or not. I met the bassist who was also very nice and available. Army of the Universe came on next. They have an industrial dance sound. I wasn't familiar with them either, but they kept and rewarded my attention during the show and I picked up their most recent release. Like Sumo Cyco, they seemed excited and grateful to be there.
I was determined not to let the disappointing meet and greet overlap into seeing The Birthday Massacre live. Basically, we were disappointed. The earlier experience combined with our feeling that Under Your Spell is okay but not as strong as some of the past albums did not help us look forward to the show as much as we wanted to. We saw them on their last tour and it was an excellent concert. This time around the rest of the band performed at the same high level as before, but it seemed Chibi was trying to push her vocals somewhere they wouldn't go and she looked out of step with the band, coming in early with her vocals, waiting too long to start singing, or flubbing lines and stopping. When she made a mistake, she looked at the band and laughed but they didn't seem to be in on the joke. She spent a lot time being cute, posing for pictures, and acting overly giddy either from the rush of performing or the beer she kept guzzling. Maybe it was an atypical night, but unless a future album really blows us away, we don't plan to see them again. (We will give their next album a chance, however.)
Tags Army Of The UniverseSumo CycoThe Birthday MassacreWilliam Nesbitt
You may also like...