:Dark Delights: Linnea Quigley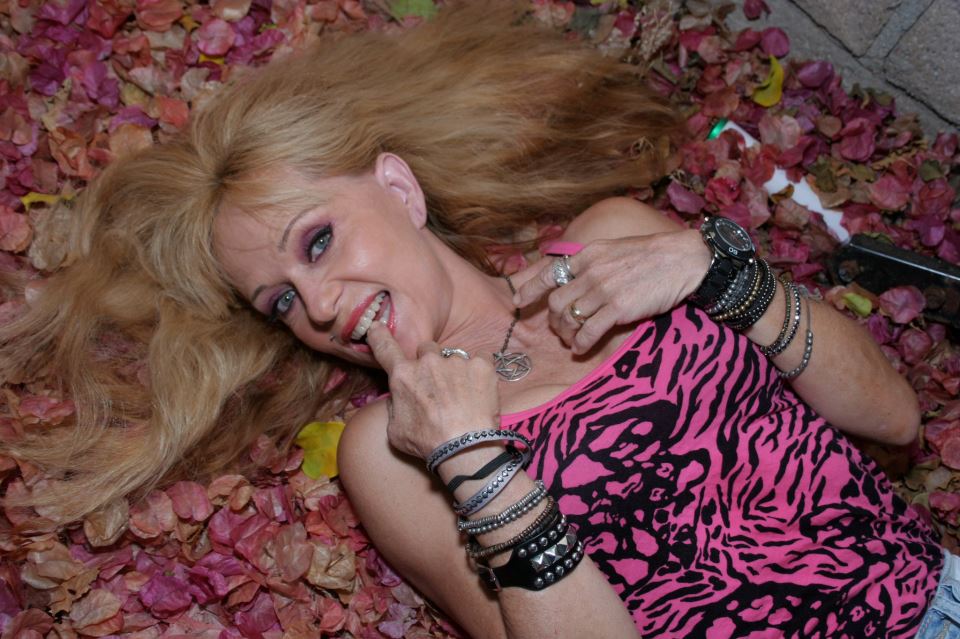 Dark Delights with Ladyaslan Presents:
Scream Queen Linnea Quigley
Ladyaslan: Welcome to Dark Delights, Linnea, and thank you for taking the time out of your busy schedule to chat with me and your adoring #Babybat fans! Update us on what is going on in your world…who "is" one of the original Scream Queens Linnea Quigley?
Linnea Quigley: I love animals and saving dogs. I love meeting my fans and talking with them. I love life and punk music…still [evil wink].
Ladyaslan: What inspired you to become an entertainer, especially in the horror genre?
Linnea Quigley: I was always interested in the entertainment field but thought there was no way, being an Iowa transplant, and being extremely shy. I never thought I would ever even get out to Hollywood and I think the fear of it made me want to overcome it. When I got to L.A. about two weeks after I decided "okay, I'm going to tackle this to get over my fear" (which you never really get over by the way), I was just inspired by everybody in L.A. who was/is an actor or a writer or, hell, even a director or someone of importance, and it looked so glamorous. I also got into horror right in the '80s when it was popping and it just helped even more that I was a real horror fan; but I love the old, the new, and the very rare. I would go to the drive-ins where my dad would drive us since we were too young and watched all the cool-cool movies from back then, and just always identified with horror.
Ladyaslan: How did you come to be in the infamous and cult classics Return of the Living Dead and Night of the Demons and having a cameo as the ballerina in the 2009 remake of Night of the Demons directed by Adam Gierasch, who also co-wrote the screenplay with Jace Anderson, and stars Edward Furlong, Monica Keena, Bobbi Sue Luther, Shannon Elizabeth, Diora Baird, and Michael Copon. We had spoken at Spooky Empire Horror Con in 2013 about the Return of the Living Dead soundtrack and how it's timeless and we still listen to it. Did you know that 45 Grave, T.S.O.L., and your friends Haunted Garage were going to be on 2009's Night of the Demons soundtrack? (Love when the past comes full circle.)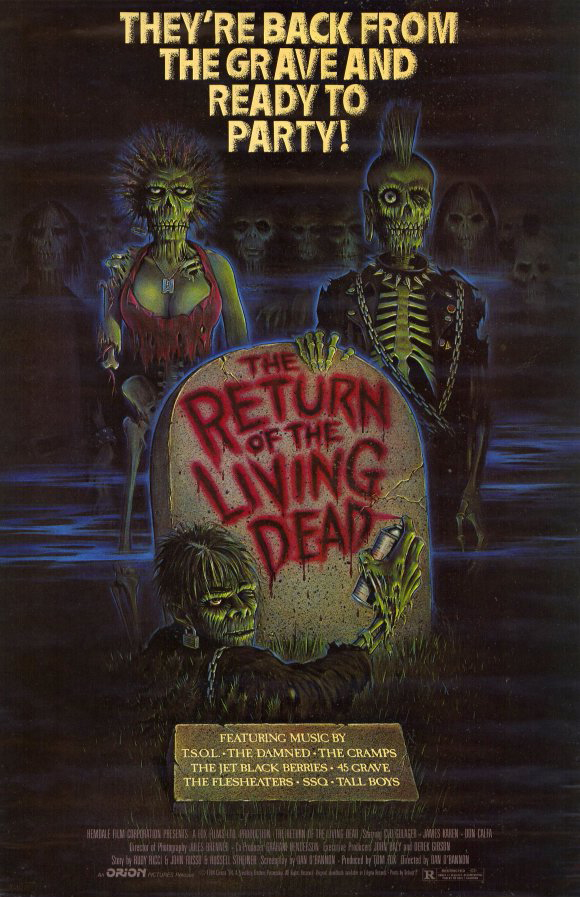 Linnea Quigley: I guess just paying my dues doing extra work, doing different jobs on sets, and doing stand-in work, and acting classes. The classes brought me to Return of the Living Dead and Night of the Demons (and what's called) The Valor roll, which now I don't know why it's called that. I love, love, love soundtracks from these movies and they were the bands that I liked, and also we all were blown away it seems, just so excited…like this was the first time punk was used in movies and bands that people were listening to at the time. It was all (at least on the radio) like head-banging rock and the punk aspect really lent itself toward these movies and our dark Babybat hearts.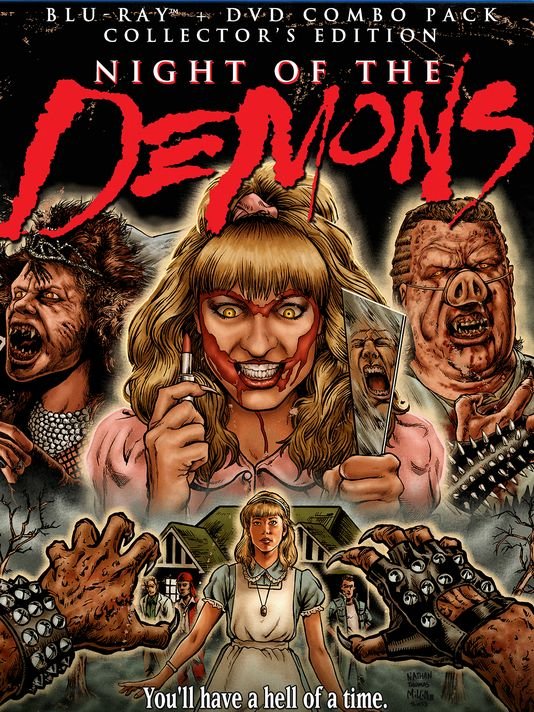 Ladyaslan: Please tell the "die hard" fans about your band The Skirts and when you recorded with the hardcore/punk label Mystic Records, which resulted in the track "Santa Monica Blvd. Boy" and from that session, the song being featured in the film Nightmare Sisters?
Linnea Quigley: I had. My band rehearsed right beneath the Pussycat Theater, in a place that was called The Masque, which was a notorious punk rock place. The Go-Go's, before they went mainstream, were down there, and The Motels, and a bunch of punk bands. It was so much fun. I learned guitar. I had piano lessons forever but I really took to guitar better. I loved writing music and recording, so we had a great time. I was only probably 22. It was just fun! You don't have terribly hard music, especially when you're just learning, it's just three chords, but those were the important three chords! So yes, we recorded at this hard punk label called Mystic Records which resulted in one track called "Santa Monica Blvd. Boy" and it became a HIT among the underground punk scene and people at the clubs that heard it loved it! Having a club/underground song was a hit, and it was a fun bopping type of song, but it became a big hit in this B-movie classic! David was kind enough to put it in Nightmare Sisters for me and I got to do a little MTV thing when I was playing the song. It was like another thrill for me to actually have my song in a movie and MTV, so that was an honor for me to have that happen.
Ladyaslan: How did you get involved in 1987's American science fiction horror film Creepozoids, the first 35mm film directed by David DeCoteau? (Trivia: In 1997 it was remade and titled Hybrid and starred John Blyth Barrymore as Dr. Paul Hamilton, YES that "Barrymore.")
Linnea Quigley: Creepazoid was after I had gotten sort of a name from Return of the Living Dead and also Night of the Demons, and that's when David came into my life. We've been filming for so many years together and I really love him, he's great and good, but it was like the course toward a lot of other movies besides Silent Night, Deadly Night, which the same casting director cast me so David Dakota was responsible for my more well-known "Scream Queen" abilities.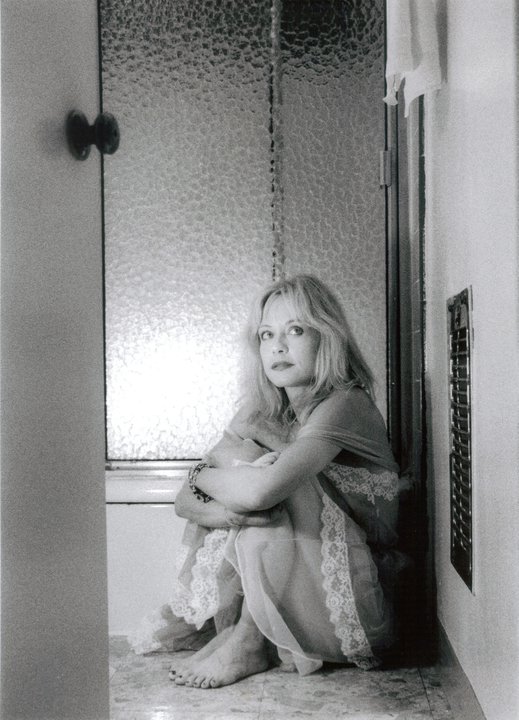 Ladyaslan: You also starred in one of my favourite Christmas movies, Silent Night, Deadly Night, a 1984 American slasher film directed by Charles E. Sellier, Jr. You played the character Denise. Since its release, the film has developed a cult following and was followed by four sequels (with the fourth and fifth installment having no connection to the film) and a loose remake released about 28 years later. This was the only film in the series to be distributed by a major movie distributor, let alone TriStar Pictures. What is your best memory in making this film and did you think it would be such a staple in the horror genre?
Linnea Quigley: Yes! Silent Night, Deadly Night, the 1984 slasher flick! I just actually did the extras on the new DVD just the other day and it was so weird to try to go back and remember something that was so long ago [laughs], but also feels not that long ago! It was because Stonz Stokes, who cast me in Silent Night, Deadly Night and then cast me in Return of the Living Dead, was behind it all. It was funny to see that they used the same footage. I had to sign something from Screen Actors Guild saying "you know I could use some footage" and they ended up using almost all the footage from the last Silent Night, Deadly Night, but it makes a great, great Christmas film. Black Christmas (1974 and 2006; love them) and Silent Night, Deadly Night are good ones to watch at or around Christmas, or really any holiday!
Ladyaslan: Please tell us about (in my humble opinion) the best character in the world, Trash from Return of the Living Dead, and if Trash isn't your favourite, please share with us the favourite character you have played to date?
Linnea Quigley: I loved the character of Trash. I read it and I dug it, but when I was acting on set is when I really fell in love with the character. Trash was just so different from the parts I've played before, which were the victims or The Girl Next Door type. It is my favorite one to date and the character of Spider from Sorority Babes in the Slimeball Bowl-O-Rama, because I kind of got to play badasses in both of the movies, but my all-time favorite is, of course, Trash.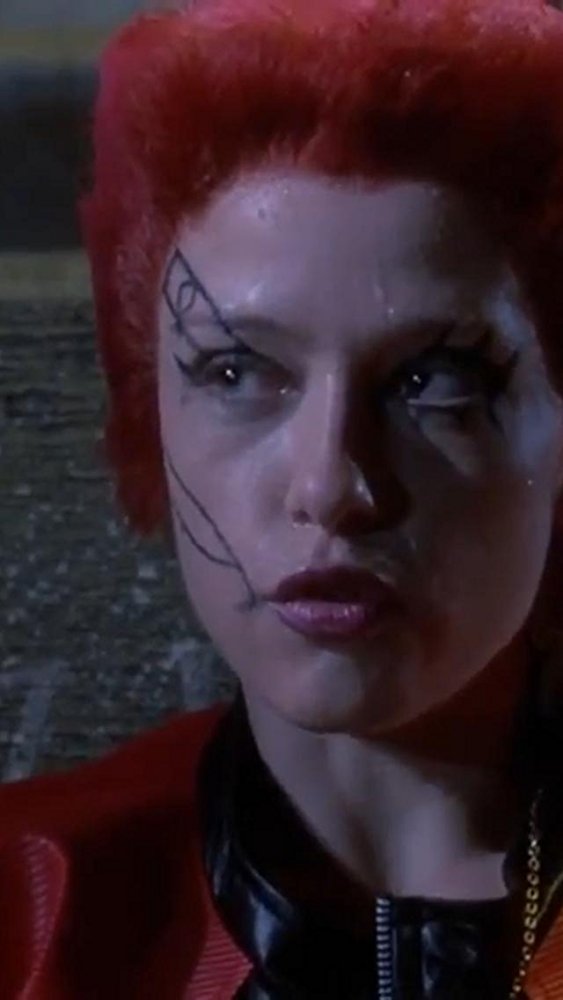 Ladyaslan: In 2013's Post Mortem, America 2021 directed by our mutual friend, Cameron Scott, you star with this amazing cast alongside Monique Dupree (also known by the title Tha True Original Gata, and in some circles is referred to affectionately as The First Black Scream Queen and sister of Tony Todd), Jim O'Rear, April Burril, Edward X. Young, and Keith Zahn. It is rumored that you play two different roles in the film…is this true? Also, nearly a dozen different locations, including three different states, were used to film the climatic gunfight at the end. I take it this movie had a great deal of travel involved? What do you think the general message was in this movie the writer and director were trying to convey?
Linnea Quigley: Post Mortem, America 2021 was very hard but also had neat people that were in it. I did play two different roles in the film, so, yes, it's true we did have a lot of locations and a lot of times we had to go home and then come back again when there was no more money, filming in different places and over a period of time. I think the message was a strong one for women. Like men, we women could grab guns and start firing and running and being smart asses too, but it's also all about the human race.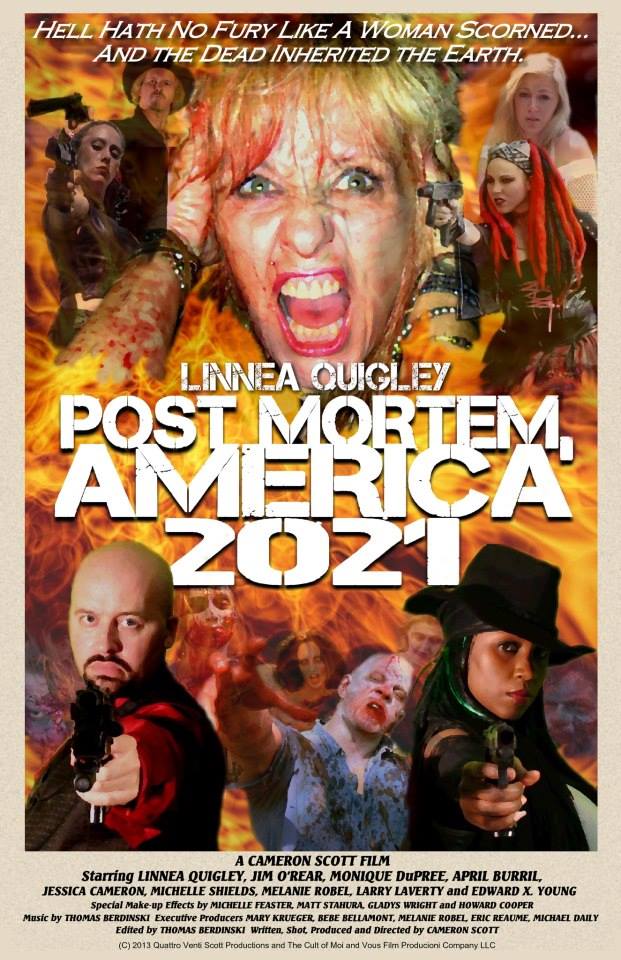 Ladyaslan: Tell us about the dark, twisted, apocalyptic shocker Disciples (2014) about a group of humans and demons who must band together to fight for the fate of humanity, directed by Joe Hollow. You worked with such amazing people in this movie, the likes of Tony Todd, the late and great Angus Scrimm, Debra Lamb, the Argento princess Barbara Magnolfi, Bill Moseley, and Debbie Rochon to name a few cool #Babybats. What was it like to work with everyone and were there any challenges that had to be overcome to have this success?
Linnea Quigley: I loved working with Joe Hollow. It was such a big undertaking for someone who really hadn't done a lot of filming, and to work with the talent of people like Tony Todd, and a guy who I got for them that I love and miss so much Angus Scrimm, Deborah Lamb who I have known for over 20 years, Barber Magnolfi, Bill Moseley, and Debbie Rochon. I mean the list goes on and on and on. There were a lot of things to overcome, which was just the fact that it was Joe's first real big film and it was hard. They even had a lot of special effects and we had two different states we filmed in—Florida and L.A. All of it was it such a fun thing to do really. The only bad part was in Florida, the no-see-ums, they bite you and they sting.
Ladyaslan: Side note – Ceratopogonidae, or biting midges, are a family of small flies (1–4 mm long) in the order Diptera. They are also known as no-see-ums, midgies, sand flies, punkies, and others in North America.
In 2015's A Blood Story, again working with Joe Hollow, this film surrounds three strangers who find themselves at a villa, each with the same goal of discovering the Fountain of Youth, rumored to be nearby. One by one they succumb to the carnal perversions and depraved delights provided by the villa, unaware they are pawns in the resurrection of a centuries old evil. You worked with Camden Toy, Mark Hanson, Debra Lamb, Luc Bernier, and our infamous soul sister, the ever-enchanting Liane Langford. How much fun was it to work with everyone and what drew you back to work with Mr. Hollow?
Linnea Quigley: I loved working with Joe again and the cast was so much fun. The dark script and talent he had for this film was great and I was happy to come back! A Blood Story is a dark, Gothic-fantasy horror film that is reminiscent of '70s Amicus style of Gothic horror fantasy films. It's on Amazon for purchase.
Ladyaslan: What are three words that best describe you?
Linnea Quigley: Kind, shy, and huge animal rights person! I was almost knocked over when Playboy voted me the sexiest "Scream Queen"; I was like "oh, my gosh." I was so excited about that since every girl of the '80s (even the '70s) wanted to be in Playboy and I got to be in Playboy and things like that.
Ladyaslan: How amazing is it to be considered part of the "real and original" sexy Scream Queens?
Linnea Quigley: I was like, so, how could they know? [Laughs] People had voiced "me" to be the sexiest Scream Queen and I think I embraced it for a lot of girls who did not want to have that title put upon them. I think I'm embracing it still and made it much easier for people to know that I loved it and they couldn't help but love it too.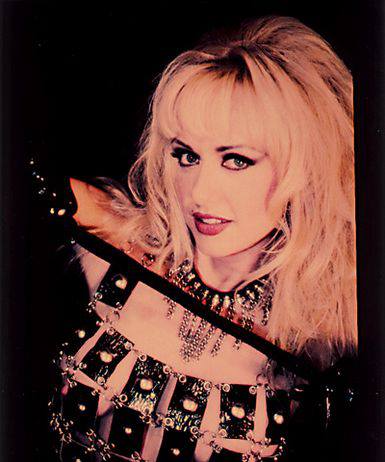 Ladyaslan: How did you learn about acting (i.e. personal experience, education, etc.)?
Linnea Quigley: I learned acting from a bunch of different acting people, real acting coaches, but most of all, Charles Conrad. He was really a pioneer and a great guy and it was funny because I didn't think anybody knew of him that well because it was a while ago, but I just ran into a friend that knew him very well and studied under him as well. I did study, which I know a lot of the girls didn't in the mid-'80s. I took improv classes and I took acting classes and commercial classes; I just tried to learn as much as I could. The end result it comes down to is how much time you have to film and how long you have to rehearse.
Ladyaslan: What other creative endeavors do you enjoy?
Linnea Quigley: Well, of course I love recording and writing songs, playing guitar, and singing. I'm really shy with this getting on stage thing, still. I get very nervous my hands sweat so I've got a tight hold on the guitar and I'd think like "oh please, don't sweat too much" [laughs], but it's actually very difficult to sing and play guitar at the same time, but again I had to do something that I was totally scared of. I ended up doing it for a while and in fact right now Strange Way is releasing my album on vinyl! I'll be glad to sign a few and I'm just so lucky to have this happen. I want to thank Strange Way just so much for picking up my music and I hope I don't disappoint them [laughs]. That's an endeavor I really enjoy. Other creative things would be Pilates, if you call that an endeavor, and rescuing animals.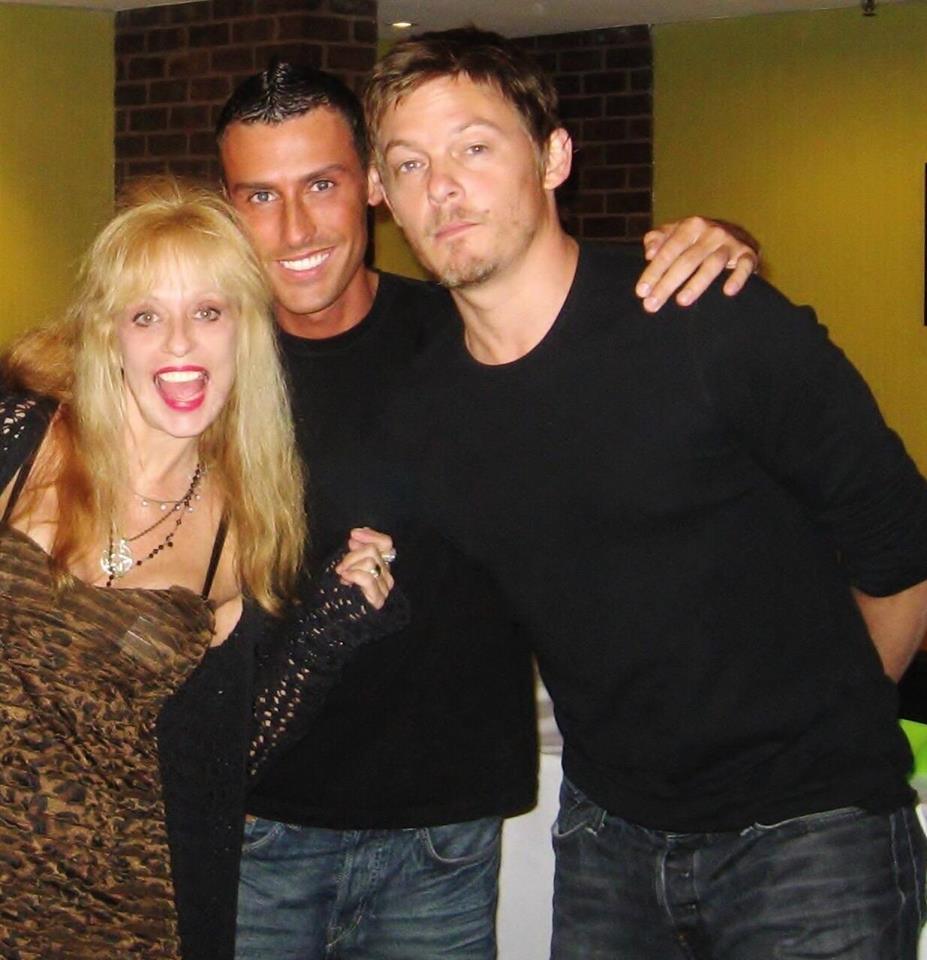 Ladyaslan: What is the last concert you attended? Did you enjoy it?
Linnea Quigley: It's funny sometimes when you're in a band you don't really go and see other bands, it's like you're almost in competition or something [laughs], but the last concert I went to was Fleetwood Mac because I love them. I love them forever and I wanted to see them so bad and I wasn't disappointed. I love the song writing of Fleetwood Mac and I love Lindsey Buckingham's guitar playing!
Ladyaslan: OMG!! I had a HUGE crush on Lindsey Buckingham when I was a little girl! LE SIGH [heart eyes].
Finish this sentence: In my next life, I'm coming back as a _____________________.
Linnea Quigley: I think I'd like to come back as where I left off as and knowing what I know now—but from the start of my life—and I could avoid a lot of problems. I would come back as a witch; that would be fun to come back as, a nice one, a White Witch! We could fly together and make potions and save animals! OH…I used to make up these questions (like you; I LOVE these questions by the way), then I would ask all my friends for their answers and it's funny because one of the questions was "what would you like to come back as" and I put an Indian but that's when I was younger and I wouldn't mind it now either. I think Indians (Native Americans) just have this super cool legacy and I'm still upset with what "Big Brother" did to them!
Ladyaslan: YASSSS! We should go for a li'l night flight now and some midnight margaritas! I love you, my dear!
Do you have an existing website or blog or any links you would like the fans to check out? If so, please provide.
Linnea Quigley: Official Website │ Facebook │Twitter │IMDb │Booking Info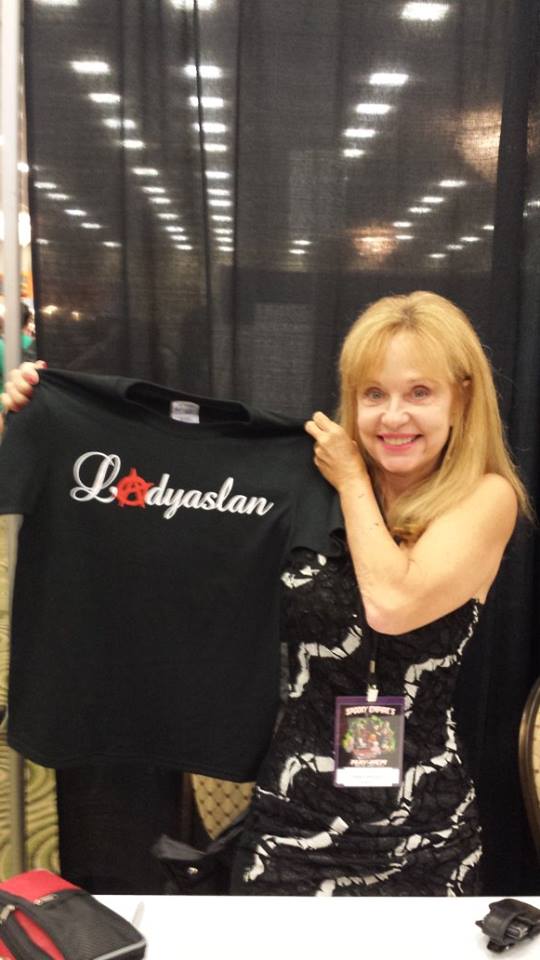 ** About Ladyaslan – She is a published Gothic poet and horror erotica novelist. Ladyaslan's second book is available on Amazon.com, Barnes and Noble, and other established book retailers internationally. Check out Lipstick & Absinthe and her other books at the link below.
Official Website: http://www.lipstickandabsinthe.com/
Tags Anitra DeLorenzoCreepazoidsDark DelightsDeadly NightLadyaslanLinnea QuigleyNight of the DemonsReturn of the Living DeadSilent NightThe Skirts
You may also like...