:Music Review: Conquering Dystopia – Conquering Dystopia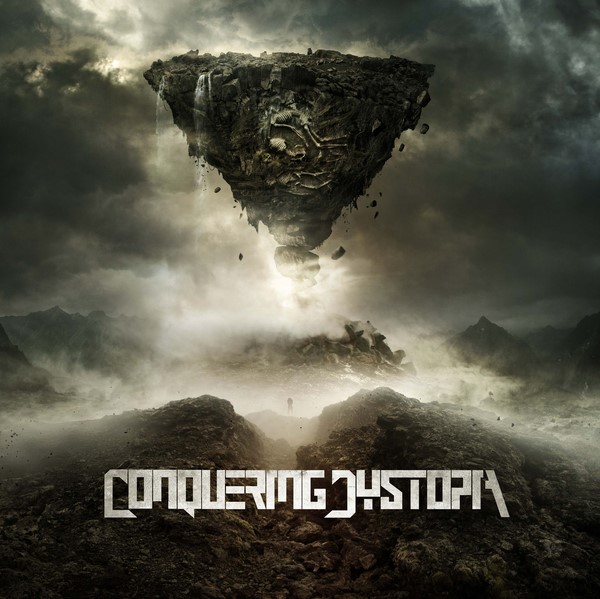 Conquering Dystopia — Conquering Dystopia
Label: Century Media Records
Release Date: July 18, 2014
Websites: Official │Facebook │Twitter │SoundCloud
Review by William Nesbitt
Professor of English
Beacon College, http://www.beaconcollege.edu
Conquering Dystopia is a supergroup composed of guitarist Jeff Loomis of Nevermore and Arch Enemy, guitarist Keith Merrow, bassist Alex Webster of Cannibal Corpse, and Alex Rüdinger. They play sharp, precise, clean instrumental music we can describe as technical death metal with progressive elements. Nine of the twelve tracks follow that style. Thus, it's something of a niche genre, but if you are into this type of music, you would be hard-pressed to find a better example. This stuff is absolutely scorching.
"Doomsday Clock" with its classical guitar and "Lachrymose" with its acoustic guitar slow down and show a different side of the band. "Resurrection in Black" could be on a soundtrack and, with no guitar or drums, sounds the least like the other tracks. It's a layered, contemplative track, with wailing vocals recalling the Middle East. It's a stylistic departure from the rest of the material, but it's just as good as any of the other tracks.
Jeff Loomis continues to shred at the top of his game. If you are a fan of his two solo albums Zero Order Phase (2008) and Plains of Oblivion (2012), you should investigate this release as well. Due to label restrictions regarding one of the members, you cannot find Conquering Dystopia on compact disc—it's either MP3/WAV download or vinyl. Thus, you can listen to the album on your phone or your turntable but nothing in between. One hopes that there will be a future rerelease on CD with some bonus, live, and/or demo tracks.
Conquering Dystopia does make one pine for a Nevermore reunion and demonstrates that Loomis, at least, is fully capable of coming up with something to match or exceed This Godless Endeavor. News within the last year indicates that Conquering Dystopia are working on a second album. Nevermore lead singer Warrel Dane and Loomis have both indicated that they are open to the possibility of reuniting Nevermore and recording more work. Perhaps we will be blessed with albums from both Conquering Dystopia and Nevermore. One way or another it seems that Loomis will deliver more work in addition to his current output with Arch Enemy.
Track Listing
01. Prelude to Obliteration
02. Tethys
03. Ashes of Lesser Men
04. Doomsday Clock
05. Inexhaustible Savagery
06. Totalitarian Sphere
07. Lachrymose
08. Autarch
09. Nuclear Justice
10. Kufra at Dusk
11. Resurrection in Black
12. Destroyer of Dreams
Tags Alex RüdingerCentury Media RecordsConquering DystopiaJeff LoomisKeith MerrowWilliam Nesbitt
You may also like...