:Dark Delights: The Blessed Ones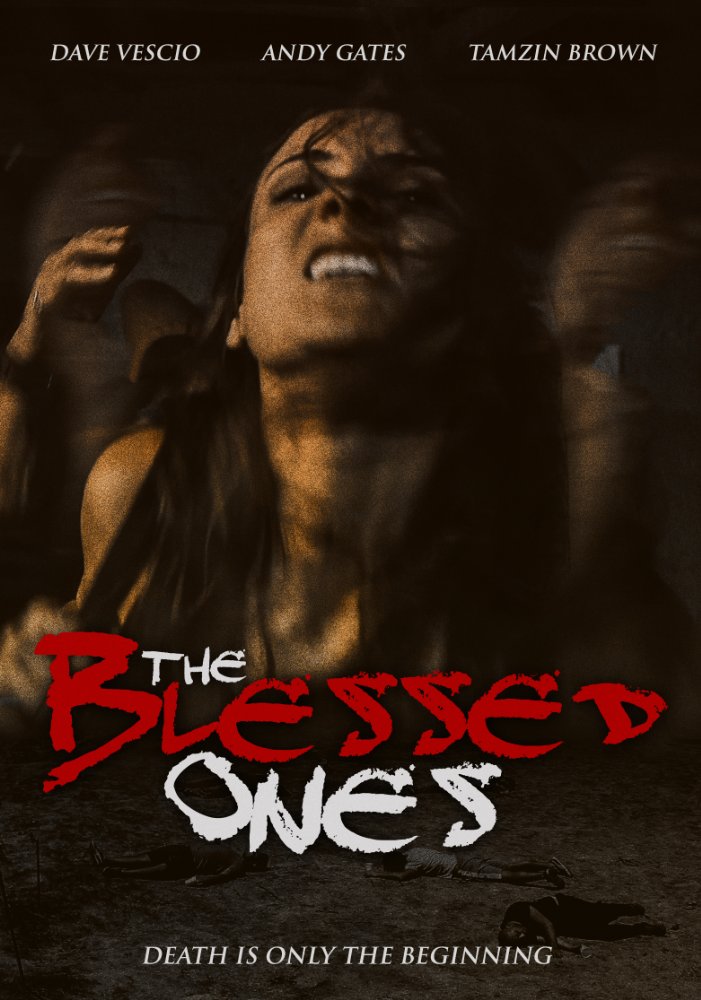 Dark Delights with Ladyaslan Presents:
The Blessed Ones
Writer/Director: Patrick O'Bell
Produced by: Andy Gates, Patrick O'Bell, and Maureen Whelan
Starring: Andy Gates, Tamzin Brown, Dave Vescio, Jonathan Erickson Eisley, Alex Essoe, Michael O'Hare Wallace, Ashley Cordelia, Amanda Yael Eisley, Michelle Tomlinson, Victoria De Mare, Uri Horowitz, Sean Summers, Mara Luthane, Jason Johnson, and Patrick O'Bell
The Blessed Ones Facebook: https://www.facebook.com/TheBlessedOnesMovie
Ladyaslan: Welcome, Mr. O'Bell and The Blessed Ones. Thanks for joining me here on Dark Delights. What should my readers, aka "Baby bats," know about you as the founder of this movie, The Blessed Ones? Please tell us about the concept or what The Blessed Ones is so people have an idea what they are in for.
Patrick O'Bell: I saw documentary footage regarding doomsday cults. It really disturbed and haunted me how people can allow themselves to be brainwashed into doing almost anything. I was especially intrigued with the Heaven's Gate cult in which they committed suicide in order to evolve into a higher state of being. I wanted to make a horror thriller showing the really creepy and nightmarish side of cults.
Ladyaslan: What inspired you to get into writing and movie making?
Patrick O'Bell: It started when I was around 14 years old. My dad took away the television set so I would end up going to a lot films. I would usually end up at a nearby revival palace showing several classic or grindhouse type films. It's where I was exposed to films by Kubrick, Hitchcock, De Palma, Argento, Peckinpah, etc…. It became my passion and then I went on to study film and acting.
Ladyaslan: Summarize your techniques as a director as if you are speaking to someone who has no idea what you do. What approach did you use for The Blessed Ones?
Patrick O'Bell: I decided to use a non-linear style narrative told subjectively from the main character's point of view. It was my intention to make the film feel hypnotic and trippy rather than in a straight documentary style you see so often in films these days.
Ladyaslan: You did fourteen episodes of 24 as a CTU Agent. What was the best part of working on 24 and did you expect to be on as long as you were?
Patrick O'Bell: It was basically like film school to me. I made friends with one of the cameramen (handheld) and studied his technique. The show had great energy and was an eye-opening experience in how they set up shots and worked with the cast. I was there for half of season two and the first part of season three; I guess they liked my work ethic and look as a CTU Agent.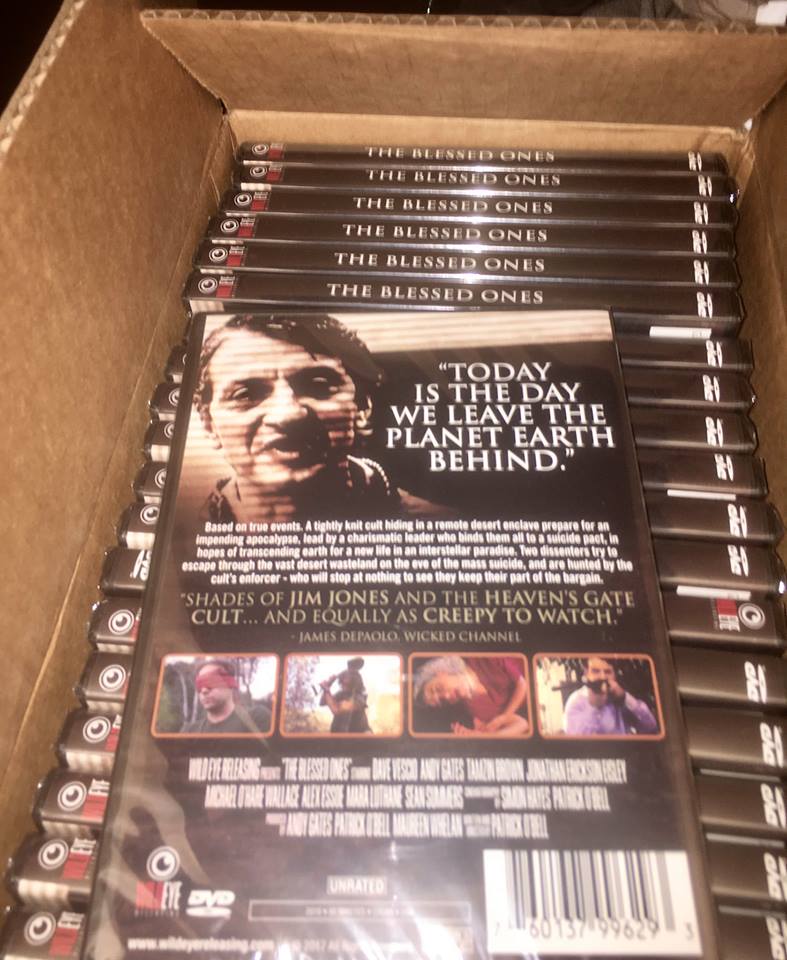 Ladyaslan: Hello, Andy. Please tell us about yourself and tell us about the production company Lost Order Films.
Andy Gates: I've been acting since high school; I was trained in the theatre in college and at ACT in San Francisco but have always loved film and television. I've lived in L.A. since 2005. I've always been drawn to character actors and my professional goal has always been to be one of those actors that works all the time but you can't quite place him…"there's that guy again!" My first love was horror and monster movies along with the typical popular TV shows of the day. But the one constant was always the horror genre. I love to be scared and have always aimed to scare an audience with the movies I do. I met Patrick in 2010 through Mo while working on one of her short films and he had a script called Lost Canyon Road, which we haven't made yet, but spent a long time scratching towards it. After a few years trying we moved on to The Divine Order project which ultimately became The Blessed Ones. We combined the two titles for Lost Order Films and we continue writing and producing projects, and of course I get to act in everything!
Ladyaslan: What made you want to invest/produce The Blessed Ones?
Andy Gates: I am a fan of these documentaries about different cults that you can watch on YouTube and the idea of "group think" is a creepy and relevant topic in my opinion because of social media and technology as a whole. I invested in it to get the movie made and tell Patrick's story. I don't think of myself as an investor but as someone who's invested. My opinion is that a producer does whatever is necessary to complete the film. I am not classically trained in film; everything I have learned is from being on set and being a fan of film and collaborating with Patrick.
Ladyaslan: What drew you to the Spencer character in the The Blessed Ones and what sage advice would you give to young new filmmakers and actors starting out?
Andy Gates: The thing that interested me about Spencer was that he was questioning everything and he believed in finding his life's path. He was willing to risk it all to find out what that path was. I think this is a unique time in film; actors can become filmmakers and really dictate the stories they want to tell. It gives the actor more creative satisfaction to jumpstart his or her own projects, and if you do it right you really get to appreciate how much work goes into this technical craft. I think it can make you a better actor. Like I said earlier, I am quick to remind people that I am not trained in film as a director or a producer or even a writer, and I have great respect for the practice and for the folks that have done it before me. But I also believe that we all have the right to take part in this art form and so long as you've got something to say and the means and wherewithal to put it out there, then more power to us all!
Ladyaslan: I have to go here…1000 Ways to Die, I just loved it. Please tell us about your death and how you came to be part of that time in pop culture.
Andy Gates: Well, I auditioned for that part. I audition for almost anything and will do just about anything. I read the synopsis and thought it sounded fun. Getting the part and being on set happened very fast, the dialogue was mostly improvised and they shot two segments in a working day so it was basically a half day's work. My character had a fetish for dressing as a baby and being treated like one, his wife was in on it, which meant the actress and I had to recreate a breastfeeding and a diaper-changing scene. Good thing I'm not shy! I met my maker when during a tantrum I shook the adult-sized crib to the point that the gate dropped down and snapped my neck. Too bad!
Ladyaslan: What did you know of "cults" or "off the beaten path religions" before reading The Blessed Ones script? How did you prepare for your character Draco?
Jonathan Erickson Eisley: I knew about several dangerous religious cults, Order of the Solar Temple, Joseph Di Mambro and Luc Jouret, The People's Temple, Jim Jones, Heaven's Gate, Marshall Applewhite and Bonnie Nettles, and the driving force behind all of them. (Pretty cool people right?) For preparation I showed up on time and pissed off at the fucking world. Draco was obsessed with death, shovels, and his cool truck and he hated Andy Gates, I mean Spencer [laughs], and wanted to beat him into the ground with a sledgehammer and crack his skull wide open and suck his brain out through his ears. I tried to make Draco very physical as he liked to work with his hands and a shovel and his boots. The hunt, the challenge, the stalking and doing it right, in its own perfect time, for Draco feels no remorse at all. A kind word could quite possibly make Draco extremely angry. I'm a contract killer without a contract [ahh], I mean Draco is [devilish grin], Elyon's favorite enforcer. Everyone was awesome to work alongside with on this film and for me, most importantly, I now have several people I met while working on The Blessed Ones that I consider true friends, but I will not mention their names at this point because I might have to kill them later.
Ladyaslan: What was it like to work on 2016's Westworld as a bandit from the "Stray" episode? Also you played the Hippie Dad on 2013's Shameless. You have had some amazing parts; please share the experience with us.
Jonathan Erickson Eisley: Westworld was a very cool experience. I'm quite fond and drawn to the Western genre. I have played bounty hunters, lawmen, bandits. I have many years of horseback, weapons and fight experience so I felt right at home. The production value on set was nothing less than amazing. Time was taken on each and every shot and without any compromise, a high level production for sure. I would welcome a return as an android host because they never really die. I will always remember the 1973 film of the same name, written and directed by Michael Crichton. Yul Brynner easily stealing the show, creepy and very menacing as the robot gunslinger that simply will not stop.
Shameless was also a great experience to work on. It was a unique experience in ways. At the initial audition at Warner Brothers, casting had roomfuls of actors waiting to read for various roles. When I signed in I was assigned a group number and was placed with a random group of five actors, male and female, all representing five different roles within the scene. I believe I was group 7. This went on for a couple days with hordes of actors all auditioning for different roles. We all five had our individual dialogue/sides. We were called in as a group, seated and placed accordingly to read for the director, producers, and casting. When the scene started you had to know where your role fit in the scene and do your thing. We ran it twice, I believe, and then we all exited the room as a group. The next day my agent called, I had been "pinned" as "Hippie Dad." I had a "pin" stuck in me for the next seven days. On the 7th day I was informed that I had booked the role. I later wondered as to why it took seven days to let me know whether or not I booked the show. When I showed up a day before the shoot date for a wardrobe fitting, I asked the wardrobe gal if she knew why it took so long to know. She said that the writers would change scripts in development and that until they were final, no decisions were made as far as casting for a specific role. After we finished with the fitting and the wardrobe choice was made, the wardrobe gal told me that I was the only actor with my headshot pinned up on the wall for that role as "Hippie Dad." All week long I guess that role was indeed mine from the start. I would love to have been a fly on the wall earlier.
We shot that scene much like a live play in real time, a five-page scene from start to finish, only taking five minute breaks to reset camera positions. They had four camera operators shooting simultaneously. Each actor had to know where they fit in the scene because if one were to flub it up on page four they would start the scene all over again from the beginning and trust me you DO NOT want to be that actor. It was like being on stage in a live play that was being filmed…a very cool experience, but one had to be in the game. Shot it for four hours straight, different angles and turnarounds, only breaking for a few minutes in between camera position resets. A great cast and crew indeed!
Ladyaslan: Tell us about the 2016 horror film called The Horde; how did you come about and prepare for this film?
Jonathan Erickson Eisley: I showed up at the audition and played a four-page scene pretending I was in John Boorman's 1972 film, Deliverance, "Squeal like a pig, boy"…well, you get it. My role as Jethro, a local, mentally challenged, inbred, unkempt hillbilly, backward and violent with sexual tendencies, just the opposite of whom I would like to hang out at a Dodger game with, so I just became simply ugly inside and out. American backcountry, one could have re-named the film Camp Hillbilly, well maybe a part two! The role actually was brought to my attention by a stunt coordinator friend of mine, Tony Snegoff, who suggested that I attend an audition for a film that he was to stunt coordinate, so I did and became Jethro. It was a good time for sure, really good group of filmmakers with whom I would enjoy to work again!
My call time was 11:30 p.m. I started shooting my scenes probably around 3 a.m. I was chatting with Nestor Serrano during a break and letting him know that I had an audition for a show called Battle Creek the same morning at 9:30 a.m. in Culver City at Sony Pictures. Nestor was like, "Oh man, I hope you can make it bud, cause it doesn't look like you will be able to sleep at all and you will have to go straight there from here in rush hour traffic," and who knows when we will wrap, that sort of sucks. Yep, it did suck timing-wise and naturally it had to be a show helmed by Vince Gilligan of Breaking Bad fame. Anyway, long story short, I wrapped around 8:30 a.m. and made it through hell traffic to Sony to read for the role.
Sleep-deprived, dirty, and feeling like I was hallucinating, I did the audition, kept fucking up the line in which I was to say my name Andrew Allister McNeal. Casting would laugh after I kept calling myself Allison. I did it like four times out of my bloody mind at this point and just wanting to go home and sleep because I felt like the walking dead and I looked like it, too; matted hair, pale-face, burned out sockets for eyes. I thanked casting for their time and left. I got home and crashed hard for a few hours, got a call from my agent later the same day that I booked the part! I thought, "What are you fucking kidding me?" One never really knows sometimes why and how things happen or work. Maybe feeling so sleep deprived and removed from myself worked, strange days indeed! Got to wonder sometimes, but it turned out to be a very good next day!
Ladyaslan: Hello, Dave! Please tell us what it was like to play Father Elyon in The Blessed Ones; did you have any prior knowledge of cults and cult leaders prior to this role?
Dave Vescio: As for having prior knowledge of cults and cult leaders…I actually have my own cult fan base because of my past indie films that are actual cult films such as HICK starring Oscar winner Eddie Redmayne (Fantastic Beasts and Where To Find Them), Chloe Grace Moretz (Let Me In [2010] and Carrie [Reboot 2013]), and Blake Lively (Gossip Girl). I also love studying cult branding and how to build your own tribe. It's how I personally built my own mass following on Twitter. As of today, I have over 450,000 Twitter followers. Plus, my old publicist/current mentor Michael Levine taught me in 2012 that I have to see my Twitter page as a church and that I'm the preacher of this church and that my Twitter following is my congregation. And we all know why people go to church, because they want to go to heaven. So, Michael then asked me where I am leading my own Twitter followers to.
So, ever since then, I see my Twitter page as a church of some sort. A place where people gather to be lead to (which I answer in the question that you asked me below). So, all of this prior knowledge did help me play Father Elyon. Plus, I did start to study Christianity for the first time ever in my life right before we started to shoot The Blessed Ones, as well. But, at the end of the day, playing Father Elyon was a very hard role for me to play. It was very challenging in so many different ways. But, I did enjoy it all and I did learn a lot from that whole experience. And it is funny how one's art and one's life is very similar to one another. It's like we get hired because of what we truly do know and/or have personally experienced. Pretty amazing indeed!
Ladyaslan: What are the three words that best describe you?
Dave Vescio: Ex-con, movie, and villain. Those three words tell people exactly who I am as a human being and as an artist. My mission statement as an artist and as a human being is to educate the world on what we real life villains are really like, so the world knows how to protect themselves against us. I do that with my indie film roles and with the quotes that I post on my Twitter page every single day. So, I would say those three words describe me more than anything else. Plus, it is my brand as well! I did go from ex-con to movie villain.
Ladyaslan: Are you a publicity lover or publicity shy?
Dave Vescio: [Laughs] I love getting press for my indie films, but, the problem is that social media is slowly replacing news media for good. Everyone can be their own media outlet today because of their social media page. Plus, it is called "social media" for a reason. So, if you want to succeed as a media outlet today, I truly do believe that you have no choice but to have your own social media page, because that's where all the eyeballs are at nowadays anyways. So, I do love getting press for my films, but, it is getting harder and harder to get anyone to go to a website that isn't a social media page, a search engine, or a shopping website, which are the most popular websites in the United States. And I really do believe that if media outlets want to continue to be in business in the coming decade, then they'll have no choice but to get into business with a social media website (YouTube, Facebook, Twitter, and Instagram) or into business with a video on demand website such as Netflix or Amazon. Social media and video on demand platforms are changing the whole film, television, and media business model for good. It's a brand new world today!
Ladyaslan: Please tell us what drew you to the 2014 horror film Starry Eyes staring yourself and Maria Olsen. What was it like to work with Maria?
Alex Essoe: I loved the role, loved the script, hoped beyond hope I would be cast and worked my butt off to prove myself in auditions. It was my first lead in a film so I don't want to suggest that I had any power over being cast. The directors saw something in me and gave me a chance. I was a struggling actor who just wanted to work and I was extremely lucky to be a part of something like Starry Eyes. Maria Olsen is a gem of a human being and I thought she was mesmerizing.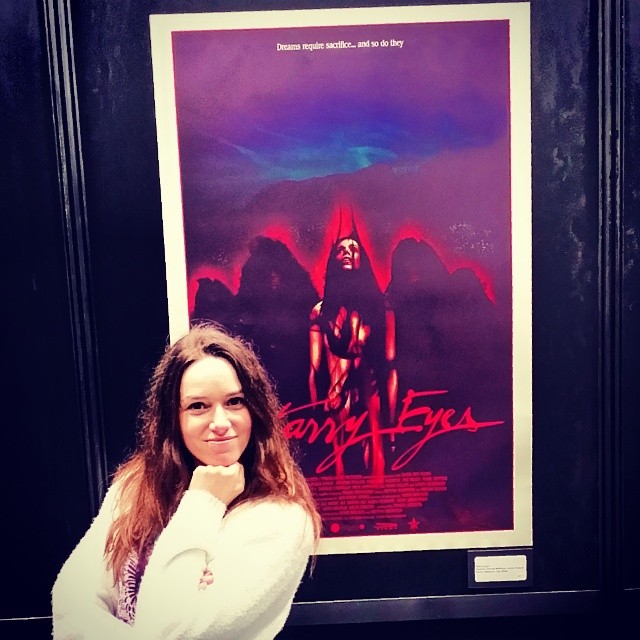 Ladyaslan: I had received the screener for Starry Eyes and I was blown away by the whole package! I love when I am surprised by an indie film (like The Blessed Ones as well); this kept me entertained and trying to second guess what would happen next and both movies really hit the feels in the "cult" department. In regards to Maria Olsen, oh my goodness she is a force to reckon with!
Tell us about the research and work you did for the 2017 movie The Blessed Ones? What is your opinion on "cults"?
Alex Essoe: The bulk of my research for Nurse Iris was studying the long- and short-term effects of Vicodin on the body, since she's under the influence of it the entire movie. My opinion of cults is they make great subjects for film and art, but in the real world are inherently malevolent. Cults are for people who need to be told what to do, who need to be given answers. Cults can't exist without people who want to be controlled.
Ladyaslan: If you could have your portrait painted by anyone, living or dead, which artist would you choose?
Alex Essoe: Francis Bacon.
Ladyaslan: You were a former automotive gear-head turned actress, animation geek, artist, consultant, filmmaker, non-nude alternative model, and writer; how did you do a full 180? Was it overnight or a gradual change in careers?
Maureen "Mo" Whelan: Interesting question…. I took an engine and drivetrains course in college along with a 3D animation course. I've been writing and drawing since I was a kid. I started working at an auto parts store when I was 17, then transferred to a location in Redondo Beach. There I met the owner of a small animation company and started interning there as an animator. Soon after, I started working in post-production, and then on South Park: Bigger, Longer & Uncut. I bumped into a photographer in Redondo Beach and had my first modeling shoot at 19. I stopped modeling to follow my animation career, but ended up getting scouted at a club by a small modeling/talent agency at age 24. I took a break and then started modeling again when I was around 30. Robert Rhine from Girls and Corpses Magazine came across my MySpace blogs and asked me to write for the magazine, and at the same time a friend asked me to help produce a feature film. I met a few art curators and started showcasing my art at events. So, I guess it's a mixture of gradual and overnight.
Ladyaslan: Have you ever had any paranormal experiences? If so, what were they?
Maureen "Mo" Whelan: Yes, I have experienced some unexplained paranormal activity—mainly at my mother's house, but at other locations as well. I use to play the Ouija board and had items such as candles fly at me from nowhere, watched doors open, and saw weird apparitions. A few years ago, I was in consideration for a paranormal show that was part of a large franchise. I was recording my second audition tape and an unexplained knock came from the dining area of my apartment. Another time, my friend and I were running around the Alexandria Hotel in DTLA and came across a door opening and some weird shadow figure.
You can view the footage on my YouTube channel: http://www.youtube.com/MissMoDragonfly
My Blog: https://modragonfly.wordpress.com
Ladyaslan: What did you do to research the movie The Blessed Ones and cults and maybe even Scientology to fully back and understand the project you signed on to? What should others have in their virtual briefcase if they want to become a producer or freelance writer?
Maureen "Mo" Whelan: I've always had an interest in cults and have researched way before The Blessed Ones was even developed. I remember when the Waco Massacre happened and Heaven's Gate. There's an area in the high desert where I grew up called Deep Creek Hot Springs. The Manson Family allegedly had a "hell house" they use to go to nearby. Scientology is a bit different. Their buildings are all over Hollywood and representatives would always try to "stress test" me off Hollywood Boulevard. I have graphic design friends who actually went to the Church of Scientology production company to train employees on software products. My friends had interesting stories about getting to the location, the facility interior being all white, the leader, etc. I even had and watched some of L. Ron Hubbard's Dianetics DVDs. Scientology members' viewpoints are interesting and I think a producer should have some hands on experience in all areas of post-production and production. This helps a producer better communicate needs to a team and step in as needed. As for writing, people just need to write and try to get their work out to the public, whether through a personal blog or an actual publication. It not only helps refine your writing skills but will also help you get noticed as a writer.
Ladyaslan: What is the one issue you feel most passionate about?
Maureen "Mo" Whelan: I think the world issues I'm most passionate about are geared towards children, such as child abuse/neglect, child poverty, and hunger. Children don't ask to be born so it's always a shame to see a child suffer.
**About Ladyaslan – She is a published Gothic poet and horror erotica novelist. Ladyaslan's book is on Amazon.com, Barnes & Noble, and other established book retailers internationally. Check out Lipstick & Absinthe and her other books at the link below and on Facebook.
Official Website: http://www.lipstickandabsinthe.com/
Tags Alex EssoeAmanda Yael EisleyAndy GatesAnitra DeLorenzoAshley CordeliaDark DelightsDave VescioJason JohnsonJonathan Erickson EisleyLadyaslanLost Order FilmsMara LuthaneMaureen WhelanMichael O'Hare WallaceMichelle TomlinsonPatrick O'BellSean SummersTamzin BrownThe Blessed OnesUri HorowitzVictoria De Mare
You may also like...