:Concert Review: Nine Inch Nails, Tobacco – July 31, 2017 – New York City, NY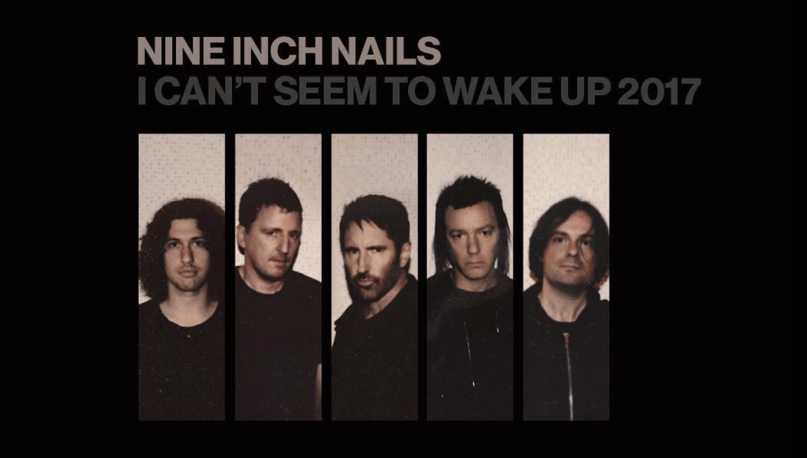 Nine Inch Nails, Tobacco
Concert Date: July 31, 2017
Venue: Webster Hall
Location: New York City, NY
Review and photos by Lisa Gosselin
Mondays, right?
My morning started out just like any other…except I was pretty sad that I missed a host of amazing performances at Terminus Festival in Calgary, and also that I had missed seeing NIN perform at Panorama Festival out here in my home, NYC.
I sat at my desk like any other mundane Monday, loathsome about being awake before 11 a.m., under-caffeinated because it was only 10 a.m. and I was still working my way through my morning coffee and browsing Facebook on one of my dual monitors because work was slow….
…and then I saw it…
…a friend posted about acquiring Nine Inch Nails tickets, and then an article about NINE INCH NAILS. Performing. TONIGHT. AT WEBSTER HALL! (Webster Hall is a mid-level venue with about a 1500 person capacity in the Grand Ballroom and is General Admission.)
What does any fan do in this day and age when they find out about a last minute show in the area? That answer is check their bank account, and considering how uneventful my weekend was, mine was looking alright. Tickets went on sale at 10:30 and by some great stroke of luck I was able to purchase one! (In hindsight, I probably should have played the lottery, because everything was suddenly coming up aces.)
The work day couldn't end fast enough! Once it finally did I hopped straight into my car and drove from my office in Queens out to Webster Hall in the East Village. So far, let's say I'm having a good/lucky day, right? Well, let's throw in a legitimate free parking spot less than a block from the venue! As I walked towards the venue, I couldn't believe the marquees, and that I was standing there in that line with a ticket to this sold out show in hand—knowing that I would never in my lifetime be able to see Nine Inch Nails perform in such an intimate venue; but there I was! And I beat NYC traffic and made it and parked a half hour before doors. I didn't even mind the wait, in the heat, humidity, and direct sunlight—and anyone who knows me knows my pure hatred for heat.
Doors opened promptly at 6:30 and the opener (a band called Tobacco, whom I'd never listened to before but highly recommend) weren't slated to start until 8. So I grabbed a drink, found some familiar faces, and planted myself about ten to thirteen people deep from the barrier, just to the right of center. The lot of us stood there, firmly planted and marveling at how close we were and speculating on what type of song NIN would open with, and inquiring amongst each other about who the opener was. Time seemed to move slowly while we waited for Tobacco to come on, however, the room seemed to be filling up rather quickly—which if anyone knows an NYC crowd, that's not usually the case…we're definitely latecomers.
Tobacco came on and got the floor moving and many heads were bopping. Somewhere in the middle of their set I happened to look up and see the man himself, Trent Reznor, up in the mezzanine taking pictures and videos of them and I still couldn't believe where I was or how this was happening. Tobacco played a great set, and we all buzzed amongst ourselves about how great they were, as simultaneously, we watched with great intent as the stage techs scurried to and fro across the stage getting everything line checked and ready! The crowd seemed to push its way forward and I now found myself even closer than before.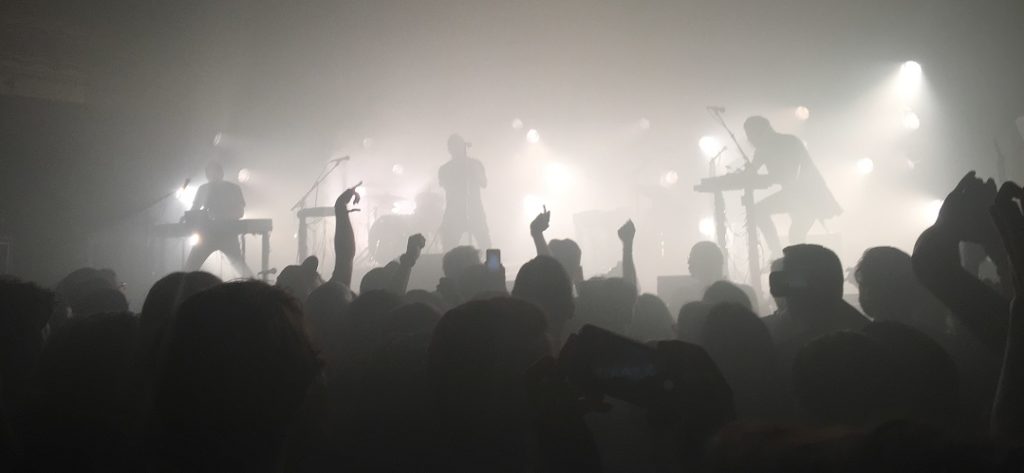 The stage filled with fog. It was about to happen and just like that, the lights came on illuminating the fog and the stage exploded with "Somewhat Damaged" to kick the whole thing off. At that moment bodies started jumping around the floor, and people already drenched in sweat, were exchanging their bodily fluid in a frenzy of limbs and hair flying everywhere. The mass shifting of body weight amongst the collective of the packed upstairs concert room made the floor heave beneath our feet. This is how a Nine Inch Nails concert should be experienced. It was how I had always heard it was in the '90s, and there I was, someone who was too young to experience it then, now twenty-something years later living it. Then "1,000,000" played with the same intensity as "Somewhat Damaged." Next was "March of the Pigs," which the audience went wild for. Each song executed with raw intensity, but at the same time with perfection. The energy could have lit up Manhattan if they were able to harness it and convert it to electricity.
Then it was time to slow it down, and Trent began singing "Piggy." He took a moment after that to speak to the audience, and apologized about ruining our Monday night plans. I don't know about anyone else, but my plans were to catch up on Game of Thrones because I had opted to watch Twin Peaks instead…I'd say my Monday night plans were far from ruined. He sat down at his keyboard which was just further back and began playing the instrumental track "The Frail," which masterfully played right into "The Wretched" from The Fragile, just like on the album, except I was seeing it happen—we were seeing it happen. And the performance in front of us just can't be matched. Next he followed it up with "Sanctified," only it was different, it was the Sunspots Interpolation version which had a bit more of a groove to it. The crowd sang along to this classic NIN song. Following that came the classic snare/kick opening to the song we all know (and have heard way too many times in the club), "Closer," only this was live and we could all get behind it.
Continuing a pretty amazing set, they then played the new single "Less Than," which I have to admit is a much better live song than a studio song. There's just something about the energy in the drums that makes it better when you hear Ilan Rubin perform them. That song was followed up with "Survivalism," and then "Burn" where the crowd exploded all over again into a mass of bodies jumping and flailing in time. This time I noticed some folks body surfing towards the stage. Then they played "Gave Up" and we all went crazy. They followed that up with "She's Gone Away" (which they had recently performed on an episode of Twin Peaks but otherwise never played live in front of an audience) and then "The Lovers."
At this point, the entire audience is drenched in 80% their own sweat and 20% sweat from their neighbors. I have to point out that I noticed something pretty incredible for a show in this day and age; while there were people with their phones snapping pictures or streaming live, it was less than I normally observe. I admit that I'm guilty of taking pictures or some video clips (mostly because I'm 5'4" and end up with the notorious tall guy in front of me to the point where I can't see anything), but I didn't even really want my phone out that much, because there was just so much movement happening in the audience, and mostly, everyone was just caught in the visceral, pure energy of the moment. They played "Reptile" and the entire crowd sang along.
Around this point, I've relocated back by the bar because I'm overheating and need to make sure I don't dehydrate, but even at the back of the venue, I was still closer to the band than any of the stadium/amphitheater shows I'd ever seen them at. They played the How to Destroy Angels' song "The Loop Closes" redone (covered I guess…? But is it really a cover when it's by one of your other bands?) as a Nine Inch Nails song and then rips the audience wide open with "The Great Destroyer," followed by a track off of last year's EP, Not the Actual Events, "Burning Bright (Field on Fire)." And then it came… "Wish" and I could just see the pit moving up front. Following that they performed "Head Like a Hole" and gave it everything they had.
And that's how they ended it, with such raw energy. There was no encore, but honestly no one was going to complain considering this show happened seemingly out of nowhere.
The house lights came on and we all shuffled out of the venue out into the street, still reeling in shock and glowing from the natural high of the event. I'm not sure how well to articulate the pure, intense energy that happened that night, but I could use words like refreshing, energizing, unbelievable, and just not like any concert I've ever encountered (and I'm a touring tech). Nine Inch Nails performed 20 songs in an amazing combination of new and old, in the most nostalgic feeling concert I've ever witnessed.
You may also like...