:Dark Delights: Frank Megna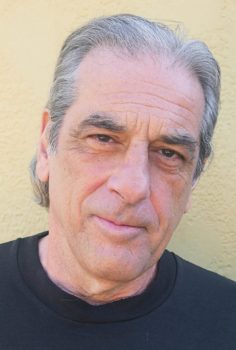 Dark Delights with Ladyaslan Presents:
Frank Megna – Director and Writer
Ladyaslan: Welcome, Mr. Megna. Thanks for joining me here on Dark Delights. What should my readers, aka "Babybats," know about you?
Frank Megna: There may be no harder question for me to answer. My life in retrospect seems like a series of accidental twists and turns. As a very young man I found my identity in a boxing gym. I learned discipline and how to face my fears. I eventually went to night school and discovered writing—my first hero was Norman Mailer who also had an affinity for the Fight Game. I stumbled into a theater class at Brooklyn College which led to HB Studio and acting. After a few years of getting nowhere I wrote a play (about boxing) and that led to a job writing for a TV series (CrimeStory) and relocation to La La Land. Not a good fit for me, but I stayed. I've been Artistic Director of the Working Stage Theater, until recently located in Hollywood, since 1992. I've always been intrigued by the connection between theater and film and admire directors like Orson Welles, Elia Kazan, and Mike Leigh who have worked in both mediums. I love working with actors on developing character and writing dramatic scenarios to bring those characters to life.
Ladyaslan: You have a new movie out, Stumble Bums, starring Tony Todd and Jack Maxwell of Travel Channel's Booze Traveler fame. What can you tell us about this film?
Frank Megna: It's about two childhood friends, a pair of losers in their 40s, who become involved in a robbery-homicide and what happens to their lives afterwards. Jack is one of the childhood friends. Tony is a homicide detective.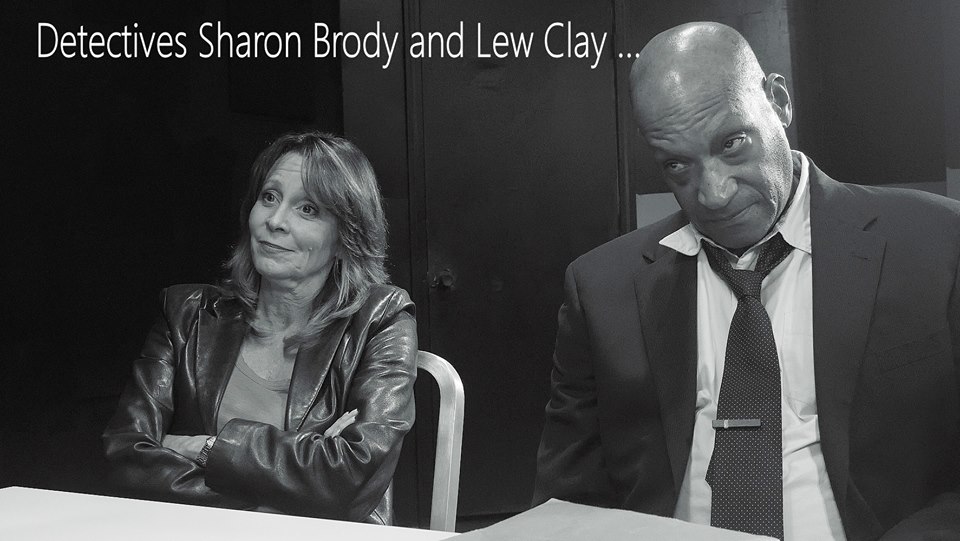 Ladyaslan to Jack Maxwell: In 2015 you were part of the film Window of Opportunity; it was a suspenseful, darkly comedic thriller about greed and the corporate world. Now in Stumble Bums, the sneak-peek shows you driving and reminiscing about childhood but in a dark atmospheric vein. Do you prefer to work in productions that are darker to offset the amazing traveling and grandiose beverages you get to sample around the world in The Booze Traveler? Is that the Ying to your Yang?
Jack Maxwell: Not necessarily, but good observation. I just try to fulfill the author's/writer's intentions through the character as honestly as I can. It is fun to play a different type once in a while for sure.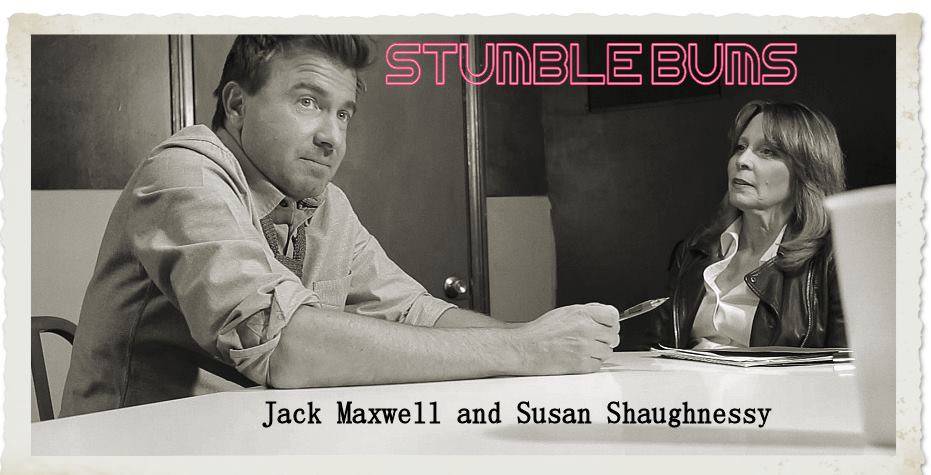 Ladyaslan: Summarize the type of movies you make in one to three sentences as if you were speaking to someone unfamiliar with your writing or movies.
Frank Megna: I'm attracted to both films and stage plays about characters in circumstances that test and expose them. Struggle is at the core of all good drama. I'm also attracted to telling stories in working class settings. That is the world I know best filled with: cops, mobsters, boxers, street punks, public defenders, average Joes, and mysterious people whose objectives aren't apparent—all in shades of gray. Good people do bad things and bad people can be heroic.
Ladyaslan: How did you team up with Tony Todd and Jack Maxwell for Stumble Bums? What do you want people to take from the movie?
Frank Megna: I've known Jack for about 10 years having met at a screenplay reading at my former theater, the Working Stage. We hit it off being trained in a similar way as actors. Jack is one of the finest actors I know. He is capable of great depth as an actor that he has not yet had the opportunity to show to a wide audience. The day is coming. When I did a series of staged readings of Steve Allen's Meeting of Minds shows, Jack alternated with Gary Cole playing the host. I also directed Jack in a production of a one-act play by Franco D'Alessandro. I wanted to develop a film project for Jack and eventually turned into Stumble Bums.
Tony was recommended by his friend Ernie Hudson when Ernie couldn't play Jack Johnson at a show in Pennsylvania because of illness. Again, we hit it off as a result of working in a similar manner. Exploring the character, the circumstances, history, and the text—exploring and improving it. Artistic collaboration is the heart of all exceptional drama. Tony is an unrecognized theater artist. It's where his true heart is. He transforms on stage into a powerful magnetic force mesmerizing the audience. As Jack Johnson he brings to life a mythic figure filled with the complexity of the beating heart. Ghost in the House should be on Broadway.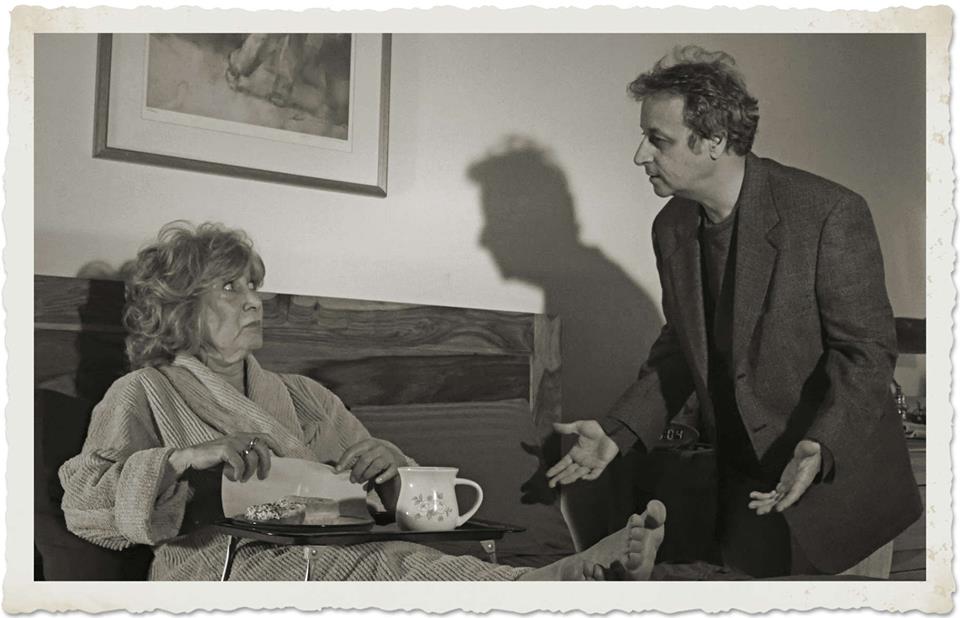 Ladyaslan: How did you team up with Ernie Hudson in writing Ghost in the House: A Meditation on the Life and Times of Jack Johnson starring Tony Todd as the infamous Boxer? (This had to be quite the undertaking; this man's story is like revolution in all he did and invented.)
Frank Megna: Ernie was one of the many well-known actors who played historical figures in our Meeting of Minds series. The premise of Allen's award winning PBS show placed important people from different eras around a table to discuss, argue, and debate their contributions to the History of Civilization. Some of the actors involved were Ed Asner, Stana Katic, Joe Mantegna, Jean Smart, and many other "name" actors. Ernie and I decided to develop a one-man show for him. The one-man show has evolved into a four-character piece with the addition of three actresses playing various women in Jack's life. Ernie and I read every book we could find, magazine story, contemporaneous newspaper article, and watched every documentary (obviously Unforgiveable Blackness among them) available. After a year or so of research we each wrote a draft from an outline. We combined, refined, and amended as we went along until reaching a crossroads after which I took over developing the multi-media show which includes live music.

Ladyaslan to Tony Todd: You are known for the horror genre like the '90s remake of Night of the Living Dead to Candyman to the Final Destination franchise (and so much more than just horror). When it came to the theatre production of Ghost in the House, can you shine a light on your theatre background for the new generation of fans who are meeting you for the first time via the stage, and what young actors should brace themselves for when trying to get in the business.
Tony Todd: Hello, Anitra (Ladyaslan). I knew in high school that I had found a friend and a muse in theater. It literally saved my life, raised an only child. Art allowed me to circumvent gang life and pitfalls of black urban experience. I received a scholarship to the prestigious, Tony award-winning Eugene O'Neil Theater Center, and was awarded a master's at Trinity Rep Conservatory, where we sharpened focus, doing theater 12 hours a day. Once in NYC, I got an equity card within two weeks.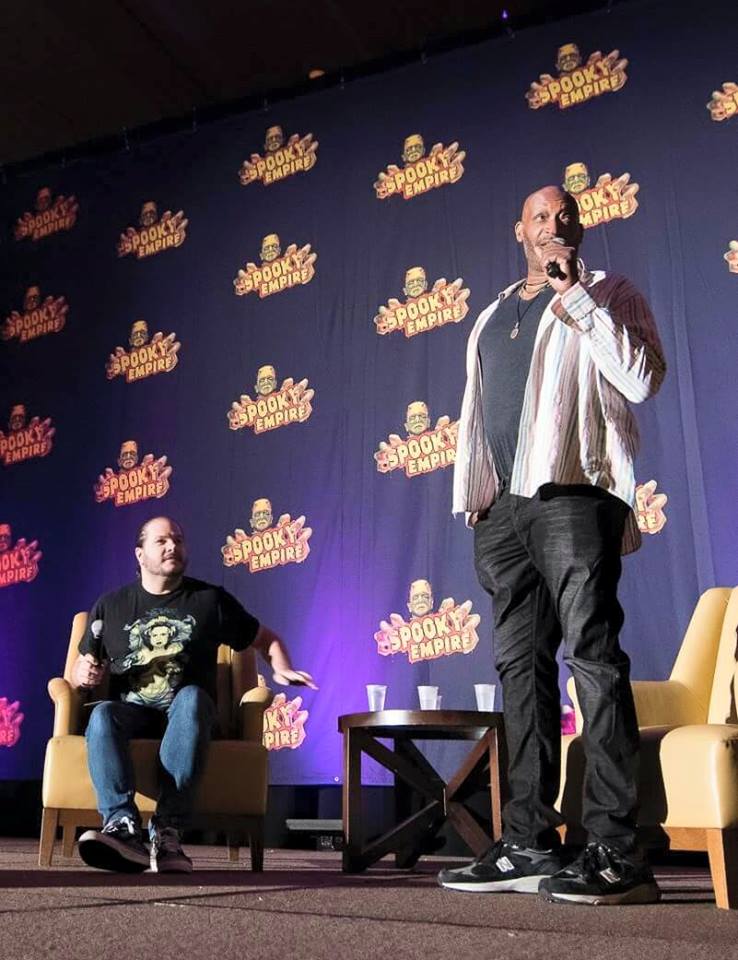 Even though I've got a decent film and TV career, I'm most complete when returning to the boards. Which to this day remains every two years. I've been blessed to be involved with several iconic film and television franchises—nothing beats the hard work and honesty of the theater. To all aspiring young artists: ego less, stage first. It will always fulfill you. Follow your heart. Peace.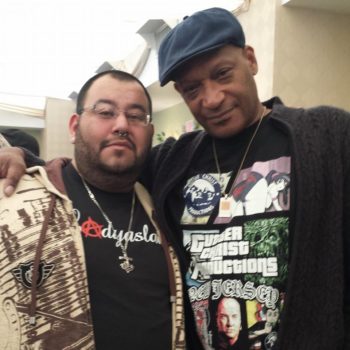 Ladyaslan: What do you prefer, stage work or film work, and why?
Frank Megna: Each medium presents a different—but related—set of problems. I am primarily an actor's director caring about realistic subjects and truthful experiences artistically transformed. I am equally interested in working in either arena although I see myself getting more involved in the cinematic side of storytelling. Theater in some ways is becoming more and more difficult to produce. There is more cliquishness among theater entities while filmmaking has become wide open because of the digital revolution
Ladyaslan: Your play, Blood Relations, is a dark comedic drama about how a modern family deals with death, birth, and an unusual demand from an estranged daughter who wants her father to be a sperm donor for her same-sex marriage. How did this come to fruition? What improvements would you like to see happen for the LGBT community in the future?
Frank Megna: I think the new title of that play will be Buddha in the Bougainvillea although this is the first time I've told anyone. The play started as part of a seminar about the intersection of Art and Commerce—in this case "Marketing." My friend, marketing professor Doc Ogden, wanted to see how a group of his students could tackle creating an ad campaign for a new play by working with its creators. I don't remember exactly how the sperm donor idea came to me except I wanted a situation that placed a father and daughter into a modern dilemma about maintaining, evolving, and preserving the family. For the seminar I had only written the first act—the students came up with the title Related Bi Blood and created a social media campaign. I brought along two professional actors and we cast students in the remaining roles. It was a staged reading and yet the 300 seat theater was sold out and a lively, enthusiastic Q & A afterward led to my eventually finishing a full-length version. I want the same rights for the LGBT community as I believe everyone is entitled to. Without exception.
Ladyaslan: In Dan Lauria's black comedy Dinner with the Boys for both The New Jersey Repertory Company (2014) and the Off-Broadway premier (2015), The New York Times called it "a friendly, big lug of a play." Broadway Select said it's "a rare comedy…gets as much laughter as immediate appreciative applause." The Hollywood Reporter stated, "this Mafia-themed comedy plays like a gangster variation on Arsenic and Old Lace with a touch of Sweeney Todd flavoring." What approach did you take in directing this play?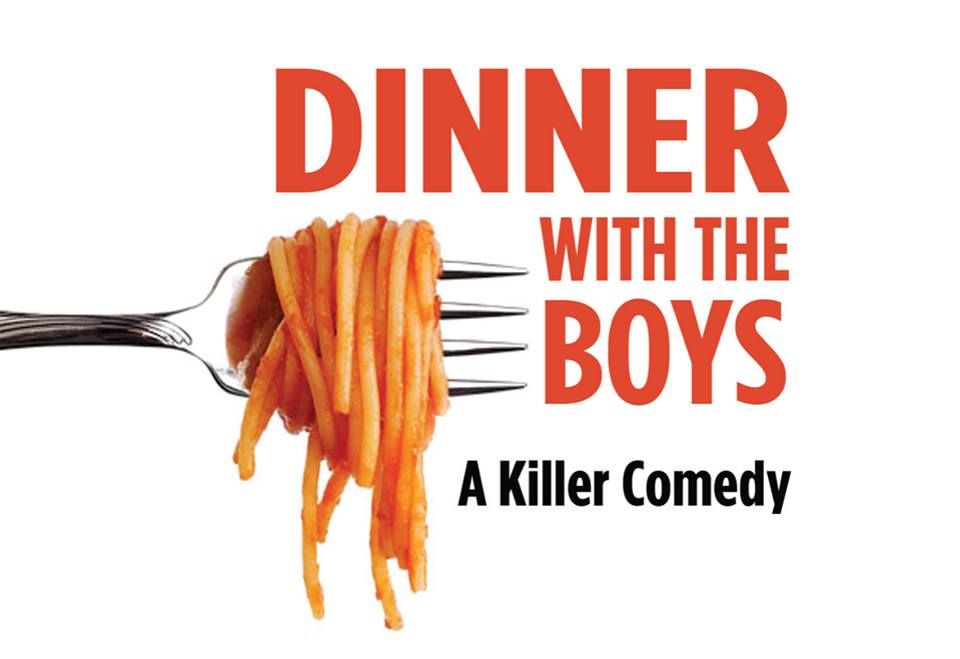 Frank Megna: It's a show about people I know played by people I know. It's a show also about Italian cooking, albeit using murderous ingredients. Dan Lauria is one of my oldest and closest friends. I was humbled that he entrusted me with his work—his baby really—that was originally written for his mentors Charlie Durning, Peter Falk, and Jack Klugman. It was great getting back East too.
Ladyaslan to Dan Lauria: I would like to first thank you for serving the United States in the Marine Corp; my uncle is also a veteran. You definitely have my respect. My family donates regularly to non-profit Veterans organizations in Central Florida. My question is about your black comedy Dinner with the Boys. What inspired you to write this play and how did you come to work with Frank Megna as the director? Did you ever have a different cast in mind?
Dan Lauria: Thank you for including me. I met Frank in 1978. It was written for Peter Falk, Dom DeLuise, Charles Durning, and Jack Klugman. Semper Fi to your uncle.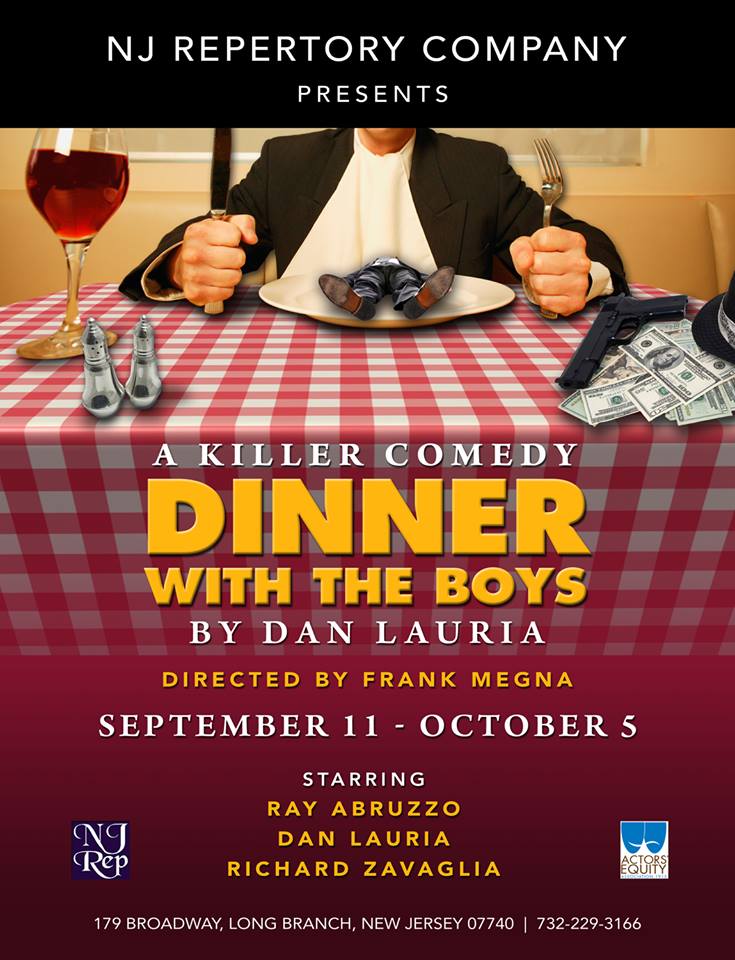 Ladyaslan: One of my favourite shows in the '80s was Crime Story, especially the theme song, Del Shannon's "Runaway" (one of my favourite songs). The series ended with an unresolved cliffhanger…did you have anything to do with that ending? [Raises eyebrow with a giggle.] Crime Story and Miami Vice (1984) were produced by Michael Mann; both series shared the same technical advisers, directors, and crew members. Did you ever work with anyone from Miami Vice and what did you think of the show?
Frank Megna: I worked on the last two episodes of the first season only. I was a complete novice and had no understanding of the proper etiquette for a writer. I was a bit arrogant coming from the streets and ruffled a few feathers among the Hollywood writing staff. My friend Tony Denison (Luca on the show) opened the door for me having showed the producers something I wrote. Chuck Adamson was the co-Creator and Supervising Producer of the show—which was based on his experiences. Chuck—as was Denis Farina—is a retired Chicago cop. We hit it off and became writing partners for a time. I loved Crime Story's first season the best. Miami Vice was ground breaking and Michael Mann is the most talented writer/director I have ever worked for.
Ladyaslan: What are the three words that best describe you?
Frank Megna: Working class, creative, and empathetic.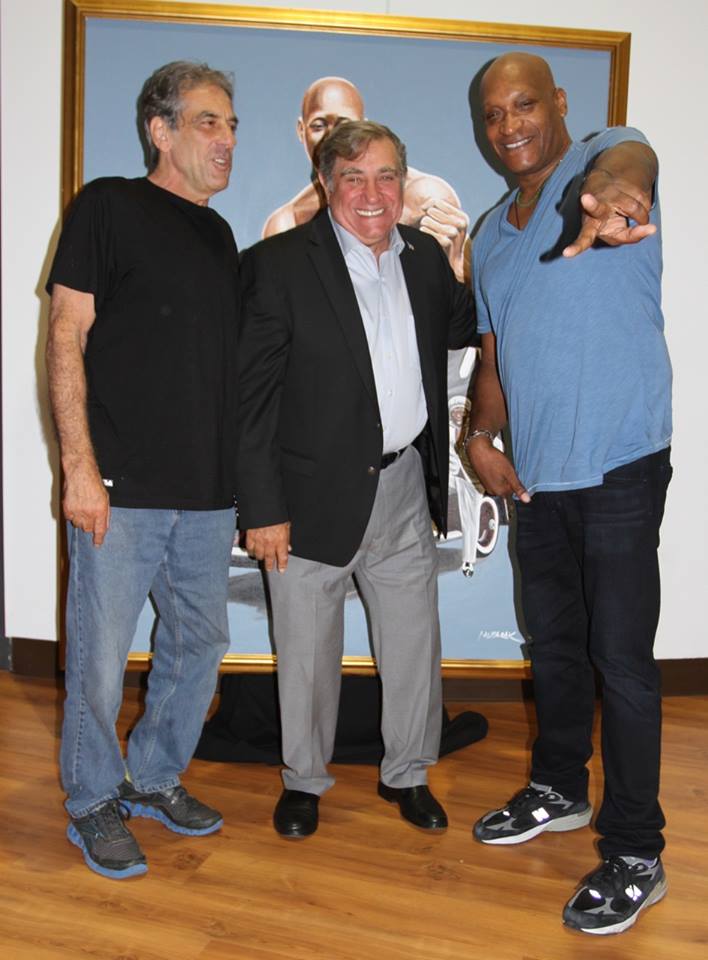 Ladyaslan: If you were given $1,000,000 to donate to the charity of your choice, which one would you choose?
Frank Megna: That's an impossible choice to make. Put a gun to my head. St. Jude's with a little left over for animal rescue.
Ladyaslan: That is amazing. I give to St. Jude's as well and Wolf Haven.
I love music, and I'm always interested in the musical tastes of my friends. Tell me your five favorite songs.
Frank Megna: Impossible to answer because it keeps changing. Almost anything by John Lennon, The Beatles, Neil Young, Bob Dylan, and lots of other artists. The soundtrack for Stumble Bums uses '50s and early '60s music.
Ladyaslan: If you were interviewing me, what's the first question you'd ask?
Frank Megna: What made you want to write and to stand out from the crowd?
Ladyaslan: Very good question!! I use to hate writing in school and it was in middle school that the class was given spelling art where you drew a picture and then wrote your spelling words around it. My pictures were always drawings out of Mad Magazine (aged myself a tad ha-ha-ha!). My teacher Mr. Allman (bless him) took me aside and laughed with me because he liked the magazine too and suggested I write something as crazy as the parodies in Mad Magazine. I ended up writing about a dream I had. I have always had vivid and colourful dreams. When Mr. Allman read what I wrote he said I needed to be a free writer and not told of a topic to write about because the little anarchy I had in my soul fought against anyone telling me "what to do or write" (I know, a rebel right ha-ha)! Mr. Allman made sure to tell all my teachers from middle school to high school to let me create my own writing assignments and they did.
In high school I wrote "The Four Tripping Friends," a demented nursery rhyme, which ended up in my second book—of course I edited it just a bit, but yeah, it's there in all natural form. As for standing out [laughs], I am too short to stand out. I need a creative outlet. I am an empath and sometimes I have to release words or colours just because someone I know is having a harder time than they are saying. I am also a confessional poet so sometimes I write what has happened to me, it's not always happening THAT day, but at some point my prose have happened.
Last but NOT least, where can my readers/#Babybats get more information on you (websites/social media)?
Frank Megna: For now, until we set up something for Stumble Bums:
www.ghostinthehouse.org and www.workingstage.com
**About Ladyaslan: She is a published Gothic poet and horror erotica novelist. Ladyaslan's second book is available on Amazon.com, Barnes and Noble, and other established book retailers internationally. Check out Lipstick & Absinthe and her other books at the link below.
Official Website: http://www.lipstickandabsinthe.com/
Tags Anitra DeLorenzoDan LauriaDark DelightsFrank MegnaJack MaxwellLadyaslanTony Todd
You may also like...