:Festival Review: MX1: Men of the Machine – July 8, 2017 – Toronto, ON, Canada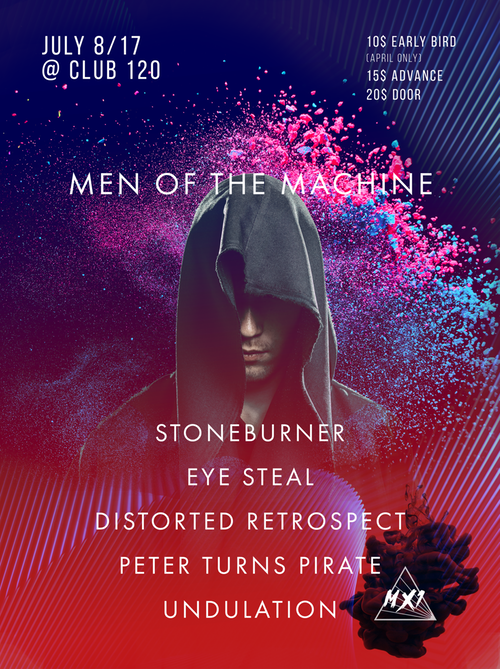 MX1: Men of the Machine
Stoneburner, Eye Steal, Distorted Retrospect, Peter Turns Pirate, Undulation
Date: July 8, 2017
Venue: Cherry Cola's Rock and Rollah Cabaret & Lounge,
Location: Toronto, ON, Canada
Review by Danesha Artis
Photography by Jill Grant © Take It For Granted
Innovation and ingenuity are considered bywords of the dark electronic scene, and I was lucky enough to witness it in the form of MX1 festival. A one day festival celebrating one man groups, so to speak. The one I was able to attend celebrated the men behind the synths and drum machines. There was one with the ladies that I am still kicking myself for missing prior to this. Barring that faux pas on my part, I eagerly made my way to Toronto to enjoy some amazing music by some talented gentlemen.
The event was held at a previously unknown to me venue called Cherry Cola's Rock and Rollah Cabaret & Lounge; a spacious venue with an intimate stage setup. First up was Undulation, a new face on the scene. His ethereal and experimental jams were a great way to kick off the night.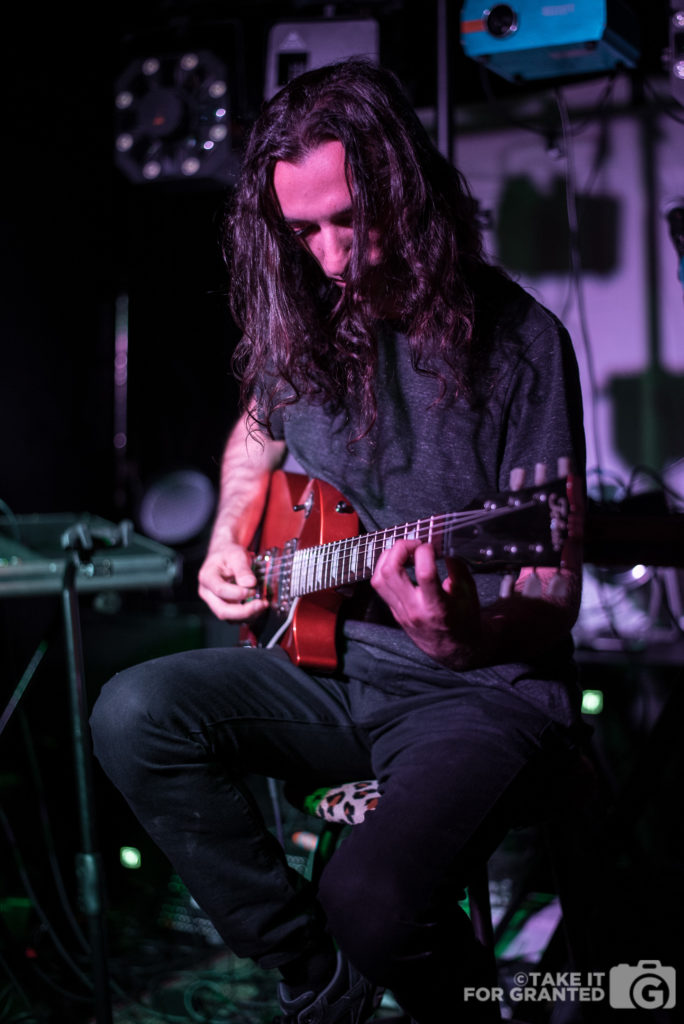 Next up was an act I was very familiar with; Peter Turns Pirate. I first saw him perform at Aftermath in 2015 and I remember him impressing me fully. And with this go around, I can safely say that he has continued to impress. His performance is high energy, and he goes out of his way to engage with the audience. His music coupled with his stage presence is certainly something no one should miss. Although I'm sure his gear would have liked to have missed this entirely; his lightbox met its demise on stage. As an audience, we considered that a worthy sacrifice after a performance like that.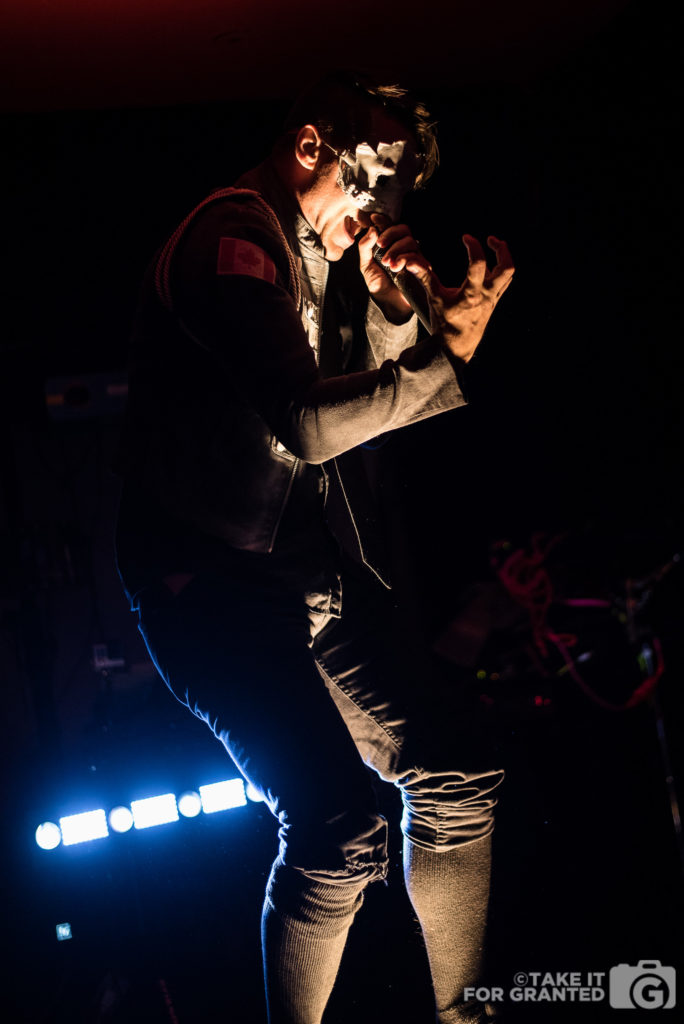 After his set was the new project, Distorted Retrospect. I've listened to his first EP, Fragment 1, and it definitely caught my attention. I was curious to see how the live show would shake out. I honestly have to say, hearing it live was fantastic. His project has hints of dark synthpop and light tones of futurepop here and there. Distorted Retrospect's set got a lot of people getting down in front of the stage. If possible, this is another act you should definitely catch if he comes to town. I have a feeling he will continue to blossom as an artist.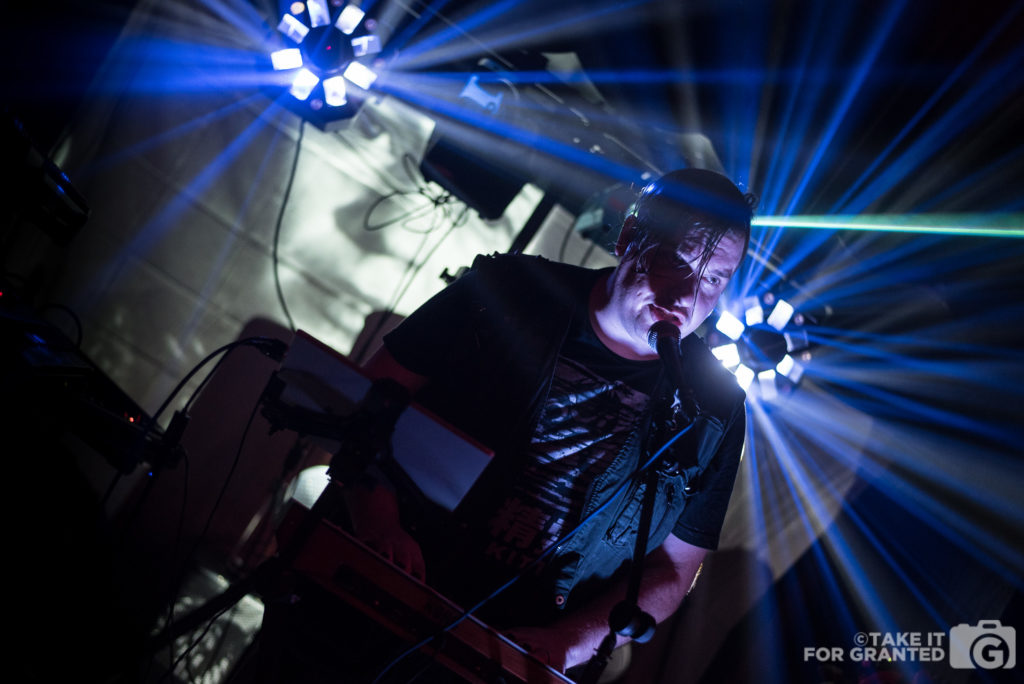 Up next was another band I didn't know much about; Eye Steal. Comprised of Remi and Dani Blood, it felt like a small study in being uncomfortable aurally. I realize that is an odd turn of phrase, but it's the type of uncomfortable that you are fine with and wouldn't mind seeing where this ends. They are a band that I would not mind seeing again.
Last band of the night: Stoneburner. I was lucky enough to see Stoneburner firsthand at the Aftermath festival. It's almost funny that it took me seeing two (actually three) Aftermath alums just by going back to Canada. Leaving that aside, Steven Archer of Ego Likeness hit the ground running with his set. I was pretty much floored. Was this the same man I witnessed at Club Phoenix a few years ago? Yes and no. His music still hits like a freight train, but it was taken to another level with live vocals along with his tracks. It comes off as far more visceral and just scratches that reactive part of your brain that just screams for your body to move in time.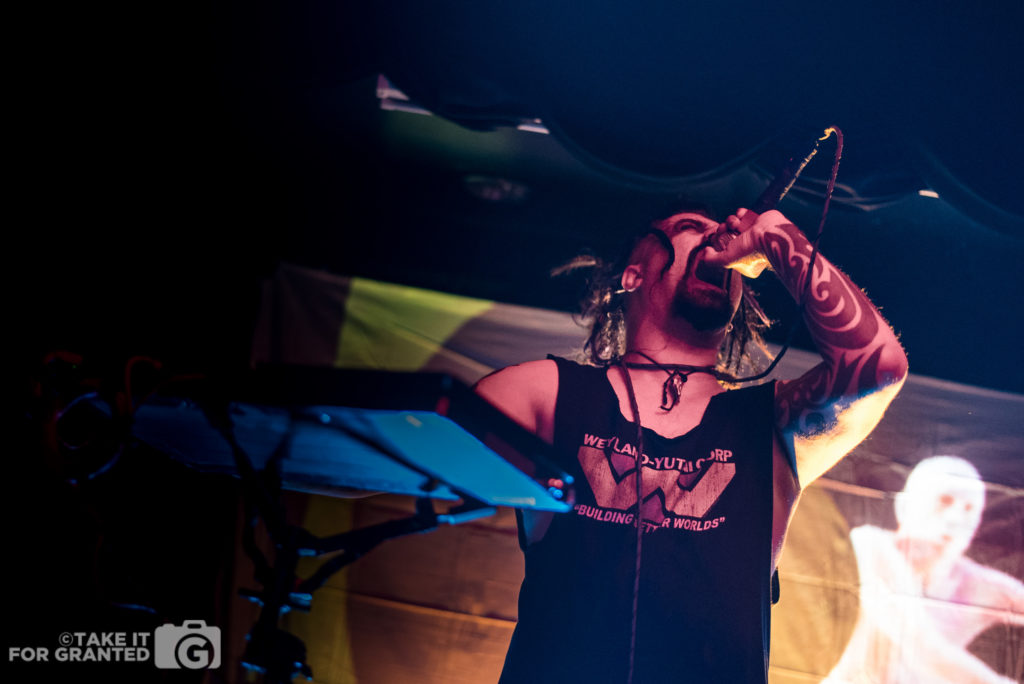 Dentata Music and Batty von Bats deserve a huge hand for putting on this celebration of solo musicians. This showcase was and is a lovely idea, and I truly hope it can continue in the future. Although, I have heard whisperings already that it will continue next year. Just be ready for the date to drop. I'm confident it will be a hell of a time.
Tags Batty von BatsDanesha ArtisDentata MusicDistorted RetrospectEye StealMX1: Men of the MachinePeter Turns PirateSteven ArcherStoneburnerUndulation
You may also like...