:NEWS: Warden and Sisterwife Bring on the Nightmares with "Carpe The DMs"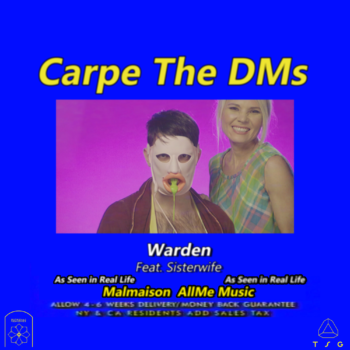 Take gritty, glitchy techno paired with breathless, vacuous vocals and set them to the nightmare world of twilight infomercials, and what you end up with is the horrifying experience that is Warden and Sisterwife's "Carpe The DMs"! Not to say we're not enjoying either the discordency of the track or the over the top bizarreness of the video, but this is definitely one of the stranger releases to come across our screens.
"'Carpe The DMs' was an interesting and confrontational concept I came up with with Sisterwife. The idea behind the song was to highlight the frivolousness of stereotypical party people you meet. The video addresses how easily it is to be influenced and sold useless things that are supposed to make you, 'feel and look better and improve the value of your life!' I end up in an infomercial nightmare where Sisterwife is trying to either sell me these products or kill me." – Warden

"The lyrics to 'Carpe the DMs' are based on real life events pulled from drunk texts, and witnessing a girl outside the club. We tracked the vox in Warden's closet…In 2017 social media ad targeting at times feels like a nightmare. You say "I want french fries" to your friend, open your phone, there's an ad for french fries in your face. Also the accessibility people have to just contact anyone at any time of the day can be relentless and exhausting. We wanted to convey that feeling with the video in a different context. Hope you ENJOY! 'CARPE THE DMs;' — NOW!! … or else…" – Sisterwife
Click HERE to Download "Carpe The DM's on iTunes
Connect with Warden:
You may also like...