:MUSIC REVIEW: Metallica — Hardwired. . . to Self-Destruct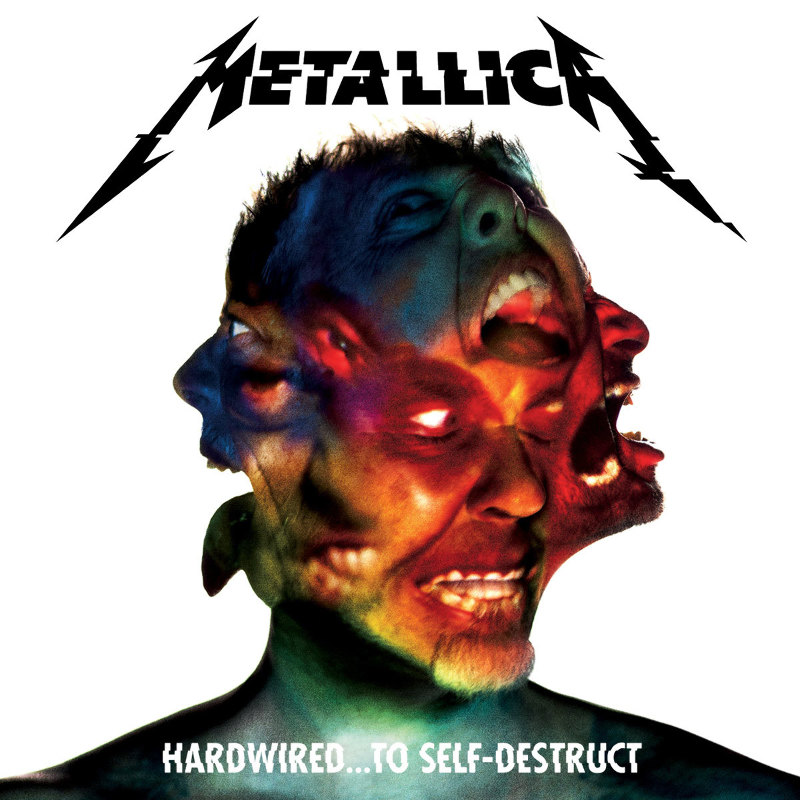 Metallica — Hardwired. . . to Self-Destruct
Release Date: November 18, 2016
Label: Blackened Recordings
Websites: Official │Facebook │Twitter │SoundCloud │Tumblr
Review by William Nesbitt
Professor of English
Beacon College, http://www.beaconcollege.edu
If you've been following a band for decades, you notice that the work may begin to slip. Bands lose their edge, they lose their main songwriter, they lose their voice, they get rich, they get tired, they get on substances, they get off substances (sometimes necessary for the musician, but often a bad move for the music), they take on other responsibilities and priorities, they go crazy, they get therapy, they implode, they become bored and boring. In short, for one reason or another, they start to suck. But you always hang onto the hope that they have one more good release left in them. Just one more. It doesn't have to be classic, just a consistently good album that ranks somewhere under the classics but above the dregs.
Hardwired. . . to Self-Destruct (2016) is just such an example. It's not perfect, but it's good enough. Not quite a direct hit on the bullseye, it hits the target squarely nonetheless. It is a double album, which is unnecessary since both parts could fit on a single CD, and, like most double albums, not every track is essential. The production may be Metallica's best yet. "Best" doesn't necessarily mean sonically clearest or perfect—that distinction belongs to Metallica, The Black Album. Hardwired combines the clarity of The Black Album with the live, energetic sound of Justice and earlier albums. You can hear the bass, and drums sound like drums instead of cardboard boxes as they do on some of the early albums (we now think of their production as inseparable from the songs themselves, but the fact of the matter is that the production is questionable).
"Hardwired," the opening track, begins with a thrashy gallop and guitar lines that sound like strafing runs. The chorus is quick, concise, and powerful. The band throws in enough changes to keep it interesting, although the songs are not as progressive as those of . . . And Justice for All, some of which contain enough parts and changes to create the entire first side of an album. "Atlas, Rise!" continues the onslaught. Sounding like it could have been on Metallica, "Now That We're Dead" eases the ferocity, lowers the tempos, and Hetfield sings more. Still, it works. When the album fires on all cylinders, these are the two records it recalls. When it doesn't, as in the case of "Dream No More" and "Halo on Fire," we get mid-tempo songs typical of Load and Reload in which Hetfield reaches beyond the capabilities of his voice. JUST YELL ALREADY! And the lyrics can be hit or miss. Passages such as "Prayers cannot get through / Return to sender / Unto which of you / Shall I surrender" sound clunky and amateur. Also, the band continues the irritating habit of inverting subject and object (i.e., Yoda speak). For example, "fast, is desire." On the other hand, lyrics are secondary to the music and I don't listen to Metallica for the poetry any more than I read Walt Whitman for the guitars.
Disc two opens with "Confusion" which features some good riffs, but Hetfield's singing. "Man UNkind" sounds like another Load / Reload track. The band is kind enough to capitalize the n in UNkind to make sure you get the ba(n)d pun. It's okay, but not as strong a start as the first disc. "Here Comes Revenge," "Am I Savage?," and "Murder One" complete the five tracks. They are not remarkable, but they aren't bad. Album closer "Spit Out The Bone" is the track that's making everyone lose their stuff. It's fast, heavy, brutal, the clear standout of disc two, and a lot of people's favorite track from Hardwired. Curiously, so far the band aren't playing it live yet. Describing it as the "Mount Everest of the new album," Hammett explains that they have to work up to being able to play it live. It's tantalizing to wonder and hope that "Spit Out The Bone" might be the direction the next album moves in—a full-on thrash and progressive record. If not, many of the other Hardwired tracks are heavy enough to tentatively forecast some amount of dark clouds, thick skies, heavy rainfall, thunder, and lighting for the next album.
Metallica have been moving toward this sound for several albums and there may be another reason why Hardwired sounds like it does. Supposedly Kirk Hammett lost his phone in an airport in 2014 and this is meant to explain why he has no songwriting credits and less involvement on the album. Hetfield suggested in interviews that Hammett had life factors that occupied him, though he hasn't been specific about what those life circumstances might be. One even wonders if James Hetfield and Lars Ulrich, for whatever reason, deliberately excluded him or if something else was going on. Robert Trujillo recruited in 2003 might just read the currents, go with the flow, and align himself with whatever the majority will seems to desire. Whatever the reason if this album is the result of his absence, perhaps Hammett's minimal involvement was for the best. On the other hand, if Hammett's vision of the album fits with the rest of the band's, one wonders, maybe even salivates at the thought of, how much better the album could have been with his full input.
The deluxe edition includes a third CD of covers, the orphaned "Lords of Summer," a live version of "Hardwired," and 2016 live recordings of songs from Kill 'Em All and Ride the Lightning. These tracks will be preferable to most fans than the riff origins CD that was originally the planned third CD. It may not be essential listening but it's good. Considering how long it may be until we get new Metallica music, you might as well pick it up with the other two.
Well done—or at least done well enough—and now the world waits again . . .
Track Listing
Disc One
01. Hardwired
02. Atlas, Rise!
03. Now That We're Dead
04. Moth Into Flame
05. Dream No More
06. Halo On Fire
Disc Two
01. Confusion
02. ManUNkind
03. Here Comes Revenge
04. Am I Savage?
05. Murder One
06. Spit Out The Bone
Disc Three Deluxe Edition
01. Lords of Summer (2016)
02. Ronnie Rising Medley ("A Light in the Black" / "Tarot Woman" / "Stargazer" / "Kill the King")" (medley of Rainbow covers)
03. When a Blind Man Cries (Deep Purple cover)
04. Remember Tomorrow (Iron Maiden cover)
05. Helpless (Diamond Head cover Live at Rasputin Music)
06. Hit the Lights (Live at Rasputin Music)
07. The Four Horsemen (Live at Rasputin Music)
08. Ride the Lightning (Live at Rasputin Music)
09. Fade to Black (Live at Rasputin Music)
10. Jump in the Fire (Live at Rasputin Music)
11. For Whom the Bell Tolls (Live at Rasputin Music)
12. Creeping Death (Live at Rasputin Music)
13. Metal Militia (Live at Rasputin Music)
14. Hardwired (Live in Minneapolis)
You may also like...