:Dark Delights: Tracey Birdsall
Dark Delights with Ladyaslan Presents:
Tracey Birdsall
Ladyaslan: Welcome to Dark Delights, Tracey, and thank you for taking the time out of your busy schedule to chat with me and your adoring #Babybat fans! Update us on what is going on in your world.
Tracey Birdsall: It's been a very busy week! Rogue Warrior: Robot Fighter had its Opening Night on Friday night, and we've been slammed with press ever since. It's also exclusively released through Walmart starting today—so it's been very exciting! I love opening nights, and I love the press and friends who show up and support the project. It's really quite a treat after working so hard on a project.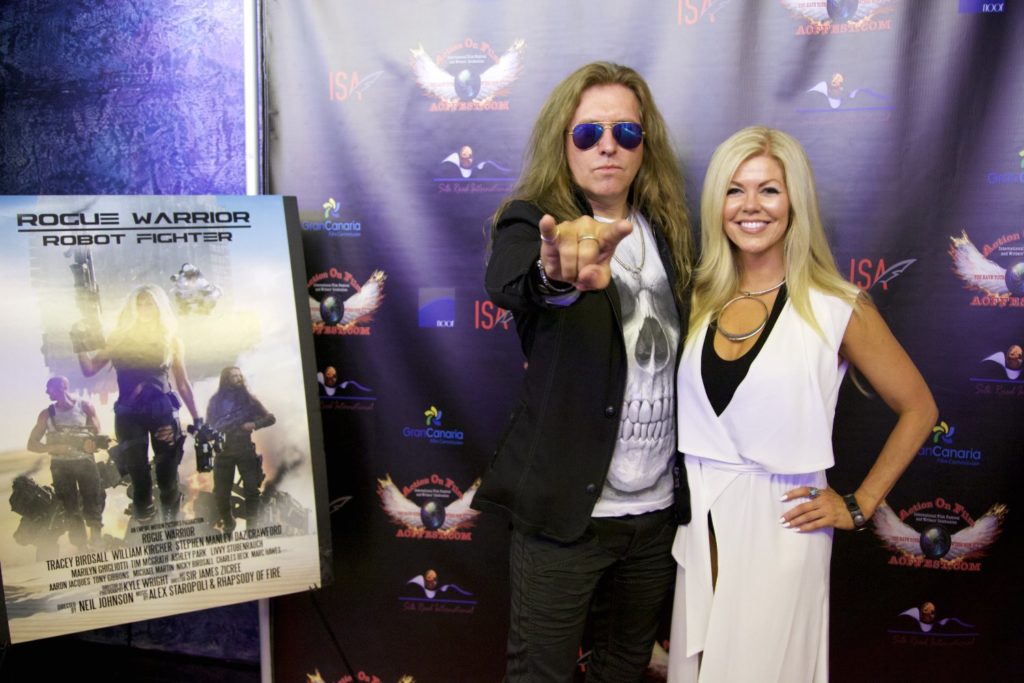 Ladyaslan: What inspired you to become an entertainer—especially in the horror/sci-fi genre?
Tracey Birdsall: I loved to perform and create characters as far back as I can remember, so there is no remarkable beginning—just a ton of hard work and training. I'm fortunate enough to be able to work amongst all the genres; they're like different flavors you get to indulge in. They all have their appeal, and I do believe that to be taken seriously as an actor you have to be trained in everything to stay relevant.
Ladyaslan: How did you come to be in Rogue Warrior: Robot Fighter playing Sienna?
Tracey Birdsall: I had worked with director Neil Johnson before, fortunate enough to have him ask me to voice a couple of projects he had in post-production. As a sci-fi junkie, it was an honor. As he saw my work ethic and awards I was receiving for other films I was leading and he suggested we work on a project together. We chose a project that was very appealing to us both from our different perspectives, and Rogue Warrior was born. It went through several re-writes and direction changes through casting and pre-production—and then we brought it to life.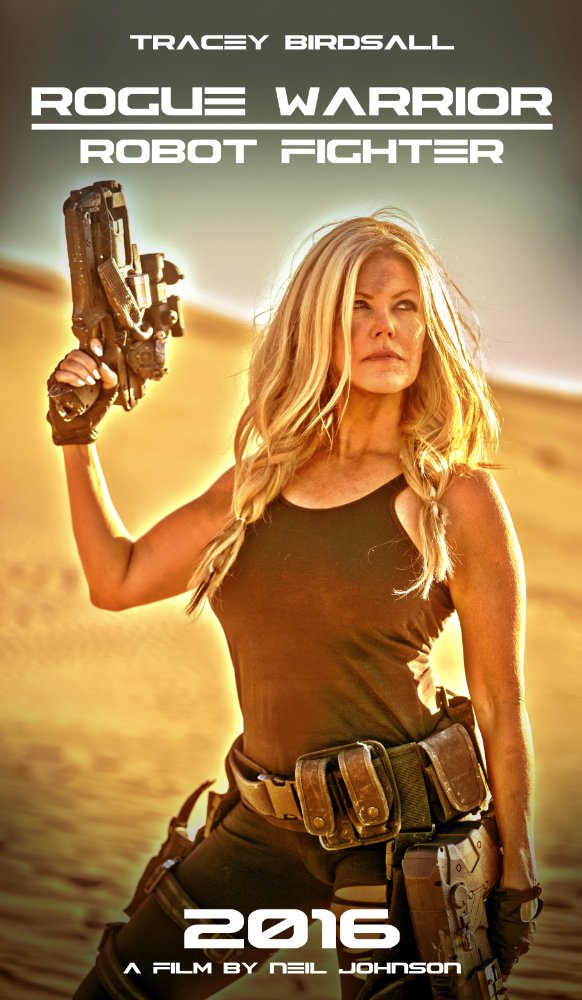 Ladyaslan: How did you get involved with the eighties show Family Ties (1982)? What was it like to be on set with Michael J. Fox? You also appeared on such series as Loving (1983), Hearts Are Wild (1992), and on dozens of television commercials beginning with Sunkist Soda, and including Maxwell House Coffee, Beno's Clothing, Coors Beer, and in the renowned oversized electronic billboard commercial at the Maxim Hotel in Las Vegas for over 15 years. You also graced the billboard at the famed Macy's Herald Square twice over the last five years. How did you prepare for all this?
Tracey Birdsall: Throughout my career, there are choices that you make given the options on the table. All I ever wanted to do was to act. Unfortunately, I also had to pay the bills—including training. Opportunities came up over my lifetime that oftentimes I seized because of the pay; that's where commercials and print work came in. It's not glamorous at all, it was work to me. Family Ties was my first network booking from the traditional casting call system. The set was all very kind and welcoming. All and all, a very good "first."
Ladyaslan: In 2014, you were named honorary Maverick Award Winner at the esteemed Action on Film Festival, and in 2015 the honorary Trailblazer Award at the Temecula Independent Film Festival for your contributions to the entertainment industry. How did that make you feel? Did you know you were nominated?
Tracey Birdsall: I believe that I was selected based upon my tireless efforts to continue to perform and create at my utmost level. I'm not sure if it was nomination based, or just chosen—I never thought of asking! I put ridiculous amounts of effort into everything that I do by choice. Being recognized for that was wonderful, but that's not why we do it. I put the meticulous preparation hours in because it's rewarding to me to bring these characters to life. That's what keeps me working…it's all about work ethic and not looking over your shoulder at what anyone else is doing. I'm never done preparing until the cameras roll….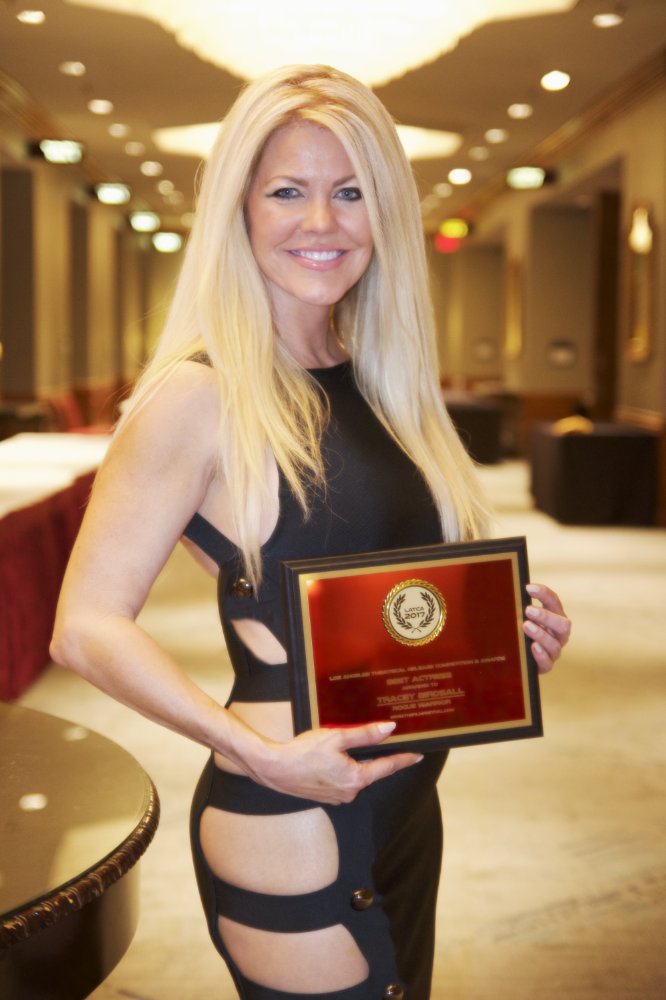 Ladyaslan: What was it like to work on/with The Prophet's Game (2000) (starring Dennis Hopper—Bless May he Rest in Peace) and Casino (1992) (starring your good friend Sammy Jackson—Bless May he Rest in Peace)?
Tracey Birdsall: I just hate that these two men have passed, to begin with. I feel like so many people have died over the years and it's such a loss for all of us. I always try and take something away from the experience when I work with great actors. I don't always realize what it is until I do something on a project—and take a tool out of my hat from something I learned from watching other great actors. It's a constant learning process until you die. I'm very fortunate to have worked with both of these men, and countless others.
Ladyaslan: What are three words that best describe you?
Tracey Birdsall: Perfectionistic, diligent, and enthusiastic
Ladyaslan: What movies/projects do you have in the pipeline for your fans to be on the lookout for?
Tracey Birdsall: It's going to be a good year for releases! Rogue Warrior: Robot Fighter was just released this week in the U.S., Who's Jenna…? (comedy) is set to release very soon, a conversational show called Spending Time With… Tracey Birdsall is releasing within the next couple of weeks, and The Time War—a time travel film—should be finished in approximately four months!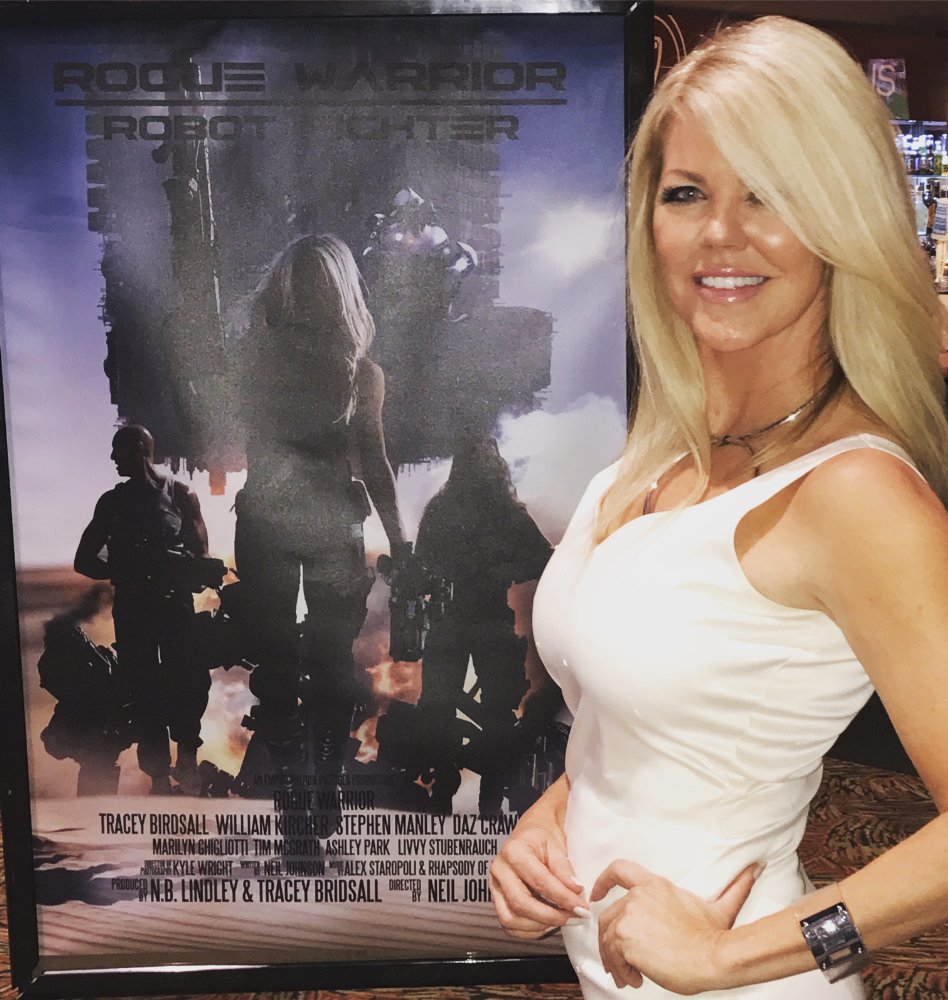 Ladyaslan: What is your opinion on horror conventions? Would you ever consider coming down south to do Spooky Empire (it's one of the biggest below the Bible belt—so "THEY" claim [evil wink])?
Tracey Birdsall: I love horror and comic conventions! If I'm not shooting, I would love to come see "one of the biggest!" 😉
Ladyaslan: How did you learn about acting (i.e. personal experience, education, etc.)?
Tracey Birdsall: Tireless efforts. I trained in many different approaches to the craft throughout the years—I believe in constant training. At different points in my career I would have claimed to be utilizing the Alexander Technique or Method acting—I was always studying something. After working with Margie Haber in Los Angeles, however, I prefer to now create a character and live their life. That said, I'm certain all of those years of underlying training are part of the whole.
Ladyaslan: What advice would you give people just starting out or people that are doing the indie shoots that are not associated with SAG?
Tracey Birdsall: It's really all about purpose. If your purpose is to learn the craft, study the craft, work harder than anyone else…then put in the tireless hours, train, train, and train, and work harder than everyone around you. Go to auditions and prepare for them like shooting days. If there's anything else you would like to do—do that—it's easier. If you do get your work seen and continue to climb up the ladder, keep your ego in check. When someone is praising you, they are praising that which you created, not you as a human. This is not a glamorous profession; it's hard work. I've seen ego kill many a good actor (rhetorically speaking of course.) Don't worry about the union. The union is a result of working union projects, not a tool or a badge of any success. Anyone can get in the union these days, so it's not a defining stamp of talent.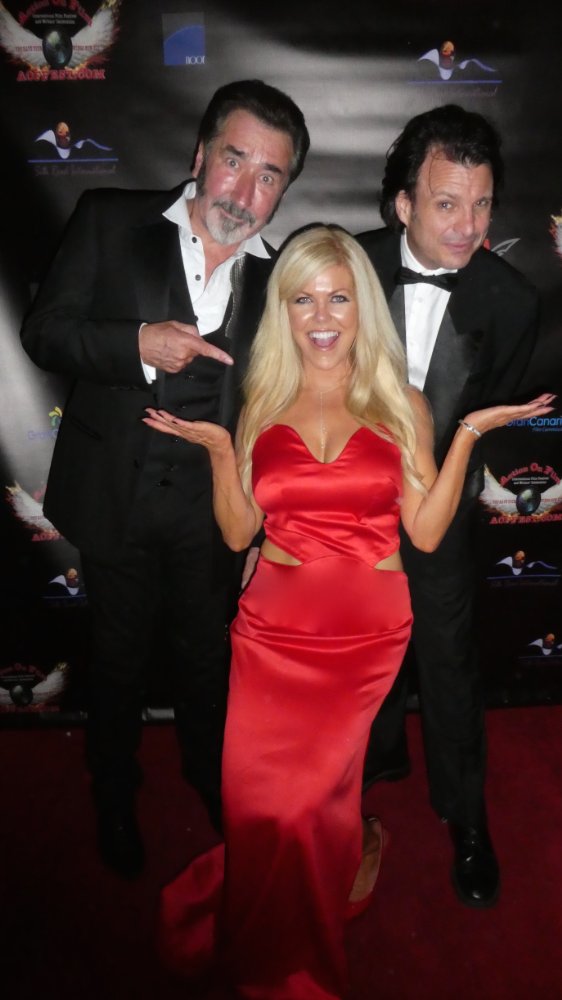 Ladyaslan: What other creative endeavors do you enjoy?
Tracey Birdsall: I always have something I'm focused on between jobs, and it's usually a business idea or project. I used to love flipping houses when that was a good financial move. These days, I'm more focused on products and formulations. I recently launched what I like to call "the perfect lip-gloss" as I'm fanatical about a good gloss that plumps the lips and feels amazing. It's available online at www.ManGloss.com, and also on Amazon. Currently, I'm working on formulating a hair care product line which makes the hair feel amazing without dangerous chemicals and Keratin treatments…. It's still a work in progress, but I truly enjoy the process.
Ladyaslan: What is the last concert you attended? Did you enjoy it?
Tracey Birdsall: Pat Benatar at a small hole in the wall club near my home. I wish I could say Rhapsody Of Fire (one of the main band members, Alex Staropoli, composed the music for Rogue Warrior: Robot Fighter and I've always wanted to see them in concert!). Of course! I enjoy everything I attend.
Ladyaslan: Finish this sentence: In my next life, I'm coming back as a _____________________.
Tracey Birdsall: Dolphin
Ladyaslan: Do you have an existing website or blog or any links you would like the fans to check out? If so, please provide.
Tracey Birdsall: See Below:
Official Website │IMDb │WhoSay │Twitter │Facebook │Instagram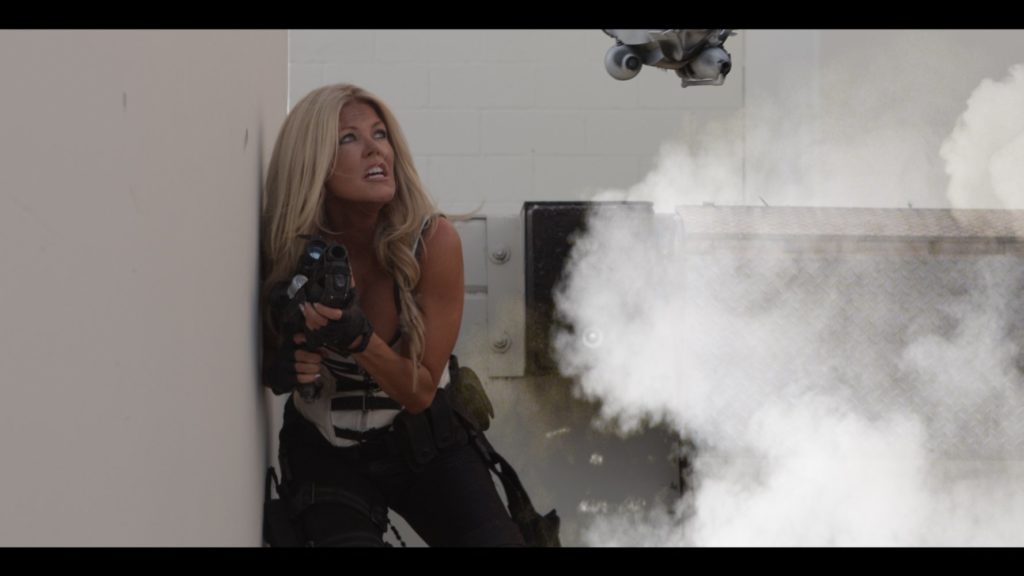 **About Ladyaslan: She is a published Gothic poet and horror erotica novelist. Ladyaslan's second book is available on Amazon.com, Barnes and Noble, and other established book retailers internationally. Check out Lipstick & Absinthe and her other books at the link below:
Official Website: http://www.lipstickandabsinthe.com/
Tags Anitra DeLorenzoDark DelightsLadyaslanNeil JohnsonRogue Warrior: Robot FighterTracey Birdsall
You may also like...