:CONCERT REVIEW: NIGHT RIOTS – ZOMBIES IN AMERICA TOUR – APRIL 21, 2017 – ORLANDO, FLORIDA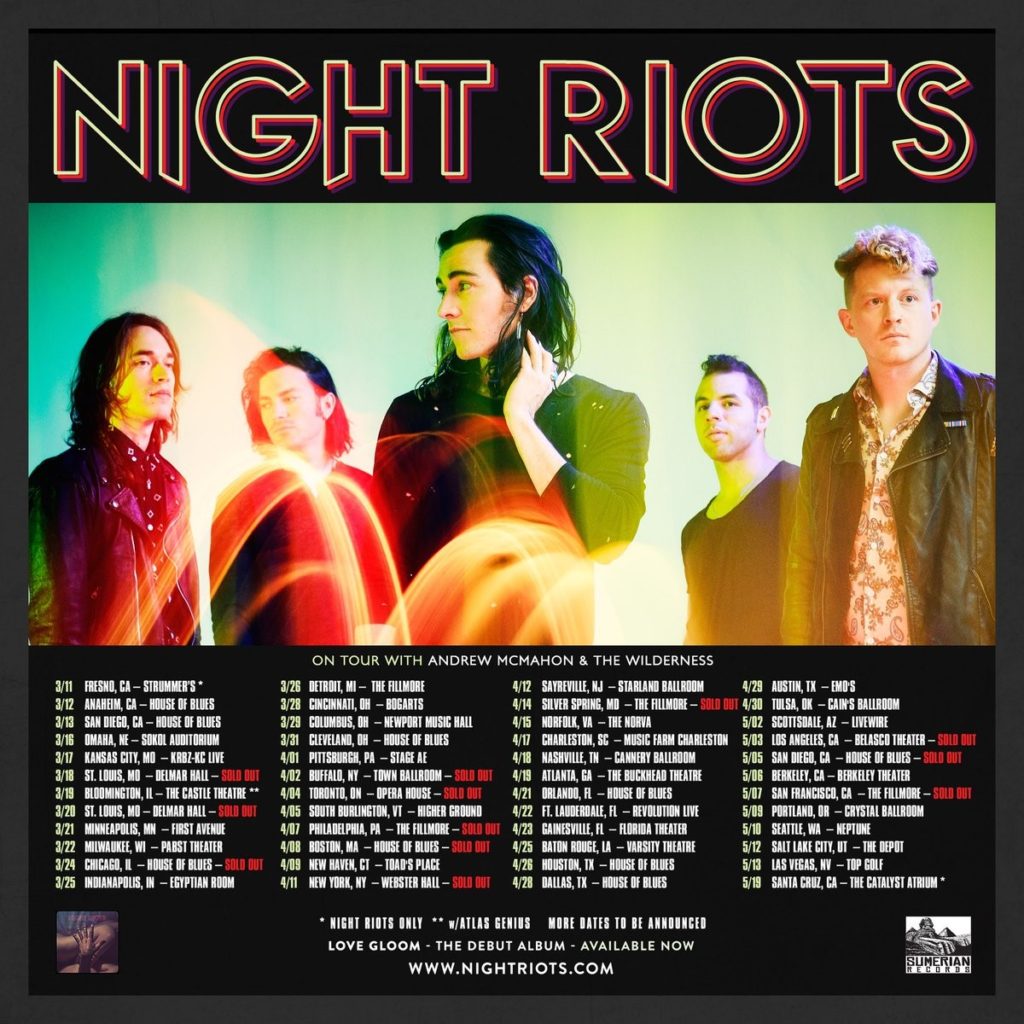 Night Riots
Concert Date: April 21, 2017
Venue: House of Blues
Location: Orlando, FL
Review by William Nesbitt
Professor of English
Beacon College, http://www.beaconcollege.edu
The House of Blues at Disney Springs sits directly in the nerve center of Mouse Country. Disney Springs can be a fun place to walk around and people watch as long as you understand it offers wine but no water, sugar but no bread, surface but no depth. Umberto Eco and Jean Baudrillard both use Disney as an example of hyperreality in which there is no clear distinction between what is real and what is not real. With so much consumerism, artificiality, plasticity, and superficiality around it's a somewhat unlikely location for a venue hosting artists with something authentic to express.
Tonight's show features headliner Andrew McMahon in the Wilderness, Atlas Genius, and Night Riots. We're here for Night Riots. The band plays a tight, energetic set of thirty minutes of seven songs beginning with "All For You." I've seen a lot of opening acts playing to half-filled venues, including the House of Blues. However, the crowd packed it out from the very start and more people knew the words than I anticipated. Night Riots moved into a faithful rendition of "Nothing Personal." The bass seemed a little high in the mix for the first two songs, which was actually neat to hear as the bass lines were dynamic. The third song is a cool cover of U2's "Sunday Bloody Sunday" (incidentally, Night Riots had played "Everybody Wants to Rule the World" by Tears for Fears in some earlier shows). I had not peeked at setlists prior to the show, so this was an unexpected delight. Travis Hawley's vocals do the song justice and evoke young Bono. The stage presence was definitely there. Hawley looks and moves like a combination of Perry Farrell and Jim Morrison. He is a performer to be sure but one without pretense.
"Oh My Heart" was next and part of the way through the song some combination of guitarist Nick Fotanikes, guitarist Matt DePauw, and bassist Mikel Van Kranenburg set down their instruments. The lights went out, which is why I am not sure exactly who was playing what, and, reminiscent of Blue Man Group, each played a single drum in unison with a pair of colored, glowing sticks. Three drummers played at once including main drummer Rico Rodriguez. That was a lot of bottom end. "Back to Your Love" came next followed by "Breaking Free." The band finished with the very popular "Contagious." When you only have thirty minutes and you are trying to develop an audience base, it is probably not the time to make drastic changes to the song arrangements or get into lengthy jams. There were a few small differences here and there in the live versions, but Night Riots stuck to the script of the studio albums. They sounded stunning, the same live as they do on the records. If the live version is a fake, it's a genuine fake.
In an era of Pro Tools, pitch tuners, auto correct, loops, virtually infinite tracking capabilities, programs for everything under the sun and beyond, sophisticated home studios (i.e., unlimited studio time), "smart" gizmos and gadgets that promise to do everything for us, and the ability to edit and enhance endlessly, one wonders whether any new band can actually play their instruments and can they do it live? One of the things I am so impressed by is Night Riot's ability to recreate their sound and songs and to do so as a unit instead of sounding like five guys who each tracked their parts separately and sloppily, letting someone else tidy everything up and tie it all together. Their playing is tight and energetic with superior musicianship. In the place of the constructed and contrived, Night Riots showed us something real. This was fire with real heat.
You may also like...