:Concert Review: ASSEMBLAGE 23 – ENDURE TOUR – SEPTEMBER 23, 2016 – YBOR CITY, FL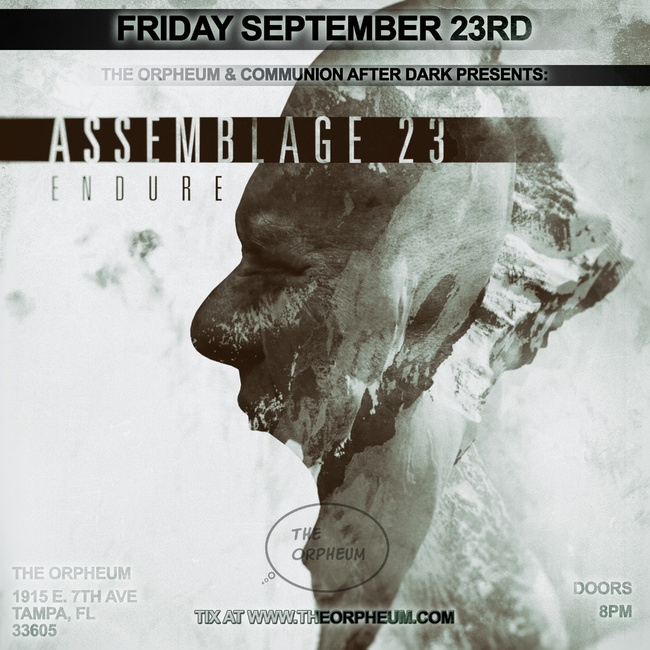 Assemblage 23, Cyanide Regime
Concert Date: September 23, 2016
Venue: The Orpheum
Location: Ybor City, FL
Review by William Nesbitt
Professor of English
Beacon College, http://www.beaconcollege.edu
It's Friday night at The Orpheum. No support act was advertised, but Florida's own Cyanide Regime opened the show. They play futurepop music combined with distorted vocals, which can be a tricky sound. Though the music was solid enough, the vocals struck me as almost garbled and abrasive, kind of muddy. My preference leans much more towards cleaner singing, so I am very picky about harsher vocals. I listened to some studio tracks later and while I think more highly of the studio versions, it's still not my thing.
Vocals, for opposite reasons, continued to be an issue for Assemblage 23 as well. They opened with "Endure" and "Afterglow" from the new album. "Endure" is the instrumental opener for the album of the same name, and it was a great way to open the set. The vocals sounded thin and shaky on "Afterglow," as if someone made an overcorrection based on the sound of Cyanide Regime. This continued into "Disappoint" the third song of the set. Somewhere around the fourth song, the vocals made a transition. I've seen Assemblage 23 on every tour beginning with Storm and never heard vocal issues. I have a few theories. Perhaps vocalist Tom Shear was not quite warmed up enough. Maybe the vocals were not loud enough in the mix and were raised later. As the album had only been out for about two weeks and the tour had started about the same time, Tom could have been self-conscious about singing the new songs in front of an audience and had concerns about their public reception live (and while "Disappoint" is an established song, one wonders whether it ever gets easier singing about the suicide of one's father). Tom was not moving that much during the first couple of songs and this supports the idea that he was uncomfortable or "tight" for some reason. There could have been a microphone or other equipment issue perhaps reaching back to Cyanide Regime's set. Also, some effect might have not have been added to his voice until deeper into the set. In any event, these issues soon smoothed out and Tom sounded in top form.
The fourth song, "Divide," brought the performance together and by "Complacent" the band had found all of their gears. They stomped though a ferocious seventeen-song set finishing out with "Don't Change" an INXS cover from 1982's Shabooh Shoobah. "Don't Change" was a single but hardly their biggest. It was refreshing to see Assemblage 23 reach outside of their own genre and pick a lesser-known song from a band that's been fading from memory since lead singer Michael Hutchence's death 20 years ago (Tom has also performed "Don't Change" as part of Bruderschaft, by the way). Assemblage 23's rendition was upbeat, fun, and energetic, an unexpected way to cap off a set of introspective, moody songs. Light at the end of the tunnel.
They returned for a six-song encore. Nineteen songs in, they had played a fairly evenly distributed setlist. While no songs from debut album Contempt were included, all the other records showed up at least once in the song selections. The latest album had four tracks, and perennial favorites Failure and Storm had three each. With eight studio albums, loads of remixes and B-sides, there are lots of tracks to choose from and not everyone will hear exactly what they want. For example, I would love to have heard "Let Me Be Your Armor," "Human," "Skin," "Old," "How Can You Sleep?," and "Alive" (to be clear, I was not disappointed in the song selection or the show). On the other hand, I have experiences hearing the live version of a song that I didn't particularly care for in its studio form, and hearing that live performance gave me a different perspective on, an appreciation for the album version. Sometimes you hear a live performance of a song and it deepens an already existing connection to that song. The last song of the night is just such a case.
In complete contrast to the uplifting "Don't Change" at the end of the main set, the final song of the encore and of the night was "30kft," an eerie voicemail from someone calling the mother of his children, perhaps his wife, to state his love for her one final time before his plane crashes. The song is chilling. Hearing it performed froze me alive. The last line is "So I've one last thing to tell you now before I have to go / I . . ." The final utterance remains forever unknown and unspoken. The live rendition ended just as abruptly as the album version. No more music played. No more words spoken. They simply turned and left the stage. The house lights came on immediately after. And that was it.
You may also like...